Undergraduate Research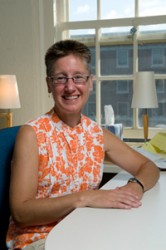 Nancy Hall, director of the Center for Undergraduate Research and associate professor of communication sciences and disorders, on the new CUGR initiative:
What is the mission of the new Center for Undergraduate Research?
CUGR's primary mission is to facilitate and enhance research and research opportunities for undergraduates. Specifically, that translates into developing a database of research and creative projects at UMaine that are open to undergraduates, matching faculty and students by projects and interests, and getting the word out to students and academic advisers that the center is a resource for them.
Why is undergraduate research and scholarship increasingly a priority at universities nationwide?
Institutions and employers recognize that the kinds of skills developed through research and endeavors of scholarship help make an individual more competitive. There's a clear push in the U.S. that if we want to compete globally, we need to start with our undergraduates. Large funding agencies and government agencies emphasize that students with early research experience develop better critical thinking and problem-solving skills and stronger content knowledge.
What can undergraduates get out of research and creative activity?
Through research opportunities, undergraduates can hone their abilities to communicate and put ideas together, to organize and write, to investigate and ask questions. They learn to problem-solve, using a variety of methods to find answers. For many students, research provides an opportunity for a mentor-mentee relationship different from a teacher-student relationship. In that context, the learning is invaluable. It's something I wish for all students.
What's in it for faculty researchers?
Undergraduates often have a broader perspective, enthusiasm and energy that are ripe for explorations and learning. For me as a faculty member, the most incredible process to see is the evolution of learning by a student involved in research or creative experience. We're looking at tomorrow's scholars. The more we invest today, the better off we'll be.
How will CUGR help grow undergraduate research at UMaine?
In the University of Maine Strategic Plan, advancing undergraduate research with CUGR's leadership is one of 12 objectives for the institution. We will build on UMaine's strengths as the state's leading research university, taking advantage of the hundreds of faculty and graduate students involved in research and creative projects who can teach and mentor undergraduate researchers. CUGR also will look at curriculum work, exploring how to include research-based activities in coursework, and campuswide events highlighting undergraduate research and scholarship. Already, there's a lot of undergraduate research going on across campus. CUGR will raise the visibility of undergraduate research and creative activity.
How can undergraduate students get involved in research?
Research is part of the learning process, no matter what the discipline. It's not a scary, unreachable, ivory tower process. Students just have to be willing to ask. Talk to academic department chairs or contact CUGR director Nancy Hall and graduate assistant Anya Rose.