Safety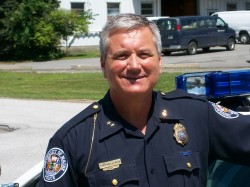 Roland LaCroix, University of Maine chief of police, on campus safety and community policing:
What should parents know about UMaine's Police Department?
Parents should know the genuine and sincere commitment of the 25 men and women who make up the UMaine Police Department. This commitment is focused on our objective to be student development specialists and educators, as well as law enforcement officers. That means we seek teachable moments for our students to learn lessons in responsibility, respect and accountability that can last a lifetime. UMaine Police officers have a service-oriented approach to policing that is focused on risk reduction. We look at members of the university community as allies who can assist us in helping make our community a safe place to live, work and learn.
What is your approach to campus policing?
Community policing is our philosophy. That means we emphasize building strong relationships of trust between police and members of the community. Our officers reach out to students as a resource, a comfortable presence and a familiar face in the UMaine community.
How safe is the UMaine campus?
According to the U.S. Department of Justice, Maine is the third-safest state for violent crime. Our campus rides on the coattails of that statistic in that, for a community of 15,000 students, faculty and staff, we have a remarkably low crime rate. It is my feeling that a college student is safer the moment he or she sets foot on campus than in the community at large. We take safety seriously. We challenge students to take responsibility for their surroundings and their personal safety, and to look out for one another, be it their roommate, classmate or teammate.
What proactive programming does the UMaine Police Department offer the UMaine community?
Among the most popular safety and crime prevention programs for members of the university community are the free self-defense workshops for women, and alcohol education sessions using "beer goggles" to simulate the effects of drinking and driving. UMaine Police also offers registrations for keys and bikes in the event they are lost or stolen. On our website are links to programs such as the Safe Campus Project, focused on relationship violence, and our anonymous Campus Eyes initiative.
What's the most-asked question you get from parents and how do you respond?
Parents want to know if their student will be safe in the hands of the University of Maine. I tell them yes, with help of the students, and if they take responsibility for their personal safety and their personal choices, they will have a safe and successful experience at UMaine. Together, we can ensure the safest and most successful Black Bear experience possible.
View the UMaine Clery Annual Security and Fire Safety Report.