Student Employment Recognition Week
Whether you are a student employee or not, maybe you've heard or seen some of our events from our annual Student Employment Recognition Week!
Use the menu to the left to browse prior Student Employment Recognition Week winners, activites, and events!

Winners of 2021-2022 Student Employment Recognition Week
Undergraduate Student Employee of the Year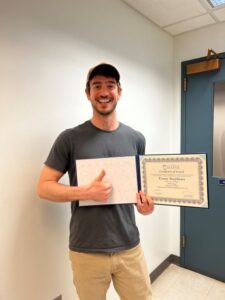 "Anybody out there in stem, getting a job in a lab is a really good stepping stone into a future career"
– Corey Stephens
Nominated by Brian Perkins, Corey is a student research assistant through the School of Food and Agriculture!
Corey used to hate Chemistry, but after he started working in this lab it shaped him for his future job!
Congratulations Corey!
---
Graduate Student Employee of the Year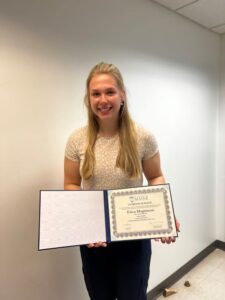 "Whether you're an athlete or not, the transition from high school to college is difficult, so just have the confidence that you can figure it out"
-Erica Magnuson
Nominated by Jessica Bishop, Erica is a graduate tutor coordinator for student-athletes through the University of Maine! Her favorite part of her job is to be able to see the excitement students have when the habits they set up to be successful in their classes work out!
Congratulations Erica!
---
Supervisor of the Year
"The power of pausing! Before you respond, before you decide, remember to breathe."
– Nicole Cloud
Nominated by Brenna, Darby, and Mikayla; Nicole is an advisor and coordinator for the Peer Coaching program in TRIO SSS!
Nicole has the role where she gets to work both for and with students, and gets to vicariously celebrate such a range of victories with the students she partners with!
Congratulations Nicole!