Kyriacos Markides
Kyriacos Markides, Professor, Retired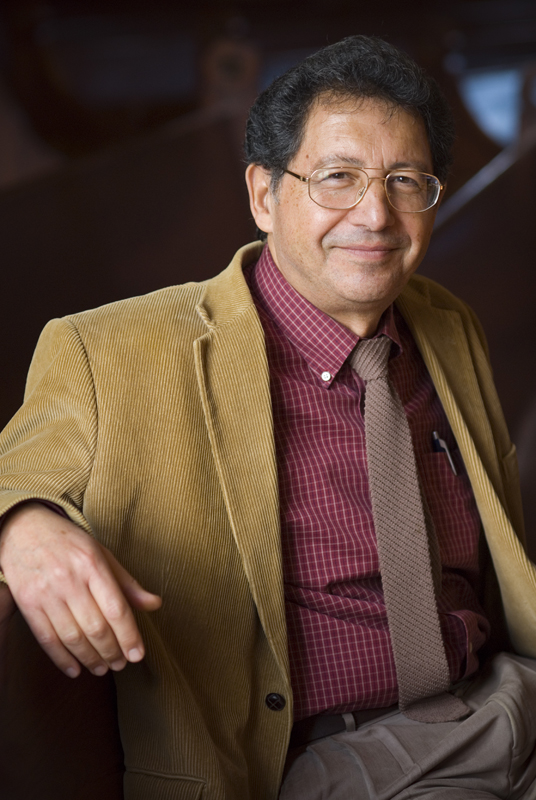 5728 Fernald Hall, Room 211
Orono, ME 04469-5728
(207) 581-2390
markides@maine.edu
CV
Ph.D., Wayne State University, 1970
Retired 2020
Kyriacos' areas of interest in teaching and research are: sociology of religion, sociological theory, sociology of mental illness and sociology of violence and international terrorism. Kyriacos' research has ranged from projects related to political sociology and nationalist movements to the sociology of religion, non-medical healing and Christian mysticism. For the last twenty years he has been exploring the lives and teachings of Christian mystics, healers, and miracle workers and monastics around the world. In this area he has written several important books published in English and in eight other languages. Retired in 2020, he continues to study and write.
Books
All of the above books are available in paperback published by Viking Penguin at 375 Hudson Street, New York, NY 10014, USA. In England they can be ordered at Penguin Books Ltd, 27 Wrights Land, London W8 5TZ. All of the books are available at www.Amazon.com and are found in major bookstores in the U.S., Canada, England and internationally.
Both these books are published in hardcover by Doubleday/Random House.
Inner River: A Pilgrimage to the Heart of Christian Spirituality (ISBN 0-307-8857-6)
This book is available in paperback from Image Books a division of Random House.
Praise for Kyriacos C. Markides' Books
Ever Since his childhood, Kyriacos C. Markides has heard mysterious rumours about the 'Magus of Strovolos', Cyprus's ' leading specialist of the netherworld'.
Yet it was only when he revisited his native island as an adult that he learned to appreciate the full powers and wisdom of a gentle and humorous grandfather who was also a master healer and spiritual teacher. In this enthralling book he combines the skepticism of a trained sociologist with the passion of a disciple to explore the innerworld and beliefs of a truly remarkable man. From his exorcism of a Jewish girl haunted by Nazi ghosts to the theory of reincarnation, the Magus reveals again and again the value of a personal philosophy that draws on many sources but is firmly based on a belief in 'Holyspirit'. For anyone who suspects that there are vast domains beyond the ken of Western materialism and science, his miracle cures and insights will prove a revelation.
'This is a really marvelous book. I certainly think it is one of the most extraordinary accounts of a "magical" personality since Ospensky's account of Gurdjieff'
-Colin Wilson
'Markides succeeds where Carlos Casteneda came up short'
-Antonio T. deNicolas, Professor of Philosophy, SUNY, Stonybrook
'The work is a real contribution and exemplifies the best aspects of participant observation.'
-Michael Harner
---
Homage to the Sun is a haunting book – not only for what it is, a remarkable study of a modern Christian mystic – but for what it implies: a vast source of spiritual knowledge, understanding, and practice, that is largely unknown to us'
-Professor Jacob Needleman
Homage to the Sun continues the remarkable account of the extraordinary life of Daskalos, the 'Magus of Strovolos', a mystic and psychic who offers loving assistance to those seeking spiritual guidance, advice and healing. As Professor Markides faithfully chronicles al that takes place in his meeting with him, we are introduced to the foundations of the Magus's world – a world of miraculous healings, telepathy and journeys out of the body and a world where simple and beautifully guided meditations can bring protection to self and others.
'Markides succeeds where Carlos Casteneda came up short.
– Antonio T. deNicolas, Professor of Philosophy, SUNY, Stonybrook
'A profound and exciting work of major importance. [Markides] has had the courage to address possibilities which are for the most part ignored in much of contemporary thought. It may be that Professor Markides and others like him who have the courage to explore, are on the brink of remarkable discoveries about the nature of man'
– Dr. Raymond Moody
---
"A SPIRITUALLY ENLIGHTENING AND PENETRATING BOOK: -Geddes MacGregor Professor of Philosophy, University of Southern California
In this third book of the trilogy that began with The Magus of Strovolos and Homage to the Sun, Kyriacos Markides continues his fascination pursuit of the mystical teachings of Daskalos and Kostas, two Greek Cypriot healers and masters of metaphysical knowledge. Returning again to his native land to immerse himself in the cosmology of the Erevna (the Research of the Truth), Markides skillfully chronicles the intriguing lives ad experiences of these mystics living in a contemporary society-the beautiful yet politically chaotic world of Cyprus.
Both a tour through the world of psychic and magical personalities, and a unique exploration of human consciousness, Fire in the Heart will captivate readers of mysticism, the paranormal, spiritual healing, and anyone striving to know the true nature of reality.
"This book marvels. Markides has gifted us with his remarkable grasp of the implications of the philosophy and practice of those who would re-enchant the world."
-Jean Houston, Ph.D., author of  The Search for the Beloved
"An excellent read on a living master shaman and healer."- Albuquerque Journal
---
"Riding with the Lion is a penetrating insight into profound spiritual truths. It is written with the critical eye of a scholar and the courage of a true spiritual adventurer.
"There is an old saying" 'If you want to hide the treasure, put it in plain sight.' In Riding with the Lion, Markides finds a treasure which has been in plain sight but which we have overlooked for as very long time – a body of mystical teachings anchored in Christianity. For those who believe mystical spirituality is found only in the Orient, this book will come as a marvelous revelation.
"Riding with the Lion has the ring of common sense and uncommon wisdom. It will help restore meaning and purpose to many Westerners who hunger for a mystical element in their spiritual lives, and who wish to remain within their own religious traditions."
– Larry Dossey, M.D., author of Healing Words
"Riding with the Lion" is a compelling glimpse into the heart of mystical Christianity. It sparkles with the wisdom of modern saints."
-Joan Borysenko, Ph.D., author of Minding the Body, Mending the Soul
"Markides continues to explore the fascinating world of the mystical and deftly interprets its connections not just to Orthodox Christianity but to all spirituality. He warns against fakers and fiends but helps us see the real thing when it's there."
-Harvey Cox, Thomas Professor of Divinity, Harvard Divinity School
"Riding with the Lion weaves a wondrous bridge between shamanic consciousness and the so-called reality of the everyday world. Under the sacred spirit of Mount Athos, Kyriacos Markides transforms ordinary vision."
-Lynn Andrews, author of Medicine Woman
---
In an emerging combination of dialogues, reflections, conversations, history, and travel information, Kyriacos C. Markides continue the exploration of a spiritual tradition and practice little known in the West he began with Riding with the Lion. His earlier book took readers to the isolated peninsula of Mount Athos in northern Greece and into a group of ancient monasteries. There, in what might be called a "Christian Tibet," two thousand monks and hermits practice the spiritual arts to attain a oneness with God. In his new book, Markides follows Father Maximos, one of Mount Athos's monks, to the troubled island of Cyprus. As Father Maximos establishes churches, convents, and monasteries in this deeply divided land, Markides is awakened anew to the magnificent spirituality of the Greek Orthodox Church.
Images of the land and the people of Cyprus and details of its tragic history enrich The Mountain of Silence. Like the writings of Castaneda, the book brilliantly evokes the confluence of an inner and outer journey. The depth and richness of its spiritual message echo the thoughts and writings of Saint Francis of Assisi and other great saints of the Church as well. The result is a remarkable work-a moving, profoundly human examination of the role and the power of spirituality in complex and confusing world.
"I was most interested in the text, and I have learnt many things from it. It forms an excellent overview of traditional Orthodox ascetic and spiritual teaching, in a lively style which may reach people who would not read a more 'ecclesiastical' presentation. May it do much good."
-Bishop Kallistos Ware, Professor of Religion, Oxford University
---
In his previous Book The Mountain of Silence, Markides introduced us to the essential spiritual nature of Easter Orthodoxy in a series of lively conversations with Father Maximos, the widely revered charismatic Orthodox bishop and former abbot of the Panagia monastery in the Troodos Mountains on Cyprus. In Gifts of the Desert, Markides continues his examination of Eastern Orthodox mystical teachings and practices and captures their living expression through visits to monasteries and hermitages in Greece and America and interviews with contemporary charismatic elders.
Markides' pursuit of a deeper understanding of Orthodoxy takes him to the deserts of Arizona and a stay at the new monastery near Sedona; to the island of Cyprus and a reunion with Father Maximos; on a pilgrimage to holy shrines aboard a cruise ship in the Aegean Sea; and finally to the legendary Mount Athos, home to more than two thousand Orthodox monks. Markides relates his journey and reflections in a captivating style while providing important background material and information on historical events to give readers a highly accessible, in-depth portrait of a tradition little know in the West.
Gifts of the Desert will appeal to a wide range of people, from Christians seeking insights into their religion and its various expressions to scholars interested in learning more about the mystical way of life and wisdom that have been preserved on Mount Athos since the fall of the Byzantine Empire and the Great Schism that separated the Eastern and Western Churches. Perhaps most important, however, is the bridge it offers contemporary readers to a Christian life that is balanced between the worldly and the spiritual.
From Publishers Weekly: Markides, a sociology professor who has written extensively about healers and mystics, resumes his exploration of Eastern Orthodox Christianity by taking readers on pilgrimages to places as diverse as Sedona, Ariz., and the Greek island of Patmos. As he did in The Mountain of Silence, Markides uses the charismatic Father Maximos to answer questions about the faith. This time, Maximos holds forth on such topics as anger without sin, death and near-death experiences and the "primal passions" of hedonism and narcissism. But before Markides can pose his questions, he must contend with a major change: Maximos has become bishop of the Church of Cyprus and is far less available than when he was a monastery abbot. To gather material for this book, Markides often has to "ambush" the bishop with help from those who know his schedule; the creative ways he manages to connect with the holy man make for good reading. Markides keeps his theme fresh by introducing new places and figures, such as an Orthodox monastery in the Arizona desert and the well-known Kallistos Ware, Greek Orthodox bishop and convert from Anglicanism. Readers who enjoyed Mountain will be most interested in this sequel, but newcomers will find it accessible as well.
Copyright © Reed Business Information, a division of Reed Elsevier Inc. All rights reserved.
---
In Inner River, Kyriacos Markides – scholar, researcher, author, and pilgrim – takes us on a thrilling quest into the heart of Christian spirituality and humankind's desire for a transcendent experience of God. From Maine's rugged shores to a Cypriot monastery to Greece's remote Mt. Athos and, ultimately, to an Egyptian desert, Markides encounters a diverse cast of characters that allows him to explore the worlds of the natural and the supernatural, of religion and spirit, and of the seen and the unseen.
Inner River will appeal to a wide range of readers, from Christians seeking insights into their religion and its various expressions to scholars interested in learning more about he mystical way of life and wisdom that have been preserved in the heart of Orthodox spirituality. Perhaps most important, however, is the bridge it offers contemporary readers to a Christian life that is balanced between the worldly and the spiritual.
"With his engaging blend of travelogue, conversations with a wise and charismatic spiritual father, and musings on the big questions of life and death, Professor Markides takes us as companions on his journey of discovery. The insights that he communicates with such enthusiasm are timely ones." Dr. Elizabeth Theokritoff, independent scholar and co-editor of The Cambridge Companion to Orthodox Christian Theology.