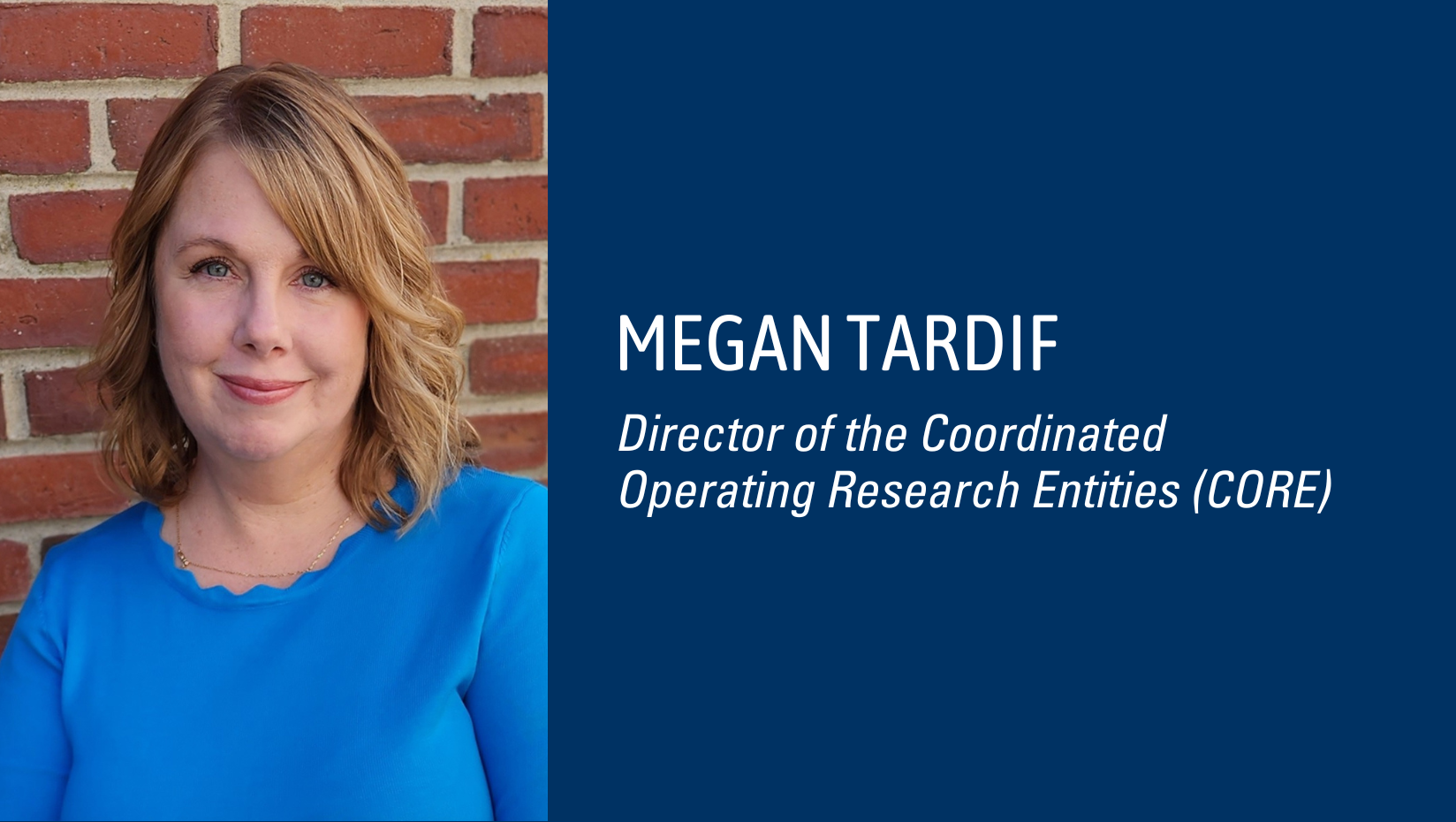 Coordinated Operating Research Entities (CORE) Welcomes Megan Tardif as Director
Megan Tardif has been appointed as Director of the Coordinated Operating Research Entities (CORE) effective November 6, 2023.
Tardif, a dedicated member of the University of Maine (UMaine) community, will play a pivotal role in leading CORE's mission to serve as UMaine's central source for major research equipment and facilities.
Tardif's journey with the University of Maine began in 2010 working in the Financial Aid Office. In April of 2011, she assumed the position of Grants and Contracts Administrator in Pre-Award at the Office of Research Administration (ORA). In 2015, she began working as an Accounting and Reporting Professional for Cooperative Extension, and then as a Budget Analyst and Financial Manager UMaine's College of Liberal Arts and Sciences (CLAS). In May of 2018, Tardif transitioned to a new position within CORE, serving as the Financial Manager. In July of 2022, Tardif became CORE's Assistant Director of Finance, and then the Interim Co-Director of CORE in March of 2023. Her accomplishments within CORE make her an exemplary choice as Director.
CORE's mission is integral to UMaine's research and development landscape and the state's as a whole. It serves as a central hub for major research equipment and facilities, providing convenient access to cutting-edge technology and services for both internal and external users. These resources are offered on a fee-for-service basis and are supported by a team of experts who ensure their efficient and effective utilization for research practices.
The new appointment of Tardif as Director of CORE symbolizes a significant milestone for UMaine. Her impressive career trajectory, financial acumen, and her deep knowledge of CORE's objectives make her the paramount choice to lead the organization into a future filled with groundbreaking research and collaborative ventures. In her prior position as Assistant Director of Finance at CORE, Tardif advanced multiple projects, including the writing of the Service Center Procedure Manual, creating the rate calculation process for CORE services, and participating in the onboarding of seven CORE staff members.
"I am truly honored and excited to take on the role as Director of CORE. I have witnessed firsthand the incredible potential that CORE holds in shaping UMaine's landscape. I look forward to furthering CORE's mission and fostering a culture of collaboration, supporting cutting-edge research initiatives, and strengthening our position as a hub for excellence in research and development," remarked Tardif. "My goal is to establish CORE as a steady, reliable research resource available to the University community, the State of Maine, and beyond. This presence will require growth and development of current CORE staff and lab teams, upgrades and improvements to equipment and facilities, and increased outreach efforts."
CORE supports facilities and laboratories across campus, including the Small Animal Research Facility (SARF), Zebrafish Laboratory, Freezer Program, DNA Sequencing Facility, Environmental DNA (eDNA) Service Center, Electron Microscopy Laboratory (EML), Microfabrication Cleanroom Facility, Innovative Media Research and Commercialization (IMRC) Center, Advanced Research Computing, Security, and Information Management (ARCSIM), and Technical and Administrative Services Central (TASC).
Contact: research@maine.edu