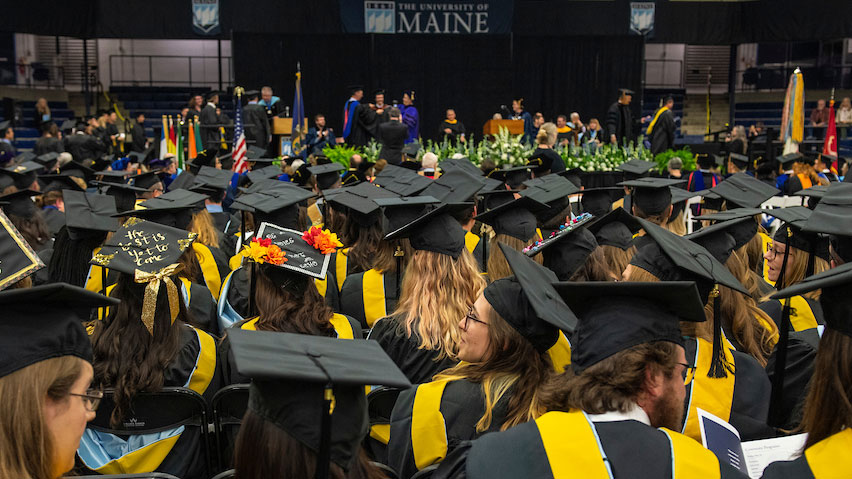 Graduate School sets records for Academic Year 2021
In spite of the continuing pandemic, the University of Maine's graduate enrollment has consistently increased over the past few years, setting records in the 2020-21 academic year, and then breaking those records this fall term.
A total of 2,542 graduate students were enrolled in classes for the 2021 fall semester, surpassing the previous record enrollment in the spring 2021 semester by about 100 students.
Enrollment increases were seen in all degree categories (certificate, master's and doctoral) with doctoral enrollment also setting an all-time high of 532 students.
The reasons for success in graduate enrollment differ by degree type. In doctoral programs, the University of Maine's success in attracting more external funding as it strives to attain Carnegie R1 status has greatly contributed to UMaine's doctoral numbers. At the master's level, the enrollment growth has been focused in online programs with the MBA and IT-related master's and certificate programs, demonstrating significant growth.
A common contributing factor to the graduate enrollment growth at all levels is the Graduate School's success in attracting more applicants. Between 2019 and 2021, total graduate applications increased from 1,789 to 2,659, nearly 50% increase. Three new graduate initiatives have helped to increase the number of students entering UMaine graduate programs, including waivers for application fees and GRE, and the use of a holistic application review process rather than employing hard cutoffs. This has increased access to graduate education and presented opportunities to a wider group of candidates.
The progress in improving access to graduate education has strengthened UMaine's research and graduate mission, and helped advance the university's diversity, equity and inclusion goals. This is reflected in the number of applications from students of color, which increased from 331 to 750 (127%) between 2019 and 2021, while admission and enrollment of minority students in graduate programs also demonstrated significant increases of 97% and 64%, respectively in the same time period.
Associate Vice President for Graduate Studies Scott Delcourt says the work of the Graduate School team and graduate program coordinators over the last year and a half has been extraordinary.
Contact: research@maine.edu