A piece of the puzzle: Lydia Horne's contribution to Mitchell Center's community-based climate planning project
Lydia Horne recently graduated from the Ecology and Environmental Sciences program advised by Dr. Sandra De Urioste-Stone. She has since become a postdoctoral fellow at the University of Northern Colorado, but is continuing to collaboratively lead a project with fellow NRT students funded by the Mitchell Center, entitled "Developing a Transdisciplinary Participatory Framework as a Tool for Community-Based Climate Change Planning."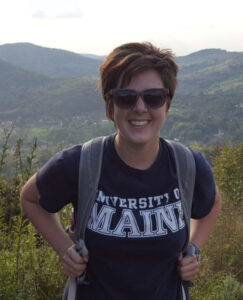 This project has grown from participating in the National Science Foundation's Research Traineeship Program (NRT), which is led by De Urioste-Stone, a Faculty Associate at the Mitchell Center for Sustainability Solutions. The program got its start in fall 2018 and is funded as a five-year, $2.9 million grant. According to Horne, climate change is a complex issue that is already impacting the state of Maine.
"Our project is trying to build community capacity to alleviate the negative impacts Maine communities might face from climate change while also taking advantage of new opportunities," Horne explained in a recent interview.
One of the project's main goals is to help Maine communities become appropriately prepared for climate change. "By co-developing adaptation strategies with community partners, we hope to find ways to forward that work with community resources, values, and visions," Horne said.
In 2019, Maine's tourism industry supported more than 116,000 jobs and saw approximately $9.7 billion in economic contributions (Maine Office of Tourism). Maine communities dependent on tourism are being connected with climate data as a result of this project. In addition, Horne and her fellow graduate students who are a part of the project, including Valeria Briones, Asha DiMatteo-LePape, Alyssa Soucy, and Gabriela Wolf-Gonzalez, are working to create a framework for climate adaptation by utilizing a strategy known as "scenario planning."
This involves forecasting future conditions that can help stakeholders make important decisions. This research could not only directly impact the communities being studied, but also help inform the ways in which similar communities, as well as those invested in forestry, fishing, and agriculture, operate.
"We believe this framework will help many communities throughout the state that are dependent on natural resources [and are] initially focusing on pilot communities that rely heavily on tourism and outdoor recreation."
At the center of the project is a series of workshops the team developed in order to help community members learn about the challenges and opportunities climate change may present as well as what resources or solutions may be available. "We want to make sure the research is actually useful," Horne adds.
"We thought this would be a good opportunity to further connect the university with Maine communities," Horne says. "There is this narrative that academics live in the proverbial ivory tower and their research is purely for scientific inquiry. Our Mitchell Center project hopes to achieve the opposite effect, where our participatory workshop framework is co-developed with community partners to directly help communities plan for environmental change."