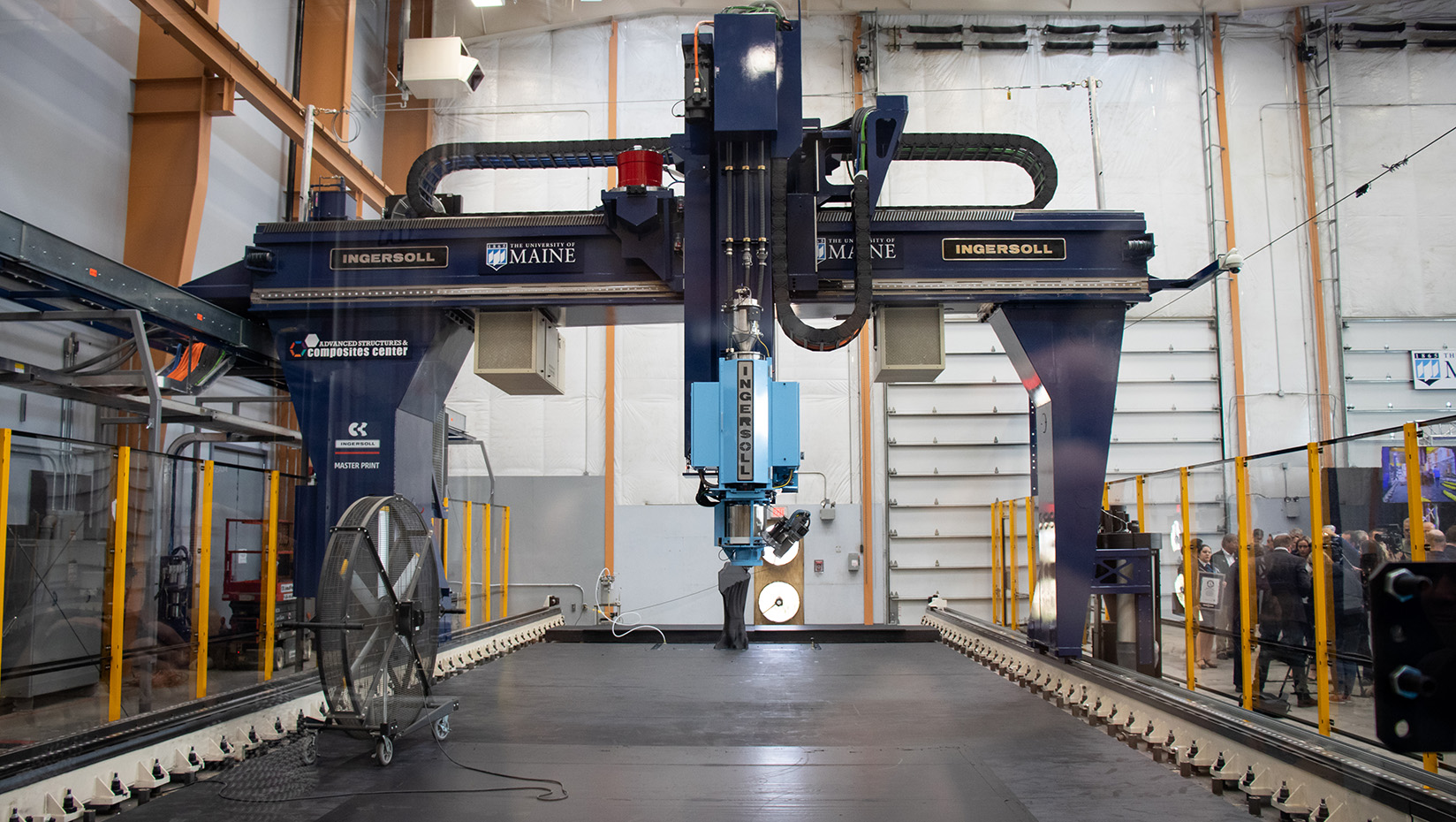 UMaine Composites Center celebrates historic 3D printing event
The Advanced Structures and Composites Center celebrates historic event: Unveiling the world's largest 3D printer and 3D printed boat
"This is a big deal," said Sen. Angus King at the Oct. 10 unveiling of the world's largest 3D printer at the University of Maine Advanced Structures and Composites Center (UMaine Composites Center).
Big, indeed. In fact, UMaine now boasts three Guinness World Records for the world's largest prototype polymer 3D printer, largest solid 3D-printed object, and largest 3D-printed boat.
While the 60-foot-long printer and the resulting structures it produces are huge, physically – the innovative research and collaborative interdisciplinary work behind them are enormous.
The U.S. Department of Energy's Oak Ridge National Laboratory (ORNL) is a key partner in the fundamental, biobased additive manufacturing research enterprise at the UMaine Composites Center. This collaboration will focus on developing innovative and sustainable materials conducive for large-scale 3D printing.
Researchers are already brainstorming how to utilize cellulose nanofiber (CNF) – the nanocellulose product derived from wood by breaking it down to its nano scale – to develop economical, strong, and recyclable bio-based feedstocks for large scale 3D printing.
The CNFs can have mechanical properties similar to metals. Combining them with polylactic acid (PLA) thermoplastic resins produced from corn creates 100 percent bio-based and 100 percent recyclable materials for 3D printing applications.
The UMaine Composites Center recently printed a 1,200 pound mold for the roof of a limousine boat using a polylactic acid (PLA) thermoplastic resin strengthened with microcellulose and nanocellulose fibers.
The unveiling ceremony featured the printer itself and items it has successfully produced, such as a communications shelter for the U.S. Army (printed in 48 hours) and a 25-foot-long Navy patrol boat (printed in 72 hours) designed by industry partner Navatek, a leader in ship design.
The world's largest 3D-printed boat is named 3Dirigo ­– "Dirigo" is the state of Maine's motto and Latin for "I Lead." Very fitting for the technology that will lead the world in a new era of green design and manufacturing.
"We are delighted about this latest accomplishment by our Advanced Structures and Composites Center, which is another example of how Maine's research university is at work with respect to its global impact and local relevance," says UMaine Vice President for Research and Dean of the Graduate School, Kody Varahramyan.
James Anderson, senior R&D program manager and 3Dirigo project lead, developed the innovative, patent-pending process to print the boat. The boat, printed in 72 hours, was monitored 24/7 by Anderson and Rich Fredericks, a recent grad from the UMaine School of Forest Resources.
"This groundbreaking effort builds on more than 20 years of bio-filled thermoplastic materials research by professor Douglas Gardner, structural composites work by professor Roberto Lopez-Anido, and cellulose production by professor Hemant Pendse and his colleagues in Chemical and Biological Engineering," says Habib Dagher, project principal investigator.
---
This story was updated on Nov. 13 with additional information.
News media around the world shared this historic accomplishment. More details on the event and 3D printer can be found in this UMaine News release.
Media Contact: Meghan Collins, mc@maine.edu