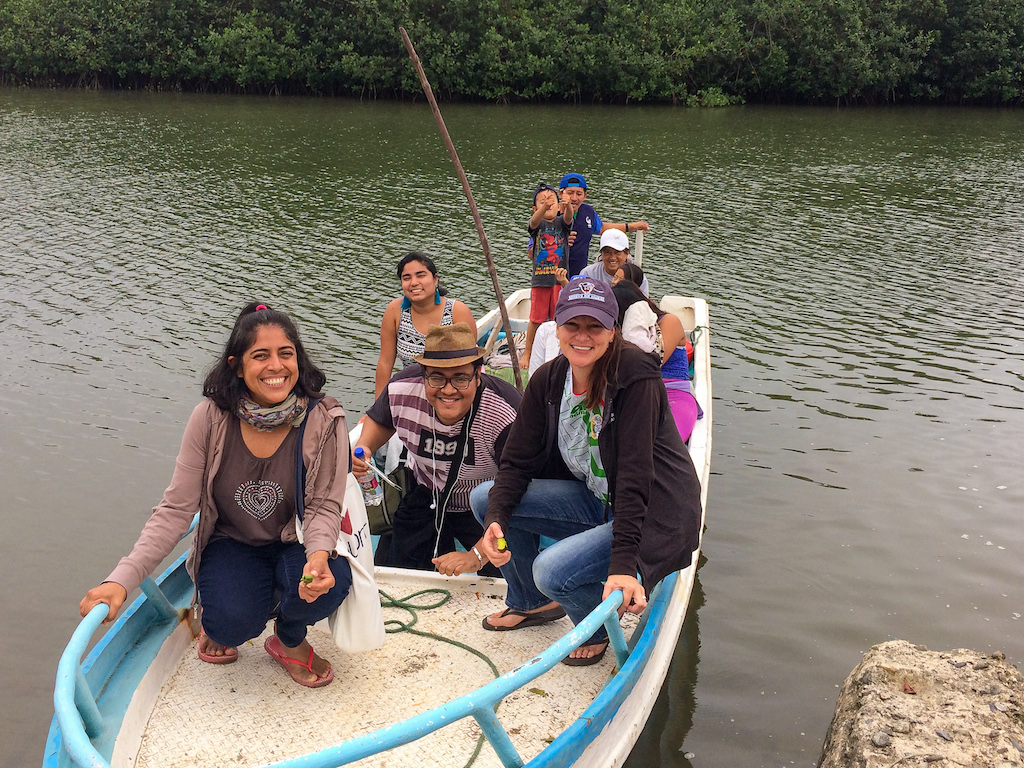 Beitl studies social networks in rural Ecuador
Christine Beitl studied the management system of a fishery in a rural coastal community, Isla Costa Rica, in Ecuador as a doctoral student in 2009-10. A new collaborative, cross-cultural study prompted her return to the small town this summer – 10 years later.
The three-year NSF ENDOW (Economic Network Dynamics and the Origins of Wealth) project investigates the effects of social structure dynamics, the changing social network and how that affects the emergence of inequality in different societies around the world. Isla Costa Rica is one of 30-plus communities selected worldwide for the project.
Beitl, now a University of Maine assistant professor of anthropology, is interested in the role of social networks – the social ties among family, friends and communities – and how it affects people's social and economic wellbeing.
Her research aims to answer many questions about how rural communities are impacted by their social networks and related issues, such as environmental conditions, people's livelihood, food security and dietary diversity.
Beitl says she is excited to contribute and help advance scientific knowledge while developing a new skillset in social network analysis. She was also thrilled at the chance to reconnect with the community and share her experience with them through workshops and outreach.
She says this research provides opportunities to generate new comparative insights to better understand challenges in rural communities worldwide – which may not be unique to particular places. Understanding these challenges is also of interest to community leaders.
Ecuadorian researchers and graduate students worked in collaboration with Beitl to host workshops for the community. She helped the students develop workshops on a variety of topics, including sustainable horticulture and English language learning. She also gave a presentation to share preliminary findings of the research.
Beitl says the ENDOW project required an ambitious data collection of the full social network – every single household (over 100) in the community. This would not have been possible without the help of the Ecuadorian students performing interviews.
"These kinds of outreach efforts allow the research team to build rapport with the community and exchange ideas that may inspire future research directions," says Beitl. "Because I live in rural Maine, I can also share some of my experience of living there with them. I don't just collect data and leave – I interact and embed myself in the community."
And the data can be applied to rural communities around the world.
"One universal aspect in all rural communities is social networks of people who are family members, groups of friends, and groups of families that interact with each other," says Beitl.
"I think we underestimate the power of how these kinds of social relationships contribute to our wellbeing – economically, socially, psychologically, our health and security."
---
Beitl's summer research project, "The effect of social network dynamics on inequality and wellbeing in rural Ecuador" was supported by a Summer Faculty Research Fund award from the Office of the Vice President for Research and Dean of the Graduate School.
"This grant gave me salary support to train students as part of this field school I created for them. The direct benefits are to Ecuadorian university students, but this was a very important pilot effort for a field school I would like to do in the future that would involve UMaine students here in Ecuador."
– Christine Beitl
Her work is in collaboration with the NSF ENDOW project led by Jermy Koster and others (NSF-IBSS #1743019) and the Escuela Superior Politecnica del Litoral in Ecuador.
Media Contact: Christel Peters, 207.581.3571