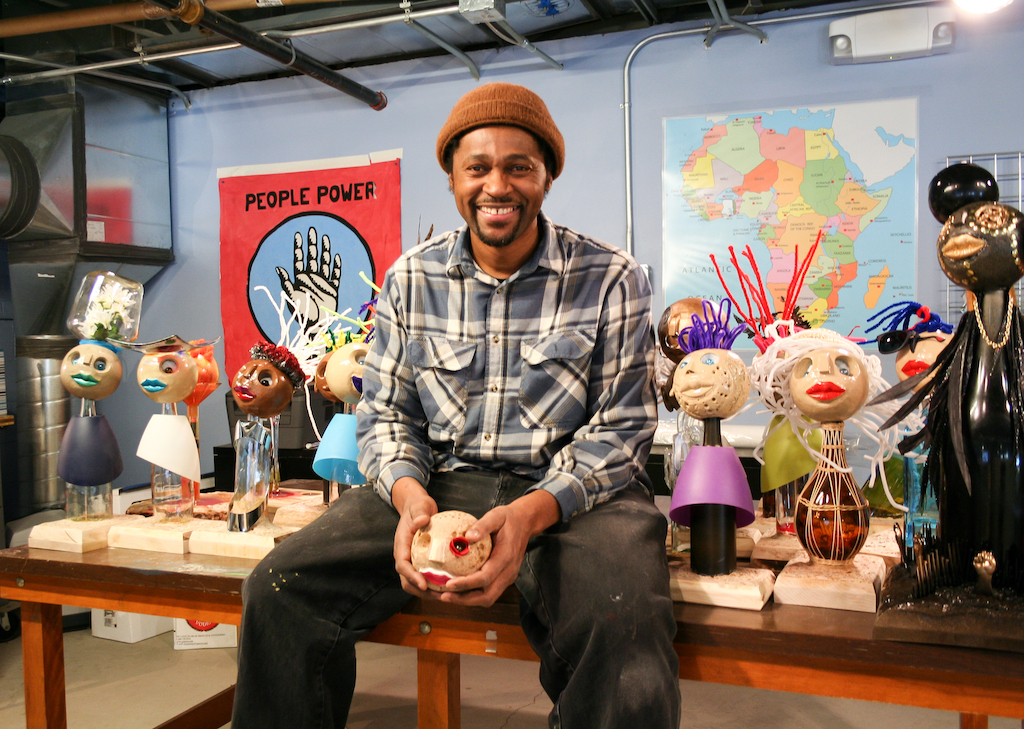 Researcher in Residence Titi de Baccarat brings light as he shares his culture
Artist Titi de Baccarat leaves exhausted but focused after his month-long residency at the Innovative Media Research and Commercialization Center (IMRC).
"This opened up lots of possibilities. I had twenty-four hour access to the facilities without pressure and a collaborative atmosphere," he explains.
De Baccarat hands over a 3D printed set of ears – exact replicas from the Intermedia Program graduate student who helped him with the equipment – to prove the collaborative nature of the "Researcher in Residence" program.
"I wanted the students to feel part of my project," he says, smiling.
The result of his focus is a new collection of almost two dozen sculptures that have emerged as figurative extensions of how he sees human potential. Through these colorful works, de Baccarat wants to bring attention to issues such as justice and privilege.
Often working with found and recycled objects, he incorporates bottles with various metal and carved wooden elements.
"I like the idea that a bottle can be opened or closed, filled or empty. Some bottles are transparent and let light through, and a bottle is both resistant and fragile like human life," he explains. "Like bottles, we have the choice to open our lives to others, to fill our hearts with love and compassion."
Looking over the series of sculptures, he fondly refers to them as his children.
Overcoming challenges as an immigrant artist in America
De Baccarat's hope for compassion is rooted in his experiences coming to America as an immigrant. He arrived in New York from Gabon in 2014 where he immediately felt overwhelmed. Afraid and penniless, he met a kind church member who offered him a place to stay in Providence, Rhode Island. Though it was an improvement, he spent the next three months trying to find a place he could really call home.
Finding a new community that would welcome him as an immigrant without money or connections was difficult. De Baccarat decided to settle in Portland, Maine in early 2015, a city with a strong sense of community and resources to help him navigate his new life in America.
As he tackles the challenges of living in a new country, he faces the usual difficulties every artist has to support himself while continuing to produce artwork. Balancing artists' residencies while finding steady income can be a challenge.
Through all of this he has emerged as a rising star in the Portland art scene. In 2018, de Baccarat had a solo exhibition at Berwick Academy, titled "True Me in My Community" in the school's Jackson Library Gallery, and a show in Railroad Square's "Art in the Lobby" show, as part of the statewide initiative Making Migration Visible: Traces, Tracks, and Pathways and has given numerous talks around Maine.
De Baccarat explains the vision he has for his work
"Through my artwork, I want to create connectivity, bring my light and culture to Maine, find my place in society and to have an impact. As a voice for my community, I can create a connection with Africa."
His pieces are colorful extensions of his personality.
"I love music, it inspires me," he says. "I listen to songs from my home while I work."
Unsurprisingly, he misses his home and his family, where he is one of six brothers. Though he tries to not look back he does not want to forget his culture and his history.
"When I came here I tried to think about what I wanted to contribute, what I could bring to America. All I have to share is my culture and my artwork."
As Researcher in Residence for the month of February, he was able to do just that.
De Baccarat looks forward to some rest after the intense period of creativity and leaves with a new series of artworks – and a great many 3D printed ears.
Author: Tilan Copson
Media Contact: Christel Peters, 207.581.3571