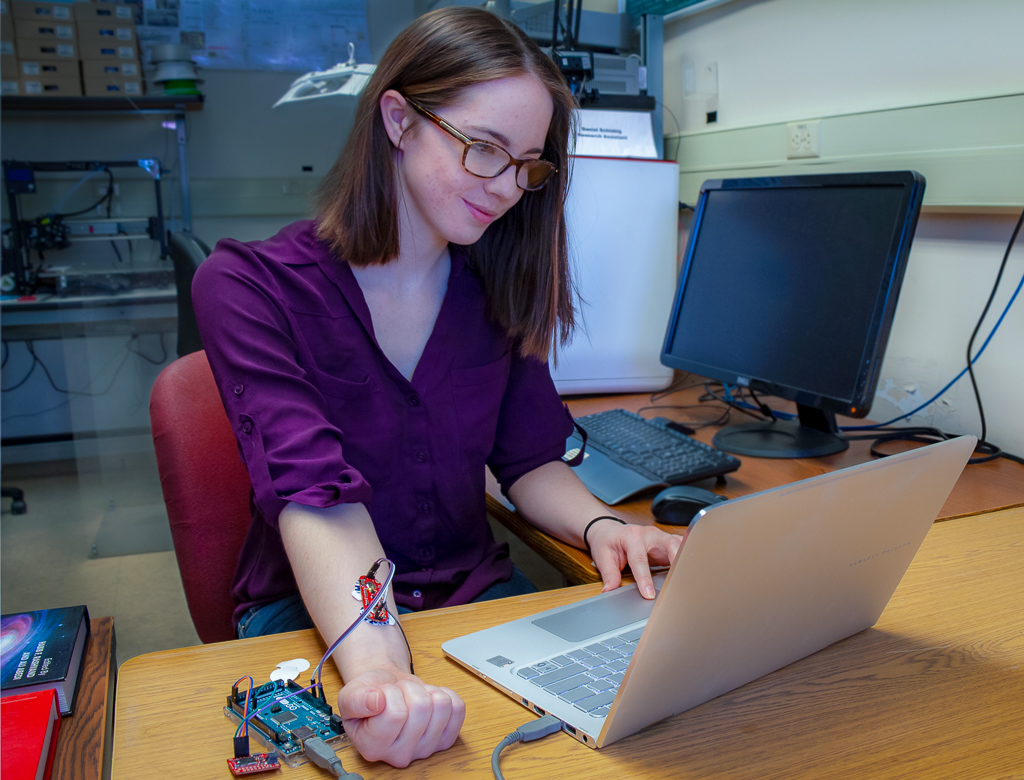 Faculty-student team develop device to detect imbalance, prevent falls
For older adults, falling can be fatal.
And according to the Centers for Disease Control and Prevention, falls are the leading cause of injury-related deaths among people 65 and older in the United States.
As the number of older adults increases, the problem could continue to worsen.
Undergraduate researchers in the University of Maine WiSe-Net Lab are addressing the issue by developing a device to detect signs of a fall and stop it from occurring.
With an interdisciplinary team of faculty mentors, students have created sensors that collect data and integrate technology to prompt people to regain balance.
The project, "Fall detection and prevention research collaborative," is one of nine awarded funding from the Interdisciplinary Undergraduate Research Collaborative (IURC).
Faculty and students from psychology and biology, as well as electrical, computer and mechanical engineering disciplines, have created computer models of the body and indicators that predict a fall. Now, they're collecting human data and are continuing to develop the sensor system.
Biology major Nicole McGrath had significant research experience from several other labs before joining the WiSe-Net Lab, where she says she has an ideal opportunity.
"I wanted to work on a project where I would have intellectual input on how the project would go," says McGrath. "This experience has been both intellectually challenging and rewarding."
She had no prior experience with coding or designing — skills she had to learn to create the EMG (electromyography) unit that detects a person's muscle activity, acceleration and tilt.
The team combined the EMG with an IMU (inertial measurement unit) into a minimally invasive, hand-held device that collects data from people attached to it as they walk on a treadmill.
The results have been promising. The researchers believe it's possible to integrate neuromuscular electrical stimulation to prevent a fall. If imbalance is detected, a charge causes the appropriate muscle to contract and help the person regain balance.
"Bringing undergraduate researchers from different disciplines together might be difficult, but when it happens, they will surprise you with amazing solutions to complex problems such as fall detection and prevention," says Ali Abedi, principal investigator for the project and professor of electrical and computer engineering.
"I can speak for all faculty mentors involved in this project, that we are very pleased to be able to work with this group of enthusiastic and talented students."
Maine is the nation's oldest state with a median age of 45 years, and it's important to find answers to issues that are important to older adults. WiSe-Net Lab research and innovation could provide some of those vital answers.
McGrath, who is interested in pursuing a doctorate in neurobiology, says, "This has been the best experience of my college career."
---
Media Contact: Christel Peters, 207.581.3571
This project will be presented at the 2019 UMaine Student Symposium on April 10 in Bangor.
"Fall detection and prevention research collaborative"
PI: Ali Abedi, electrical and computer engineering
Partners: EMHS, Vince Caccese, mechanical engineering, Marie Hayes, psychology