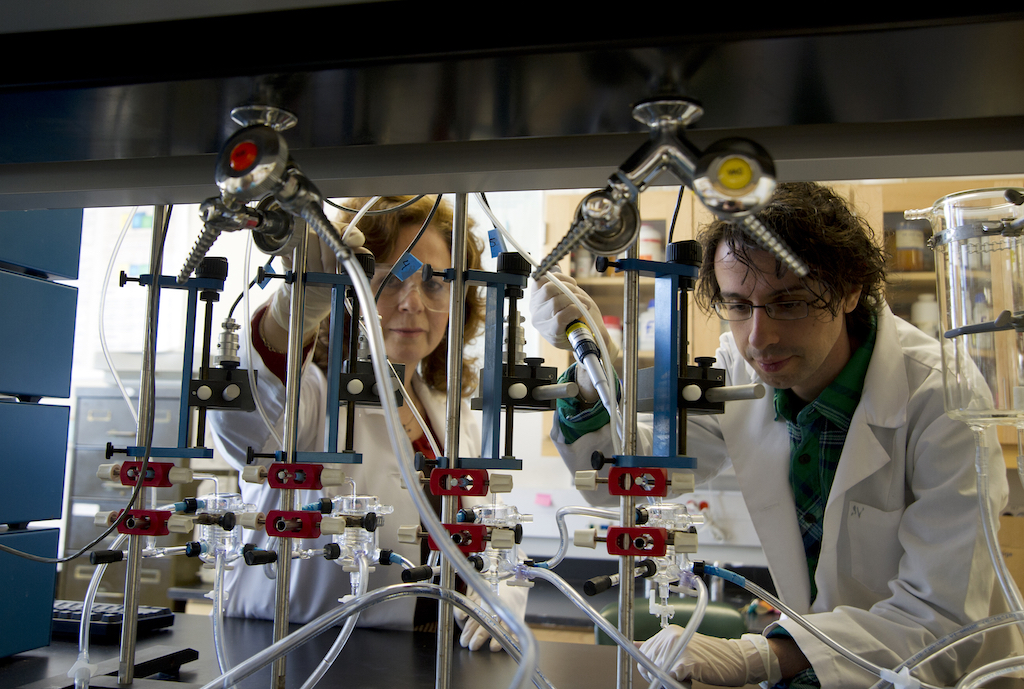 Wild blueberry study publishes unique findings in wound healing
Researchers discover an interesting source of improved wound healing: the wild blueberry.
Wild Blueberries are rich in compounds that beneficially affect human health. Two classes of these compounds are anthocyanins and phenolic acids – which have been documented to have beneficial impacts on chronic diseases.
Dorothy Klimis-Zacas, professor of clinical nutrition and Panagiotis Tsakiroglou, who conducted his doctoral research on this study, are co-authors of the recently published study, "Phenolic and Anthocyanin Fractions from Wild Blueberries, Differentially Modulate Endothelial Cell Migration Partially through RHOA and RAC1."
The research finds that specific concentrations of wild blueberry extracts influence the formation of new blood vessels (angiogenesis) and cell migration when human endothelial cell cultures are exposed to them.
Cell migration requires sufficient blood flow and is essential for wound healing. Diseases such as diabetes can cause decreased blood flow to the extremities, which often results in impaired wound healing, infirmity, increased healthcare costs and lower quality of life.
This study documents that there is a rapid increase in endothelial cell migration after exposure to the phenolic acids and also to the combination of phenolic acids and anthocyanins extracted from the wild blueberries. The effect is concentration-dependent – a unique finding that is exciting for the field of wound healing.
Klimis-Zacas has been studying the role of wild blueberries on vascular function and cholesterol related to cardiovascular disease and obesity-induced inflammation associated with Metabolic Syndrome since 2001 in her lab at the University of Maine. Her work has allowed many graduate and undergraduate students the unique experience of performing research in nutrition-based models.
The Klimis-Zacas lab continues to study the effects of wild blueberries on human health. With the results of her latest research, the team plans to begin pre-clinical trials of wound-healing products – such as a spray or patch – that could later be commercialized and used to treat a variety of health issues.
Research like this has a significant impact on students, the state of Maine, and the world.
Watching student researchers excel in her lab and continue later in their careers is amazing, says Klimis-Zacas.
"Over 30 years I've had incredible students who are now academics and professionals all over the world. It is wonderful."
---
Media Contact: Christel Peters, 207.581.3571
Dorothy Klimis-Zacas, PhD, FACN is a professor of Clinical Nutrition in the School of Food and Agriculture.
"Phenolic and Anthocyanin Fractions from Wild Blueberries, Differentially Modulate Endothelial Cell Migration Partially through RHOA and RAC1" was funded by the Wild Blueberry Association of North America. It was also supported by the USDA National Institute of Food and Agriculture Hatch, Maine Agricultural and Forest Experiment Station and FutureCeuticals Co. The study was published in the Journal of Cellular Biochemistry and a news release from the Wild Blueberry Association can be found online.
Authors of the study are:
Tsakiroglou, Panagiotis; University of Maine College of Natural Sciences Forestry and Agriculture,
Weber, James; University of Maine College of Natural Sciences Forestry and Agriculture
Ashworth, Sharon; University of Maine
Del Bo, Cristian; University of Milan
Klimis-Zacas, Dorothy; University of Maine College of Natural Sciences Forestry and Agriculture