Muscular dystrophy research aims to understand muscle degeneration
Using bioinformatics to analyze muscular dystrophy.
Benjamin King, assistant professor for bioinformatics, has teamed up with Clarissa Henry, associate professor of biological sciences, to study muscular dystrophy, a progressive genetic disorder that affects muscles in the human body. They have developed a unique tool to study the function of a specific muscular dystrophy gene.
Researchers use zebrafish embryos to study muscle development and muscular dystrophy because zebrafish share 70 percent of genes with humans. Recently, Henry's lab developed a new zebrafish model for muscular dystrophy by mutating a specific gene. Working together, their labs generate data necessary to understand why disrupting this gene leads to disease.
"There are many forms of muscular dystrophy and one that we're interested in is difficult from a clinical perspective because the age of onset is hard to predict," King said.
Henry's lab determines how muscle structure and function is altered in the zebrafish model. The data collected in King's lab characterizes and models differences in gene expression between normal zebrafish embryos and zebrafish embryos with the mutated gene.
"The hope is that this information can be used in the future to promote muscle health in multiple contexts such as muscle aging, muscle wasting after traumatic injury, muscle wasting that occurs with cancer, and genetic muscle diseases," Henry said.
King hopes this research will add to the knowledge about why the age of onset and severity of disease varies among individuals with the disorder.
King and Henry have five undergraduate and one graduate student working in their labs on this project, "Muscular Dystrophy genomics research collaborative." The project is one of nine funded by the Interdisciplinary Undergraduate Research Collaborative.
Undergraduate student gets experience in bioinformatics.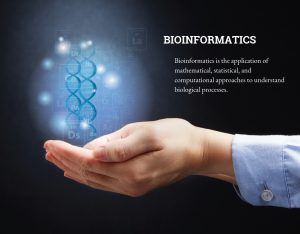 Grace Smith, a third-year molecular and cellular biology and biochemistry undergraduate, is working in King's lab to analyze the data collected.
"It's not really understood why two individuals affected by muscular dystrophy have completely different severity of symptoms. They can even have mutations in the same gene – there is currently no way to explain this variability," Smith said.
Working on this research has allowed Smith to develop important skills for furthering her education – which will aid in her goal of obtaining a Ph.D. She has learned how to analyze data and communicate with other researchers from different scientific disciplines.
"Just getting that initial exposure to research has been really valuable. It's confirmed my desire to pursue research," Smith said.
Smith personally understands how severe the disorder can be and likes being able to work on research that could help people in the future.
"I've always been interested in bioinformatics because I know it's a tool that I can use in any type of research," Smith said. "I have a family friend that has an adopted daughter with muscular dystrophy. Thinking of how my research could impact her life or the lives of future generations gives me that extra bit of motivation."
---
Author: Kendra Caruso
Media Contact: Christel Peters, 207.581.3571