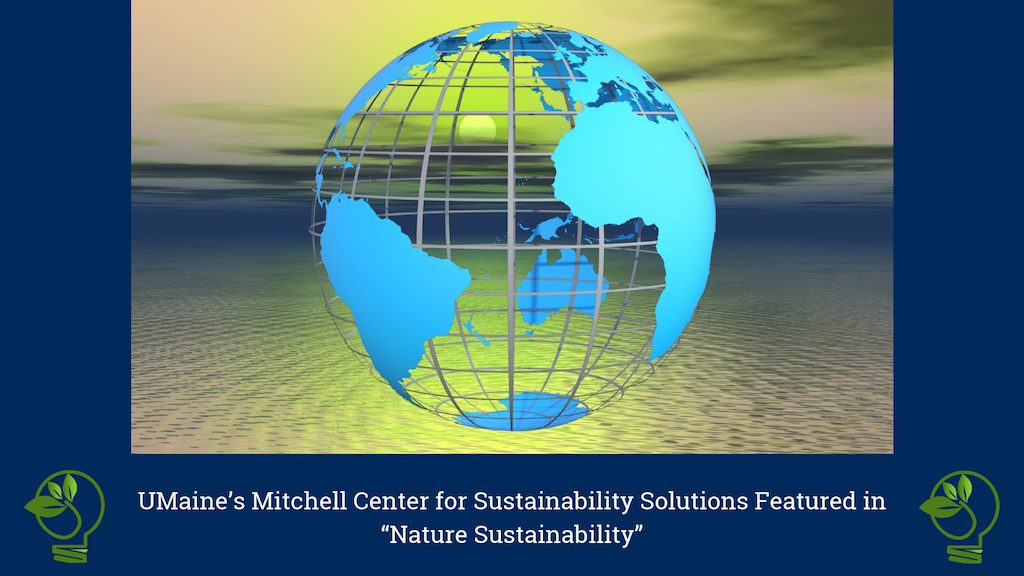 UMaine's Mitchell Center for Sustainability Solutions Featured in "Nature Sustainability"
The Senator George J. Mitchell Center for Sustainability Solutions' innovative approach to stakeholder-engaged, solutions-driven, interdisciplinary research was recently highlighted in a news feature in Nature Sustainability. The Mitchell Center was one of twenty institutions from six continents invited to a global summit at the National Science Foundation-supported National Socio-Environmental Synthesis Center in Maryland.
The central goal of the summit was to identify strategies for strengthening the capacity of interdisciplinary research institutions to help solve complex societal problems. Most of the institutions represented at the summit are working to address sustainability challenges, which require a focus on connections between the well-being of people and nature.
The meeting was attended by leaders of research institutions in India, Japan, South Africa, Brazil, Germany, United Kingdom, Australia, New Zealand, and the United States.
Director David Hart, who represented the Mitchell Center, remarked that the summit "…provided an extraordinary opportunity to network with global research leaders who are blazing new trails in the urgent effort to accelerate the transition to a sustainable future."
Although the institutions represented at the summit varied in history, size, and configuration, they had much in common in terms of the challenges and opportunities they've encountered in tackling real-world problems.
By creating opportunities for the research leaders to share their experiences in an informal setting, the meeting provided a unique opportunity to compile best practices for fostering interdisciplinary collaboration, building productive researcher-stakeholder partnerships, and developing durable, evidence-based solutions.
The summit focused on a variety of challenges, including effective strategies for:
combining the strengths of basic and applied research in problem-solving initiatives;
developing research cultures that reward risk-taking and innovation;
transforming professional evaluation systems to support interdisciplinary research and stakeholder collaboration; and,
integrating university knowledge with real-world know-how.
Participants also explored the potential value of establishing a formal field of interdisciplinarity, including norms for its theory and practice.
One of the boldest proposals emerging from the summit is to build a global community of practice that can help train future leaders of sustainability initiatives. A planning meeting to create a road map for this idea will be held at the University of Michigan.
---
Media Contact: David Sims, 207.581.3244