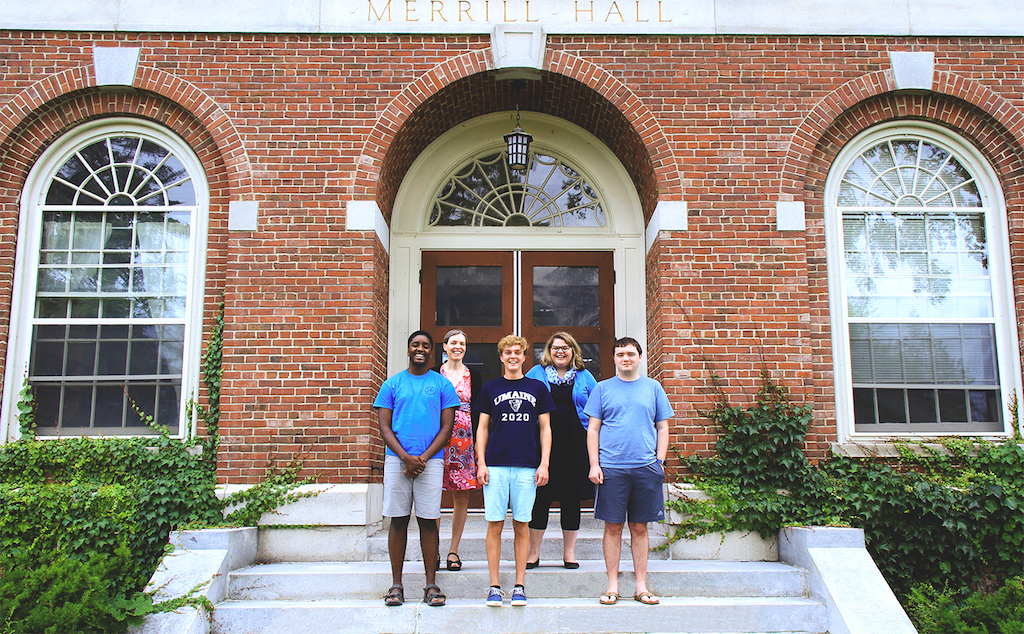 Addressing the problem of rural youth leaving the state
An interdisciplinary team of undergraduate researchers investigates the role of the education system in providing rural youth an opportunity for economic stability in Maine.
Dominic Gayton has witnessed firsthand how communities reliant on natural resources for economic stability can suffer when youth leave Maine to find stable work.
Gayton, from Calais, Maine, has watched many in his generation leave the state – with no plans to return. He cites instability of the forest-based economy as one reason his peers have left to pursue more-stable opportunities. He wants to investigate how schools could become more involved in the community's economic prospects and the future of its students.
A unique blend of interdisciplinary fields
Gayton has teamed with fellow undergrads, Owen VanderAa and Ismael Thadal for a research project called "Planning for uncertainty: The role of schools and community institutions in preparing the next generation for a new economy." The three students are advised by principal investigator (PI) Catharine Biddle, assistant professor, educational leadership, and co-PIs Mindy Crandall, assistant professor, school of forest resources, and Kathleen P. Bell, professor, school of economics.
"We want to see how schools can play a better role in their community's economic prospects and the future of their students," said Gayton.
The project is unique because of the interdisciplinary backgrounds of the team members. Gayton majors in economics, VanderAa in ecology and environmental science, and Thadal in psychology. They each bring to the table different perspectives.
"To fix today's problems, you have to work together from different viewpoints," said VanderAa. "I can't just fix it with my knowledge about natural resources; I need to know how the education system and the economy works as well."
The concept of working as an interdisciplinary team is supported by the University of Maine's Interdisciplinary Undergraduate Research Collaborative (IURC) program with funding from the Office of the Vice President for Research and Dean of the Graduate School and the Research Reinvestment Fund. This project is one of nine to be awarded by the program.
We have designed the Interdisciplinary Undergraduate Research Collaborative program to provide our undergraduate students the opportunity to gain "hands-on" learning in a team environment, while contributing to finding solutions to major societal challenges, as demonstrated by this project, where students are tackling outmigration of younger generations from rural forest economies and how the education system could help deter this.

– Dr. Kody Varahramyan, Vice President for Research and Dean of the Graduate School
Different perspectives gives research a unique appeal
Researching from an economics perspective can be cold and unfeeling, according to Gayton. He believes the perspectives of his peers give the research a personal perspective and makes it more interesting.
"Instead of just numbers or just human elements, it's a combination of both," said Gayton.
Thadal agrees. He says finding common ground and developing relationships with experts in other fields is the best way to solve an issue. He plans to use this approach in his career, not just as an undergrad student.
"In the future," said Thadal, "I will not try to wear many different hats to solve a problem – I will find others who already wear those hats and rely on them to share their knowledge and perspective."
Together, team members focus on rural forest economies as they address outmigration and connect it with the education system to see if there is a correlation. They want to understand the "why" – not just the numbers – and how students can have brighter futures in their hometowns.
"We want our research to help inform change to the education system so that students are aware of what is available," said VanderAa.
Affecting communities on a personal – and national level
Each week, the team discusses their findings and collaborates on a literature review.
They plan to write a white paper to present at the National Rural Education Association conference, taking place in Denver this October.
"I have been incredibly impressed by the extent to which I am able to work with these undergraduates as junior colleagues and collaborators, rather than students," said Biddle. "They bring incredible personal and academic insight to this topic and I have learned an enormous amount from working with them."
The data could provide a blueprint for showing students the natural resources and new economic opportunities to advance these communities – and ultimately create places where people can stay and earn an income.
"It's very personal to me," Gayton said. "It's affecting my community and I want to see how communities are going to develop and make changes to the economy."
---
Media Contact: Christel Peters