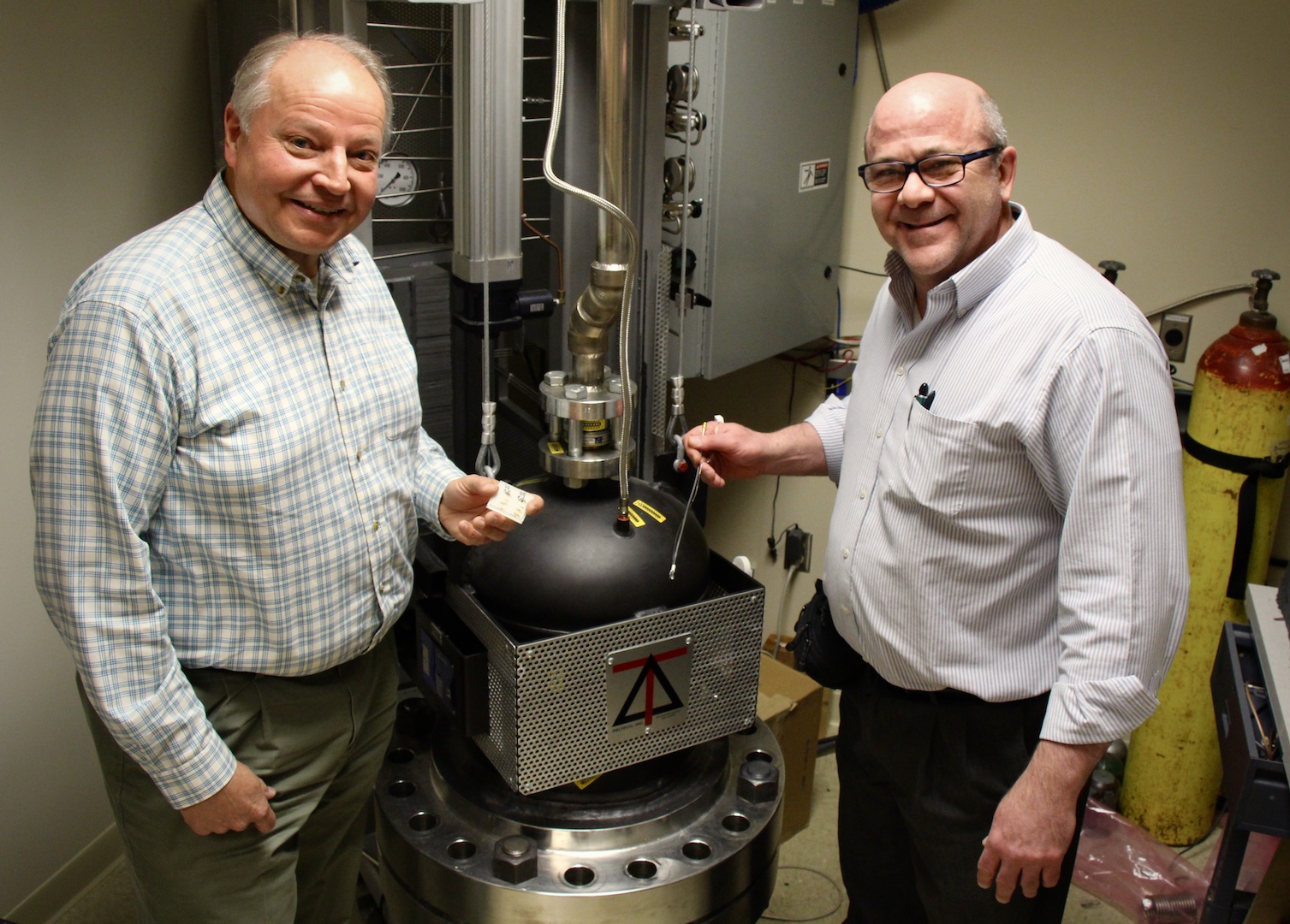 Tiny technology, huge impact: UMaine's LASST researchers produce beneficial technology with financial support from the DOE
Imagine technology capable of increasing efficiency, improving safety, reducing cost and aiding in the reduction of emissions for coal-based power plants. Now, imagine this technology is also wireless, able to withstand 1800 degrees F (1,000 C) and 50,000 times the force of gravity on earth – while only being the size of a grain of rice, a mere 2 mm by 1 mm.
While this may sound like science fiction, it is actual technology that exists through the work of researchers at the University of Maine's Laboratory for Surface Science and Technology (LASST). The Harsh Environment Surface Acoustic Wave (HE SAW) technology was developed by the collaborative work of Dr. Robert Lad and Dr. Mauricio Pereira da Cunha; two researchers combining their knowledge to fulfill the monumental needs of entities like NASA, the Department of Energy, and the Department of Defense.
It was the perfect collaboration. Lad, professor of physics, brought his experience developing stable materials for harsh environments while Pereira da Cunha, professor of electrical and computer engineering, provided the sensor technology. "You can't have a stable sensor if you don't have stable materials," explains Pereira da Cunha. "With our joint experience, we essentially lead the world in the implementation of this technology."
Working together at LASST since 2001 on this project, Lad and Pereira da Cunha produced the first HE SAW technology to be wireless, able to operate on moving parts and most importantly, provide sensory data about working equipment in extreme environments. Now, the work continues in research and development of this technology for use in operating power plants across the U.S.
SUPPORT FROM THE DOE
Nano-technology for filtering signals is not a new concept. We have many of these in our cell phones, for instance. What is unique about the HE SAW technology is its ability to withstand extremely harsh elements for long periods of time. This is what caught the attention of the U.S. Department of Energy (DOE) and the National Energy Technology Laboratory (NETL). Through the DOE's Office of Fossil Energy (FE), they have awarded the HE SAW project with a $2.5 million grant. The goal is to improve technology in power plants as part of the Advanced Combustion Systems (ACS) Program.
"The selection of this project as one of only nine funded nationally under the given Department of Energy program is a clear endorsement of the innovative research led by Dr. Pereira da Cunha and Dr. Lad in developing cost-effective technologies to enhance operations of existing coal power plants," Dr. Kody Varahramyan, Vice President for Research and Dean of the Graduate School.
While Lad and Pereira da Cunha have worked to create the HE SAW device over the last ten years, this latest funding will allow UMaine researchers to develop specific applications of the device for power plants and create materials that will allow the HE SAW device to adhere to specialized equipment.
"This grant is all about taking the prototype testing and utilizing it in real power plants," said Lad. "This technology does not exist right now. The DOE is supporting us in order to see this technology progress from basic research at the university level to a point where it's into the field and commercialized."
Too often, research successes fail to make it off the shelf and into commercial development.
"Having your work transition to a commercialized product: it's the Holy Grail of research and development." Dr. Lad
THE INTERDISCIPLINARY APPROACH TO RESEARCH AND DEVELOPMENT
So, how do you get an object the size of a grain of rice to stick, without breaking, to a turbine spinning at 70,000 rpms in temperatures rapidly fluctuating from 70 to 1800 degrees F (21 to 982 C)?
With a lot of research and collaborative teamwork. UMaine's LASST is proud to be an advocate for interdisciplinary involvement in the research performed there. "It's a great environment for students to learn in," said Lad, who was the director of LASST from 1996 to 2014. "When you see technology as a multidisciplinary problem and use faculty and students from different disciplines to solve it, you find they benefit by coming together to form a common solution."
This interdisciplinary approach has led to the development of patented packaging and methods of adhering the HE SAW sensors to equipment in harsh environments. Researchers continue to build off of the successful models to improve and evolve the entire system.
A tour of LASST is an impressive experience. Labs are filled with unique equipment used by a diverse mixture of undergraduate and graduate students from multiple disciplines, including physicists, chemists, electrical engineers and more. Student researchers and faculty work to produce cutting-edge research with proven results, like the HE SAW technology, with beneficial impacts on a local, national, and international level.
TRANSITIONING FROM RESEARCH TO DEVELOPMENT – LOCALLY
According to Lad, research at the university level is aimed at proving a project will work. Then, it takes a company to develop the work commercially and produce it on a large scale. Instead of relying on an outside source to develop HE SAW devices this way, LASST created a spin-off company, Environetix, based in Maine. The venture allows the technology to transition locally and generates jobs that impact the local economy.
"We started this company because we know there is a need for this technology and we want the University of Maine, LASST, our students and our community to benefit from this work." Dr. Pereira da Cunha
According to Pereira da Cunha, the National Energy Technology Laboratory has been charged with transitioning existing technology research into products that are useful and beneficial for society. Through the funding support of the NETL, HE SAW technology can do just that.
WHY IS THIS TECHNOLOGY ESSENTIAL TODAY?
The U.S. is a huge consumer of power every year – which means it must produce a large amount of power to supply the demand. Many communities rely on coal-based power plants for their energy and these plants most often date back to the 1940's and 1950's, according to Pereira da Cunha.
The DOE wants to make these plants safer, more efficient and less costly to maintain. With the use of sensor technology, they hope to prevent dangerous safety scenarios and avoid shutdowns of plants for maintenance and repairs.
RIGHT HERE IN MAINE – AT THE UNIVERSITY OF MAINE
The final HE SAW product will be installed in coal-based power plants and integrate user-friendly monitoring for employees to gather important data. "This information is precious to them," said Pereira da Cunha.
And it is all due to the important research done at the University of Maine. Imagine the incredible impact this rice-sized piece of technology will make locally, nationally and beyond.