Marrs Offers Remote Master Class to Students at the Yong Siew Toh Conservatory of Music in Singapore
On November 4, 2020, in the middle of a world-wide COVID-19 pandemic, I was invited to offer a remote timpani master-class to percussion students at the Yong Siew Toh Conservatory of Music in Singapore where Jon Fox is the percussion instructor. To begin with, I congratulate the students on their great work preparing for this class and kudos as well go to Jon Fox for always maintaining a level of excellence in his YST studio!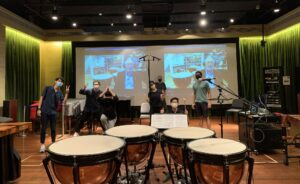 I had been there before – in-person – to teach and conduct a video-recorded performance of Ionisation by Edgard Varèse. Due to the pandemic, an actual trip to Singapore was not advisable this time, so I joined the legions of souls communicating over Zoom as the next best alternative. For music, there are additional hurdles to overcome since transmission of streaming voice differs from the transmission of streaming music over the internet. A few days prior to the scheduled date for the master class, I worked with the conservatory's technical wizard, Howard Ng Su Chee, on the details of the set-up. These details included streaming the audio over Cleanfeed, a separate audio streaming service while simultaneously streaming the video over Zoom. Additional audio set-up on each end included mixers, mics, levels, EQ, and other audio production minutiae. In the end, it all worked out rather well, and with the fantastic work by Jon Fox and his students in preparation for the class, the event succeeded in its intended purpose. We were even able to make it work with the 13-hour time difference: 7:30am EST and 8:30pm in Singapore. I expect that even after this horrendous pandemic is behind us, this method for remotely sharing music in real-time will offer a viable alternative to the costly and time-consuming consequences of long-distance travel.