CD of violin and percussion music
Percussion Continents I
New Music for Violin and Percussion
Jan Dobrzelewski, Violin
Stuart Marrs, Percussion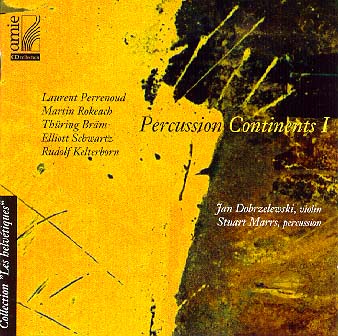 This CD presents the colorful and amazing world of percussion together with the glorious world of the violin: a surprising treat for music lovers. What is not surprising is that composers are becoming more and more attracted to this unusual combination since it gives them an expanded pallet of colors and sonorities without the need to turn to electro-acoustic music.
This recording project involves the cooperation of our two countries thanks to the enthusiastic efforts of the Swiss Association AMIE and the University of Maine. This collaboration extends as much through the performance level as through the composers selected for the CD and their composition styles. Further, one of the works by a Swiss composer was inspired by the paintings of Georgia O'Keeffe, an American artist, and was written on U.S. soil.
The CD comes with a 20-page booklet with extensive program notes and biographies of the performers and composers.
Available at:
Steve Weiss Music
Tel: 215.329.1637
University of Maine Bookstore
or
Directly from Dr. Stuart Marrs
5788 Class of 1944 Hall
University of Maine
Orono, ME 04469-5788
Marrs@maine.edu
Price: $15.00 plus $2.00 S&H