Time Frames
Photos submitted by community members showing UMaine's past and present.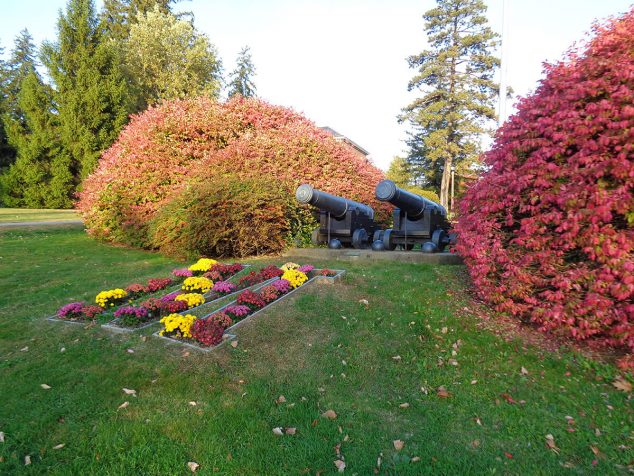 USS Constitution Cannons on campus, October 2014
Submitted by William Ellis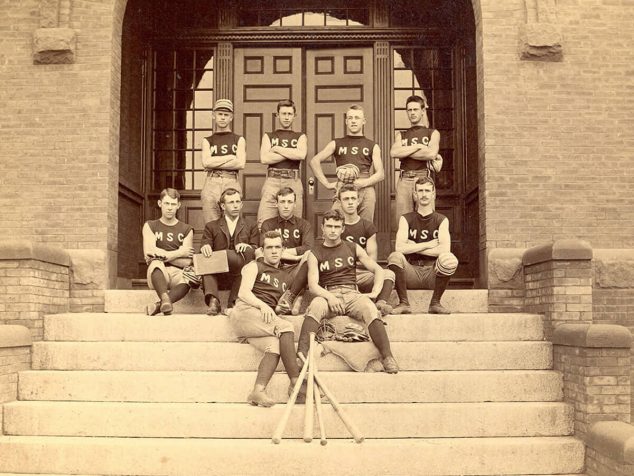 Maine State College's first Pennant winning base ball team (1888) on steps of Coburn Hall
Submitted by Clark Thompson
---
My grandfather, James A. Rush, was a University of Maine student. In his freshman year, 1922–23, he kept a memory book of pictures he took of his classmates. This picture is of the residents of Oak Hall in the fall 1922. Jim Rush is standing in the first row, the third from the left. Rush went on to become a mill manager for Consolidated Water Power and Paper Company in Wisconsin. One of his inspirations was the opaque bread wrapper so WWII troops could receive fresh bread.
ROTC George Robert Acheson, Lawrence King Casey and ROTC Joseph Charles Simon. Simon graduated from the University of Maine in 1927 with a degree in forestry. Casey studied chemical engineering and went on to be an accountant for a rubber factory in Boston. Acheson became a major general in the U.S. Air Force. More information about his military career is online.
Submitted by Jade Passmore
---
Submitted by Cliff Martin
UMaine civil engineering class of 1930, photographed in front of Wingate Hall, with graffiti on the walls reflecting UMaine's athletics rivalry with Bowdoin College. The photo is courtesy of Cliff Martin, UMaine Class of '65, whose father, Charles Bertrand Martin, is pictured in the middle row, third from the left.