Theatre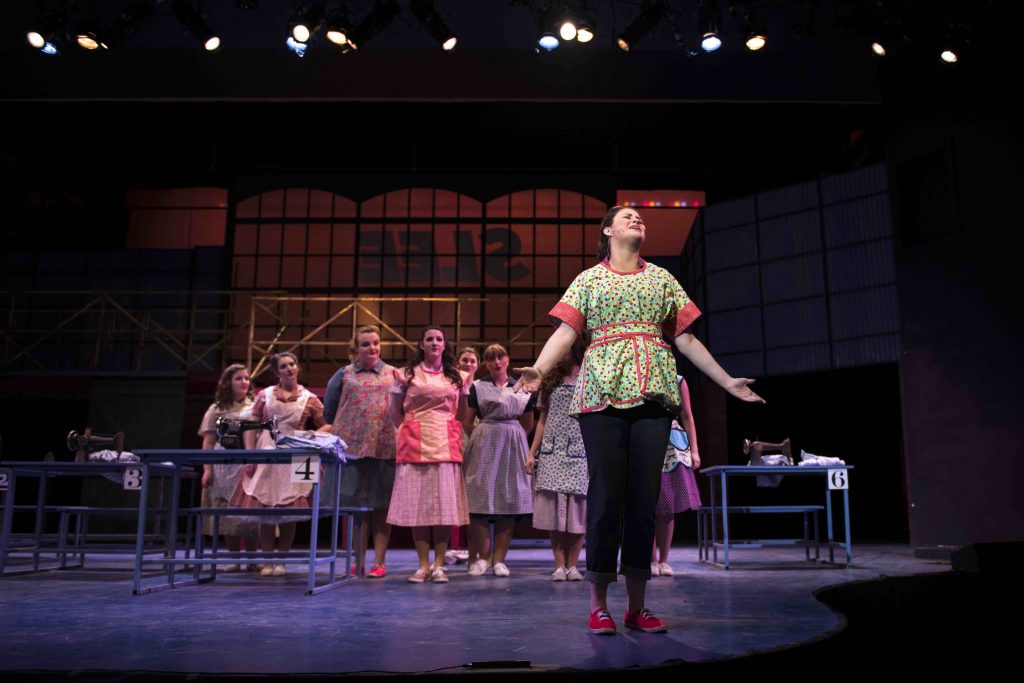 The Division of Theatre and Dance offers the Bachelor of Arts degree in Theatre. Within the context of a liberal arts education, the B.A. in Theatre provides students an opportunity to study acting, directing, design and technology, as well as theatre history, performance studies, and literature. Students with other majors may minor in theatre, and they can also minor in dance as part of their educational experience.
The B.A. in Theatre includes coursework in the social and behavioral sciences, arts and humanities, natural sciences, and mathematics as well as in the performing arts. In addition, students are required to complete one semester of any language.
Study in theatre includes 27 credits in required theatre courses and 6 credits in theatre electives, totaling 33 credits to receive the B.A. degree. The program focus is on learning through active participation in all aspects of performance and production. Many classes culminate in production and performance experiences, including acting, dancing, directing of original scripts, or staging of choreography. A Readers' Theatre series, the Underdog and Upperdog directing workshops, the Summer Music Theatre program, and the annual Maine Masque production give students additional opportunities to test their skills in acting and directing. Furthermore, majors are required to participate in all facets of main stage productions and encouraged to become involved in student-directed shows.
Undergraduate study in Theatre prepares students for graduate work in theatre and dance or in related fields of study. It also prepares students for theatre-related careers on and off stage. Graduates go on to careers as teachers, actors, designers, dancers, directors, technicians, and stage managers. Maine Masque, our student theatre organization, is very active year round.
Scholarship Opportunities
The UMaine Theatre Arts Scholarship available to any high school senior (or transfer student), is a merit scholarship created to provide financial support for the best and most talented theatre students to study theatre at the University of Maine's School of Performing Arts. Scholarships will be offered to incoming theatre students who are identified as having a talent and commitment for theatre. Students must apply by to the University by December 15th.
Our Philosophy
The liberal arts degree in Theatre at the University of Maine offers the undergraduate a broad range of study essential to developing the whole person. Within the Theatre/Dance Division, the student may elect to focus on a specific area of interest by selecting a group of courses beyond the core requirements, or to explore all areas of the theatre curriculum. Options for specialization include: History, Literature, and Performance Studies; and Directing, Acting, Design, and Technology. Learning by participation is our philosophy and one of our strengths. Majors are required to participate in main stage productions, and encouraged to become involved in student-directed shows. Many classes culminate in production and performance experience, including directing of original scripts. Our objective is to offer each student a balance of the academic, practical, and artistic aspects of theatre, and much personal guidance throughout their academic careers.
Opportunities
We produce two main stage productions a year, plus a touring production that typically takes students into schools throughout Maine. The student organization produces a main stage production annually, plus we hold four Readers' Theatre productions and the UpperDog and UnderDog Showcase productions. In addition, we have a Summer Music Theatre program of shows. We produce modern comedies and dramas, classics of Shakespeare and the Greeks, musical theatre, original works, and an annual dance concert, featuring the works of faculty and student choreographers. Additionally, we have a very active student theatre series, providing opportunities for student directors, designers, actors, and playwrights. We have top-notch faculty who regularly publish and work in, as well as maintain ties, with professional theatres and dance companies.
Careers
Our graduates are high school and university teachers, as well as professional actors, designers, dancers, technicians, and directors. Some have also found their way into film and television. Our theatre program has enriched the quality of their lives. Our program in theatre has also enhanced the careers of people who do not choose to directly follow a path in theatre. So, we invite you to join us for an exciting and rewarding education in theatre. Performing Arts Scholarships are available to new and transfer students.