---
Levinson Award
The Department of Philosophy annually recognizes excellence in philosophical writing by the Levinson Award.  Any student of Philosophy currently enrolled and in residence at UM is eligible to submit papers to compete for the award.
The following rules govern the competition:
The topic for each essay should be clearly related to philosophy.
Papers should be 2,000 to 3,500 words (8-15 double spaced pages) in length..
Paper should use a consistent citation style and include bibliography of cited texts (not counted against word limit)..
The essay must be the original work of the student.
Students may submit only one essay per year.
The principal criterion for the award will be the quality of philosophical analysis displayed. If two papers are equally cogent philosophically, excellence of style will also be considered.
Papers should be submitted with two title pages. The second title page should omit the author's name to facilitate blind reviewing.
Papers should be submitted no later than end of day on Monday, April 3, 2023 to: Jen Bowen, jennifer.bowen@maine.edu  Department of Philosophy, The Maples, 207.581.3866.
The award will be presented at the Philosophy Awards Ceremony/End of Year Party. The winner will receive an inscribed volume of philosophy relevant to their interests.  The recipient's name will be engraved on a plaque in the Department of Philosophy. 
For questions regarding your submission, please contact Philosophy Department Chair, Kirsten Jacobson at kirsten.jacobson@maine.edu or at 207.581.3848.
Philosophy Honor Society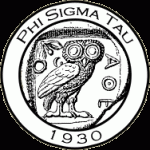 Phi Sigma Tau is the student honor society in philosophy. Members are selected annually based on their academic record and character.
The Society also sponsors philosophical events and activities open to any interested student. For more information contact the Philosophy Department office at 207.581.3866.