Running in Central Maine
In the mid-1970s, the Saint Regis Paper Company commissioned a team of three Mainers to carve a road for commercial logging trucks through the heart of the central Maine wilderness. The road followed the natural ebbs of the land and ran all the way to Canada. Now, County and Stud Mill Road, which join along the Sunkhaze Nature Preserve in Milford, have become an unlikely haven for Maine's outdoor enthusiasts and endurance athletes.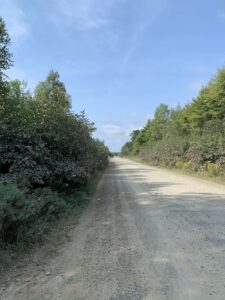 The road is simple. Wide with pine trees towering right at its edges. So, what makes this active logging road so appealing for recreation? The short answer… dirt! Soft surfaces have always been appealing to folks who like to use their feet to pedal or jog. The reduced impact allows for smoother, more comfortable activity. On any given day, you can expect groups of runners from the area's various teams and athletic clubs. Cyclists might be racing over the rolling hills. The allure of exercising on long dirt roads is sure to provide great motivation and inspire the imagination of those who seek it out. 
Don't think you need to lace up your running shoes or hop on a bike to enjoy this area! The paths through The Sunkhaze Nature Preserve, which runs along County Road and leads to a large marsh, have been an unsung standby for local hikers and members of the Birding Community.
Remember, these roads are being worked, so you'll share the road with big rigs carrying lumber. It is always best practice to be aware. Do not let this deter you, however. One of the outing's quirks comes with how thrilled these truck drivers are to see others using the road.
After your outing, stop by The County Road Market to refuel!