Mitchell Center Mining Project Data to be Submitted for Legislative Consideration
The Maine Legislature's Joint Environment and Natural Resources Committee held a hearing on a handful of bills aimed at how to best regulate potential largescale metal mines in the state on March 20, 2017 and data from a Mitchell Center-funded project will be submitted to aid the legislative committee's deliberations on the matter.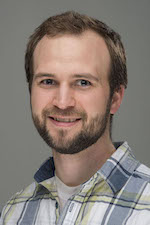 Currently, there are seven mining bills under consideration, all of which address varying aspects of a controversial 2012 law prompted by a J.D. Irving Ltd.'s interest in potentially mining copper, gold and other minerals in the North Maine Woods. That law, which was drafted and adopted in hasty fashion, has remained in limbo as Maine Department of Environmental Protection proposals to amend the mining regulations have failed to be passed several times.
University of Maine master's student Andrew Morgan has been spearheading a Senator George J. Mitchell Center for Sustainability Solutions study analyzing the public perceptions of metallic mineral mining in the state. The seven bills range from an effort to repeal the original law in its entirety and reverting back to 1990 laws and rules, which Morgan says have been called by some a "defacto moratorium on mining," to strengthening specific aspects of the law, including water quality protections.
The UMaine study, led by Sandra De Urioste-Stone—an assistant professor in the School of Forest Resources and a Mitchell Center associate—is identifying public perceptions on mining laws in Maine by using both qualitative and quantitative research. Phase one included historical analysis of hundreds of public hearing testimonies and news articles during the past five years relative to metallic mining in Maine, while phase two involved surveying residents to gauge public opinion on the issue. Co-principal investigators on the project include Jean MacRea of the Department of Civil and Environmental Engineering and Amanda Olsen of the Department of Earth Sciences.
Maine has a legacy of mining massive sulfide deposits for metals including copper and zinc. Understanding resident perceptions about metallic mineral mining, and potential impacts on the economy, quality of place, and natural resources in Maine is crucial as the legislature considers changes to the laws governing mining activities.
"While stakeholders testified on the seven bills last Monday," Morgan says, "our goal has been to gather a more representative picture of the opinions of state residents to present to the legislature." With respect to all the hearings on the issue to date Morgan adds, "Hopefully, our data will provide a broader perspective from a cross section of Maine residents representing their constituencies."
Adds De Urioste-Stone, "On the qualitative side, we've looked at the barriers to passage of a new law—what would need to be included now for mining to be approved but also protective enough of residents' values and the environment. So, we're trying to find the point where conflict resolution could occur."
Metallic mining in Maine carries a particular risk because the geologic ores are in sulfide deposits, which when exposed to water are very reactive and have the potential for larger, negative environmental impacts. Notes Morgan, "And we have a lot of water in this state."
By David Sims, Mitchell Center for Sustainability Solutions