Upcoming Events
Events List Navigation
October 2017
Artwork inspired by glacially sculpted landscapes and the stories they tell us, by Jill Pelto and Gordon Bromley. Find a full image version of the event flyer here.
Find out more »
November 2017
Please join us for our annual Day of the Dead, Dia de los Muertos, a Mexican holiday that honors departed family, friends, and ancestors. Eunice Loredo will do a presentation on this tradition, its origins, and how it is celebrated in Mexico. Students will also have an opportunity to try their hand at making traditional decorations, papel picado, paper skull masks, tissue paper flowers, and clay skulls. They may also explore the Hudson Museum's PreColumbian collections. This event is geared for…
Find out more »
December 2017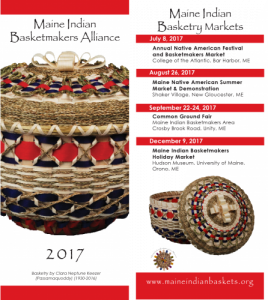 The 2017 Maine Indian Holiday Market will take place in the Hudson Museum on Saturday, December 9th from 9:00 am to 3:00 pm.
Find out more »
+ Export Events