Solution 4: Build Maine's Food Processing Infrastructure
How does building Maine's food processing infrastructure work to end food waste? Food is valuable and farmers work very hard to produce it, but without the proper infrastructure to support their harvesting, a lot of food will never reach the market. 
A lot of this food waste happens for three reasons: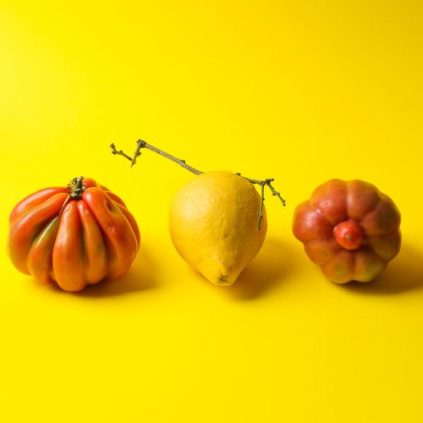 Produce Seconds
A surprising amount of food does not pass standards and never makes it to grocery stores. Produce must meet certain aesthetic standards, and must be within a certain size range to fit on trucks.
Food By-Products
Processing produce often causes food by-products- this includes carrot peels or spent grains from brewing and can be used in what are called upcycled food products.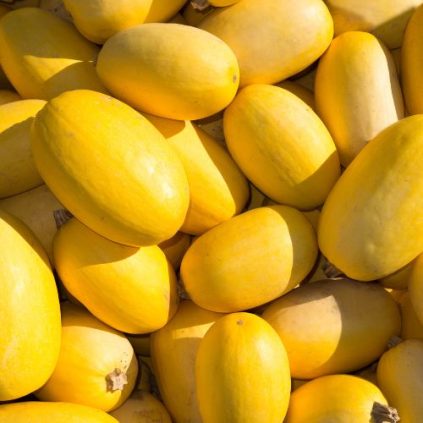 Surplus Crops
Farmers harvest surplus crops that are produced over and above what they expect. This means that farmers commonly don't have a buyer or use for this surplus. As a result, this surplus often does not go to its highest use, human consumption.
15.1% of total food waste in tons was wasted on the farm- that is 32.2 thousand tons!… Improving channels for seconds & surplus produce is the fifth most valuable solution to this problem.
– ReFED, 2019
---
Project Goals:
To reduce on-farm food loss by identifying profitable outlets ways to use this extra food. The survey was aimed primarily at Maine's fruit and vegetable farmers and sought to answer the following questions: 
How many Maine farms have surplus? 

How much surplus do Maine farms have? 

How often do Maine farmers have surplus? 

What are the most common crops which make up Maine farm surplus?

How would Maine farmers like to handle their surplus?
Methodology:
We first developed the Farm Surplus Survey

The survey was sent in conjunction with several Maine farm organizations, such as Maine Farmland Trust, the Maine Organic Farmers and Gardeners Association, Cooperative Extension, and other key stakeholders in farming and growing. 
Results:
Data from the survey suggests that farm surplus is a consistent challenge for Maine farms, but varies in its amount and makeup.
Farmers expressed interest in selling their surplus to large  institutions such as public schools. This led us to develop our second project detailed below.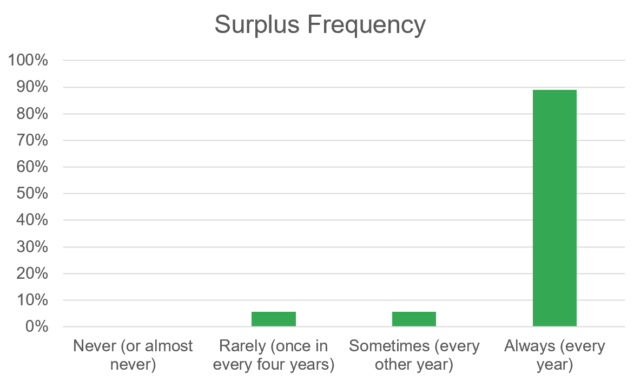 Farm Surplus Survey data explaining how frequently farmers have surplus crops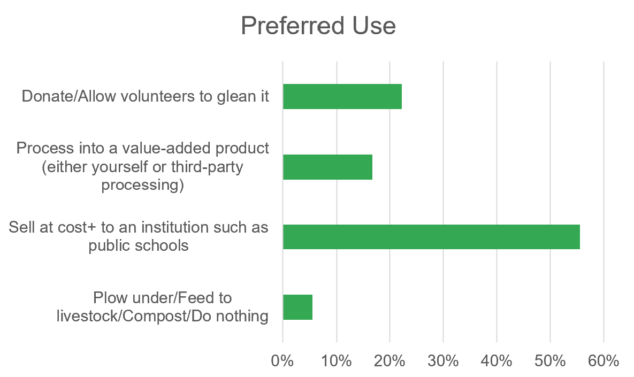 Farm Surplus Survey data explaining how farmers would prefer to use their farm surplus
William Dunham and Penny Jordan
---
Project Goals:
To help connect Maine farmers with surplus food to large, institutional customers. 
Methodology:
Every week, we reach out to Maine farmers and determine if they have any surplus food that they would like to sell.

This list is sent to institutions that are seeking affordable food in large quantities.

The institution can then pick which surplus foods they want to purchase and where they will pick it up, and all proceeds go directly to the farmer
Results:
We learned that because surplus food varies every week, this makes it difficult to process traditionally, but in cases like the Maine Department of Corrections, it means they have can access to varieties of local produce every week at a great price.

This program helps Maine farmers generate income from produce that would have otherwise gone to waste.

The program helps create a surplus spot marketplace. In other words, the program is not intended to create long term buying relationships, it is only for isolated cases of surplus.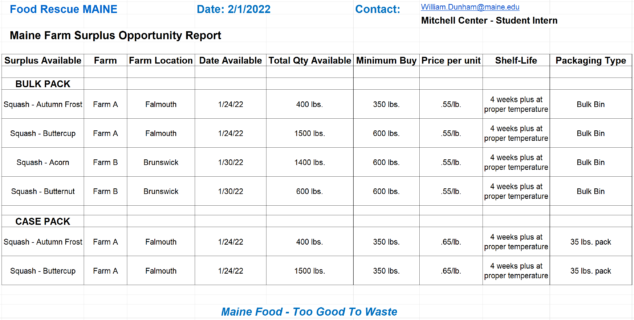 Maine Surplus Opportunity Report Template
---
After discovering how much surplus crops farmers were struggling to sell, we knew we had to figure out new markets for their use.
Upcycled food products are foods(often surplus foods or produce seconds) that are repurposed through processing techniques.
Project Goals:
To expand the available markets for surplus crops.

To increase the shelf life of food and make it more versatile.
Methodology:
We met with the USDA to see what the biggest food waste categories in Maine were.

We collaborated with Kennebec Valley Community College's food preservation cooking class.

Local farms brought to bring their surplus crops to the culinary arts program for experimentation in preserving their surplus harvest.

The students created creative and nutritious recipes out of this surplus harvest.

Because this happened during Covid lockdown, recipe samples were mailed out and a zoom meeting was held with our partners to determine the efficacy of these recipes in the market.
Partners:
Sodexo

Pineland Dairy

Good Shepherd Food Pantry

Walter Beesley (Maine Public Schools Director of Nutrition) 
Results:
After being vetted by our partners, recipes for surplus apples, butternut squash, skim milk, and cheese were created. Check out our tools and resources section below to view the results of this pilot.

We Mainers carry values we learned from our grandparents. We work hard and we don't like to waste anything. That's why we work to recognize the hard work of Maine farmers, turning their perfectly good surplus into delicious food for Maine families. KVCC Culinary Arts Student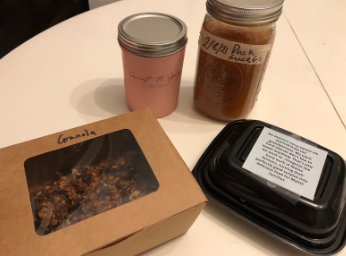 Photo of upcycled products made by KVCC students
---
After Pilot 3 was completed, we had amazing recipes to upcycle food, but no knowledge about what products would be feasible to sell in stores. Mainers Feeding Mainers, a Good Shepherd Food Bank program, did a crucial study to see what items would be marketable in Maine stores.
Project Goals: 
To develop resilient local Maine region food supply chain (producers, inventory/storage, processing, transportation, retail)

To reduce wasted food (nutritional, $ value) and related wasted key resources (water, energy, labor, soil)

To reduce food insecurity and improve access to nutritious local food for all Maine region consumers (retail, food service, food bank)

To reduce climate impact of wasted food and through decreased landfilling and transportation
Methodology: 
Identify excess farm food surplus opportunity – type, quantity and location (USDA, MFT, MOFGA).

Research successful social benefit, upcycled food brand economic models: Upcycled Food Association, Matriark Foods, Feeding America/Food Bank initiatives, Philabundance

Identify potential manufacturers and target food service/retail customers: Hannaford, MDOC, Sodexo,
DOE, Good Shepherd, MGFPA.

Develop pilot project to create a sustainable/profitable, long-term business plan.
Results: 
Phase I Products (current items ordered by Good Shepherd Food Bank):
CLASSIC MAINE APPLE SAUCE- Made with fresh apples grown in Maine region, this apple sauce is a New England favorite! Kettle-cooked the old-fashioned way using chunky whole fruit for a delicious home made taste. With no added sugar, it a great healthy treat for the whole family!! Other flavors include: Cinnamon Apple Sauce, Apple Berry Sauce, Apple Cranberry Sauce
CLASSIC MAINE GARDEN MARINARA SAUCE- Our original Maine Garden Marinara Sauce uses a tasty, slow kettle-cooked recipe featuring real fresh Maine grown
vegetables that is not only perfect for pasta but also great in many delicious easy meals with meats, seafood, pizza, or
casseroles. Flavors include: Classic Maine Garden Marinara Sauce and Sweet Basil Garden Pasta Sauce
Phase II Products (to be developed – not currently ordered by Good Shepherd Food Bank):
MAINE SOUPS (CREAM AND BROTH-BASED)- Our Maine Cream of Tomato Soup is an elegantly simple combination of fresh tomatoes, cream, basil and black pepper – a real classic. Other flavors include: Maine butternut squash, Maine cream of broccoli, and Maine potato cheddar.
MAINE VEGETABLE MINESTRONE SOUP- Our Maine vegetable minestrone is a fresh tomato broth filled with fresh carrots, celery, onions, pasta, potatoes,
zucchini, peas, green beans, red kidney beans and chickpeas. Other flavors include: Down East Farm Spring Vegetable Soup, Maine Lentil Vegetable Soup
DEHYDRATED SNACKS- Grain snack bars, dried fruit snacks, kids fruit snack bars.
SPENT GRAIN BAKERY- Bread, rolls, crackers.

For Maine region consumers who want an easy way to eat healthy, local foods that supports their community, our social benefit brand offers a popular range of healthy and delicious foods made from local producer surplus – produce, dairy, grains, and more – whose sales put the same foods into local food banks. Mainers Feeding Mainers (A Social Benefit Brand)
---
Food Rescue MAINE is currently working to develop a comprehensive map of Maine's food system, organized by the pieces of a successful circular food system. 
This map will provide Mainers with critical information about the food system in their region. Data sets will include categories such as food recycling organizations, farmers, schools, cold storage facilities, food processors, and much more. 
Project Goals: 
To develop Maine food system infrastructure to meet food processing needs of our primary target: Maine farmers and secondary target: Maine food system participants.

To develop a problem-solving tool for the State of Maine to end food waste by supporting a circular food system solution.

To develop a decision-making tool for the State of Maine that supports equitable, resilient, "community"-based food system solutions.
Methodology: 
Identified data points with input from partners(Maine Farmland Trust Department of Environmental Protection, and stakeholders in every part of the circular food system). 

The student intern putting together this data then handed it off to a University of Maine GIS class taught by Professor Kate Beard. 

Her students took our data and began to create independent dashboards representing Maine's circular food system, while work with our stakeholders themselves for any questions.

Professor Kate Beard is working now to combine the efforts of her students into one comprehensive circular food system map of Maine. 
Results: 
While the circular food system map is not yet finished, we are super excited to share it with you. Keep an eye out for updates on this page. 
Solution 4 Tools & Resources: 
Upcycled food recipes 

Mainers Feeding Mainers Project Presentation

Maine Circular Food System GIS Map (COMING SOON)
Click through the images below to try these recipes!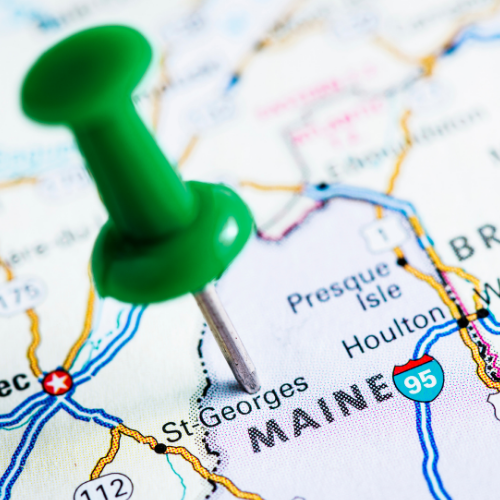 ---
Solution 4 Challenge Spotlight

How do we most effectively measure and use farm surplus?

We discovered this challenge while working with found challenge from work KVCC and Hannaford.

We needed to figure out how to get surplus food into the market to be used. 

Hannaford hired a summer intern to try to find a solution to this problem by upcycling apples into applesauce from surplus harvests.

They found that processing apples on a large scale would not be possible because if they had any variability(like drought or disease), they would be unable to effectively keep up their operation.

Unfortunately, processing surplus harvest is difficult, because the amount and type of surplus food is too varied to set up a facility to process it.

For this reason, we decided to pivot away from finding processing solutions, and focus instead on finding new outlets and better distribution systems for fresh produce- through the help of resources like our circular food system map. 
Want to Get in Touch with Us?
Want to get involved? Take a moment to fill out this quick form so that someone from the Food Rescue MAINE program can reach out to you.