Programs and Tours
The Hudson Museum offers guided tours and gallery programs for elementary and secondary school groups, as well as programs for University students and learners of all ages. Additionally, we offer programs that support state mandated educational initiatives.
All groups coming to the Museum must call the Museum office prior to their visit to confirm space and schedule availability.
Bus Arrival Information: Buses should arrive on campus at least 10 minutes prior to the group's tour time.
From I-95, take exit 191 to Kelly Road and turn right. Continue on Kelly Road for 1 mile until you reach the traffic light, then turn left onto Route 2 and go through downtown Orono. Cross the river, then bear right onto Park Street. Continue .5 miles and take the Rangeley Road exit from the traffic circle onto the University of Maine campus. At the fork, bear left and take the first left into the Belgrade lot. Please note that the entrance to the Belgrade lot has moved and it is no longer accessible near the Collins Center for the Arts. The brick and glass building is the Collins Center for the Arts.
Buses must park in the Belgrade Lot; when facing the Collins Center for the Arts, this is the large parking lot on the LEFT. Students are not allowed to be discharged from the bus except when in the Belgrade Lot – NO EXCEPTIONS. 
*Updated as of 8.28.18
New Maine Indian Classroom Programs for Schools— We come to you!
The Hudson Museum can come into your classroom with new Maine Indian programs based on the Hudson Museum's collections.  Each program lasts from 60 to 90 minutes and can be delivered to 3 classrooms simultaneously.  The programs combine resources developed by the Museum, including the Maine Indian iPad app and documentary films on Maine Indian artists created in collaboration with the Maine Indian Basketmakers Alliance, as well as games and arts and crafts activities.  They can be geared for elementary and middle school students.  You may choose from three different program options:
Artists of the Dawnland
Learn about Maine Indian baskets, birchbark work, and woodworking and decorative traditions.  Students will explore the Museum's iPad app and have an opportunity to see objects from the Hudson Museum's collections in the classroom
Wabanaki Games, Legends and Stories
Learn about Northeastern Native American Games and try your hand at playing them; hear traditional tales including the Frog Monster and the Windbird, and hear about the friendship between FDR and Passamaquoddy artist and guide Tomah Joseph.
Exploring Maine Indian Artforms
Watch documentary films on Maine Indian basketamkers, birchbark artists and beadworkers; then make a woven bookmark, an etched piece and a Northeastern style pouch.
Schools are asked to reiumburse the Museum for transportation expenses and pay $100 per program.  For more information, please call 581-1904.
Tour and Gallery Program Information
Explore Archaeology Program
Excavate the only indoor archaeological site in Maine in the comfort of the Hudson Museum. Students will excavate the Museum's Arch Box, learn about the techniques that archaeologists use to understand the past; record and identify artifacts; map their locations and understand their context; and determine what types of activities were going on at the site. This activity is designed for 8 to 10 students and requires a minimum of 1 hour. Appropriate for students in grades 3 and up.
Maine Indians Program
Learn about the material culture of Maine's four tribes, focusing on birchbark work, basketry, and carving traditions. Listen to a
traditional Penobscot tale, play waltes, a Northeastern bowl and dice game, and make a bookmark or traditional container.
Native American Program
This program focuses on the Native Peoples of Maine, the Southwest, the Northwest Coast and the Arctic. Learn about the environments in which they live, their way of life through the objects that they make, and traditional artforms and activities.
Mesoamerican Civilizations Program
Learn about the civilizations–Olmec to Aztec–of Mesoamerica through artifacts from the Hudson Museum's collection. This program is geared to middle school students.
Maine Indian Native Voices Videos Online
New Web-based Educational Resources to support the teaching of Maine Indian History and Culture. The video segments that are featured in the Maine Indian Gallery's Native Voices kiosks are available for use in your classroom now.
Group Sizes, Fees and Pre-Visit Materials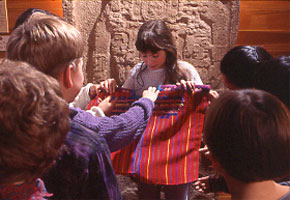 Minimum group size is 10. Tour group size for individual tours is 25 however, we can accommodate group sizes up to 75 students at a time. There is a charge of $2 per person. School groups should be accompanied by one adult (admitted free) for every 10 students. Additional chaperones are charged $2 per person. For accommodations for persons with disabilities, please call: 207.581.1904. Large print gallery guides and four audio tour units are available for some galleries. Pre-visit materials for some galleries are available upon request. For information about how the Hudson Museum supports teaching Maine Native American history and culture in the classroom, visit our Curriculum Resources index of online articles and activities.
Book a Tour
To book a tour at the Hudson Museum, contact Gretchen Faulkner at 581-1904 or by email at gretchen.faulkner@maine.edu at least two weeks prior to the desired tour date to ensure convenience of scheduling.
Apply for Fieldtrip Funding
Please visit the Minsky Fieldtrip Fund tab on the Education home page for more information.