Classroom Exhibits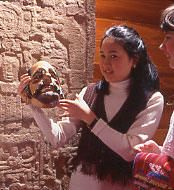 Hands-on Learning Opportunities
Resource-rich classroom exhibits from the Hudson Museum stimulate the study of fine arts, language arts or social studies through a mini-exhibit, cultural artifacts and resource materials. Classroom exhibits are available for two week loan periods for a rental fee, which includes one-way shipping. Borrowers are responsible for return UPS shipping expenses.
Classroom Exhibit Information
People of the Dawn: Past and Present
Fee: $45
Maine's Native peoples were and continue to be a significant part of the state's multi-cultural population. Display panels showcase drawings and historic and contemporary photographs that illustrate traditional life from 1600 to the present. The exhibit also includes hands-on materials: examples of Maine Indian basketry, birch bark work and other art forms, reference books, videos and audio CDs.
Penobscot Images: Early 20th Century Photographs by Frank G. Speck
Fee: $25
Anthropologist Frank Speck spent his career studying the lifeways of Native North Americans. His photograph collections document the lifeways of the Penobscot people in the early 20th century. This exhibit consists of 13 black and white photographs in a 16″ by 16″ format, prepared for exhibition.
In Beauty and Harmony: The Navajo and Their Textiles
Fee: $45
This exhibit showcases Navajo weaving but also includes material on other aspects of Navajo culture and traditions. Included in the exhibit are books, videos and reference materials, as well as Navajo textiles and weaving tools.
The Maya
Fee: $45
The Classic period of ancient Maya civilization saw the establishment of extensive settlements and the development of astronomy, art, architecture and writing. Contemporary artifacts include a dance mask, textiles, musical instruments and ceramics. Video reference materials and a back-strap loom are also included.
Seeds of Change
Fee: $35
Based on the original Smithsonian exhibit commemorating the 500th anniversary of European contact with the "New World." This exhibit includes 50 posters (approximately 20″ by 30″) detailing the consequences of contact. A video and resource materials are also part of this exhibit.
Three Arctic Visits
Fee: $45
Based on the Museum's popular exhibit Arctic Visits: Three Journeys of Discovery to Native Communities, this classroom exhibit includes a three-panel, mini-exhibit—each panel devoted to a different "explorer"—and a wide range of educational materials including a selection of books about the Arctic, videos, and hands-on materials including a Yup'ik doll, grass basket, ulu, and dog sled model. This classroom exhibit provides an excellent resource for pre-tour preparation and post-tour activities.
Contact
Please direct inquiries regarding Hudson Museum education programs to Gretchen Faulkner at (207) 581-1904 or by email at gretchen.faulkner@maine.edu.