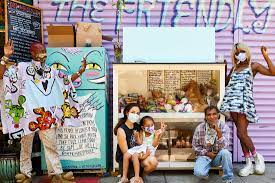 Opening Doors: Community Fridges
U.S. Food Insecurity and Federal Efforts
Food insecurity is an issue that I've been passionate about long before I joined the Food Rescue MAINE intern team this past fall. In middle school, a local backpack program that provided kids with meals and snacks over the weekend opened my eyes to how widespread food instability and insecurity were in my own community. My community, like so many others, was turning to creative solutions to addressing it outside of federal aid.
I became deeply interested in exploring the ways that federal and state governments fight food insecurity. The federal and state governments can effectively combat food insecurity because of the longer reaching, national impact they have. I spent time researching programs like the expanded child tax credit. The expanded child tax credit provided monthly payments to families for support during the COVID-19 pandemic. It was an unprecedented investment in American families, estimated to have reduced food insufficiency among long income families by 25%. If you're interested in learning more about impacts of the expanded child tax credit, click here. Unfortunately, Congress refused to renew the program at the end of 2021; but many states began to adopt their own smaller-scale version of this credit, including Maine.
Feeding America reports that more than 34 million people- including 9 million children- are experiencing food insecurity in the United States either temporarily or long term. When I used to look at food insecurity, I saw it as the intimidatingly widespread issue. I thought that because of its scale, real change could only come through massive spending on the federal level. Click here to learn more about food insecurity in the U.S..
A New Strategy to Address Food Waste and Food Insecurity
When I started my internship with Food Rescue MAINE, it was another eye opening experience. I learned that we could fight food waste and food insecurity together. Many communities across the country have been implementing to effective strategies to start real change. I inherited a Maine Hunger Dialogue grant from the previous intern to start a community fridge- and it was the first time I had ever heard of this.
What are Community Fridges?
A community fridge is a free, public location where community members can take what they need and donate what they can. They are a form of mutual aid: community members looking to support each other. During the COVID-19 pandemic, community fridges spread rapidly across urban areas as a way to supplement gaps in the food system. Community fridges provide food that would have gone to waste to members in a community who need it.  Through these efforts, communities can promote greater access to healthier foods. Some community fridges are open 24/7, which allows both people more flexibility in accessing this resource.
While food reduction is the best way to fight food waste, food recovery and redistribution is an effective way we can cut back food waste AND fight food insecurity. Food insecurity can feel like a huge problem that only huge federal action can fight. However, we can all support members of our community through smaller actions.
If you find yourself wanting to help give back to your community, you can support your local pantries by doing the following:
See if your community has a community fridge that you can help by bringing smaller amounts of food
Shop your own community fridge
If your community doesn't have a community fridge, start your own! While community fridges are popular in urban areas, they're still spreading across the country– and need YOUR help to do it.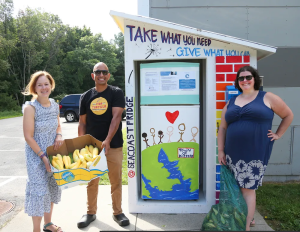 This is the Seacoast Community Fridge with founding member Whitney Blethen on the far right
Our Community Fridge Pilot
Moving forward in this internship, I'm working on a pilot to start a community fridge in the Orono area to provide this supplemental support. Food insecurity and insufficiency are a large-scale problem that needs large-scale solutions, but mutual aid projects like a community fridge are an incredible way that you can help to fill in the gaps in the food system and support your neighbors.
– Kate F., Mitchell Center Student Intern
"I'm a bagel fanatic who loves reading in hammocks, plants, and nature walks"
Citations: