Solution 2: Food Rescue Program
With 40% of food being wasted, there is plenty of good and edible food in the U.S. to solve our food-insecurity issues. The problem is that we have a lack of infrastructure in place to connect unwanted food with food-insecure populations. Food Rescue MAINE's Food Rescue pilot is designed to help increase connections between food donors and recipients. 
"More than

two-thirds

of all food discarded in people's homes in three major U.S. cities was potentially edible, and up to

68 million

additional meals annually could potentially be donated to people in need in those cities."
– Natural Resources Defense Council(NRDC)
Each year

180 billion pounds

of food is wasted in the US- this e

quates to around

130 billion meals and 

$408 billion dollars

in food thrown away each year.
– Feeding America
---
In 2021, Food Rescue MAINE intern, Ariana Walker, organized a feeding site in Biddeford, Maine. 
Project Goals: 
To connect surplus food that is available with local people that need it. 
Methodology: 
University of New England(UNE) Dining, powered by Parkhurst, donated their surplus food.

Through volunteers from UNE's Hunger Committee, this surplus food was then delivered to the Bon Appetit Community Meal Program.

Throughout this process, the volunteers used a software program created by Food Rescue U.S.. They logged all of the rescued food in this program, and it is through here that volunteers can also sign up and find an available food rescue to participate in. 
Results:
Through a volunteer food rescue program, Biddeford residents were able to rescue 270 pounds of good and edible food for their community. Through only 9 total food rescues at this brand new feeding site, they were able to rescue 175 meals– preventing food waste and connecting food with people that need it. (See the graphs adjacent for data)

Table 1: Rescue report in numerical terms for 2021 separated by month.
Figure 1: Rescue report for 2021 Food Rescue MAINE pilot project in York County that includes number of rescues conducted in dark blue, and the subsequent meals rescued in the light blue separated by month.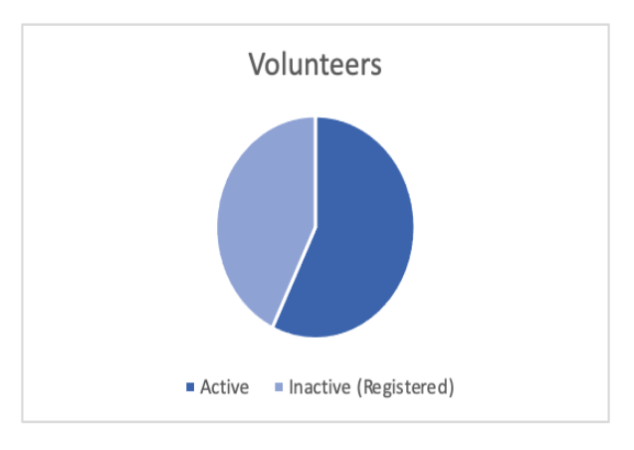 Figure 2: Contrasted active volunteers participating in rescues and inactive volunteers that are registering in the Food Rescue MAINE system but have not completed a rescue.
---
Solution 2 Tools & Resources: 
Gleaning locations in Maine

Volunteer as a food rescuer through a Food Rescue U.S. program

Food Pantries in Maine locations

Food Donation Toolkit

Food Donation Toolkit Presentation
Click the images below to access these tools and resources:
WE NEED YOU!
Are you interested in volunteering?
Please fill out this brief form to help us get to know you! Based on your preferences and schedule, we can work together to find the best place for you to volunteer. Thank you for helping us feed more Mainers.
---
Solution 2 Challenge Spotlight

Is it worth it to put in the time to use software like Food Rescue U.S.? 

Yes it is! Using the Food Rescue U.S. software is so great because it is a standardized system. With Maine being so spread out, people all over the state are already rescuing food, but with all of the different systems in use, it is impossible to communicate between organizations.

When we first began using this program, we tried to recruit organizations from Lincoln County, Rockland, and Waterville. However, they already had different systems of communicating with donors, and it became difficult for this new software to catch on. 

If we could get all of our powerful organizations throughout the state to use one system, we could stretch our reach and improve food rescue infrastructure.

Using a standardized system like Food Rescue U.S. means you can handle more donors and data points. To take things a step further, having all of this data stored in one place helps to prevent issues and confusion caused by turnover. 
---
"Food Rescue MAINE offers a flexible schedule as a site director, that allowed myself to increase the bandwidth of the program only up to the degree I thought was feasible. Every time I pick up and deliver food, I feel a sense of pride knowing that this program is operational in this community because of the efforts that I put forth. It also is a great feeling knowing that every pound of food you rescue, is food that otherwise would have been sent to a landfill."
– Ariana Walker, Mitchell Center Student Intern and Site Director