Solution 1: Measure, Track, and Save
Why Solution 1?
The most important part of the food recovery hierarchy is preventing food waste. Tracking your food waste makes you more aware of your habits and able to make strategic decisions going forward. 
MEASURE.
TRACK.
SAVE.
Sophisticated food waste tracking systems often cost thousands or tens of thousands of dollars, and these prices are difficult to manage for the many small businesses in Maine. We strive to provide a simplified, but free tracking program for Maine businesses to begin their food waste tracking journey.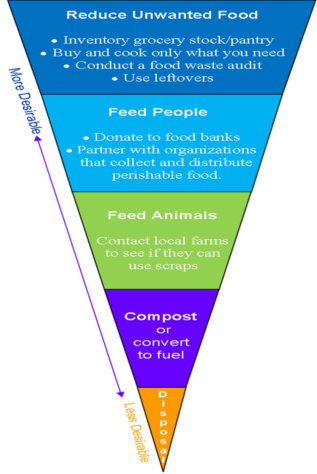 The Food Recovery Hierarchy
---
"Waste tracking is the best way to reduce waste in the United States.- with a food and cost saving potential for the state being around 68,000 tons of food; or, at minimum, 82.6 million dollars annually."
– ReFED
"By just tracking and reducing your waste where possible, we promise to recoup between 2 and 8% of food costs"
–

LeanPath, a private food tracking company
---
Solution 1 Tools & Resources: 
Business Tracker
For help developing or using this business tracker, use the contact form below!
---
Solution 1 Challenge Spotlight

How can I track my food waste if I have a labor shortage or cannot afford the extra hours?

With much of Maine being made up of small businesses, business owners often come to us wanting to track their food waste, but they do not think they have the capacity to do so.  But it is not more cost effective to keep wasting the food.  It's actually proven that it is worth taking the time to track the food you waste- it improves employee engagement and saves money in the long term through great results.

Tracking is not a long-term project. Tracking your food waste for just six weeks can give you the data that you need to create a strategy for better utilizing the resources you have moving forward. 

The best part about the food waste tracker is that it is entirely customizable to your needs. After meeting with you, we can work together on a plan to make your tracking as simple or complex as your business needs.
---
---
---
Want to Get in Touch with Us?
Want to get involved? Take a moment to fill out this quick form so that someone from the Food Rescue MAINE program can reach out to you.