What's New?
The What's New page highlights trends, events, or other issues at the forefront of the black bear community.  Scroll down for the latest information on programs, wellness and safety tips, public health announcements (PHA), and everything else new in the Student Wellness Resource Center!
Fentanyl Awareness
Fentanyl has become more prevalent in recent years, and has been found more often mixed in with other illicit drugs that some take recreationally. Being educated of the dangers and knowing how to mitigate those risk factors is key to staying safe and keeping others protected. Please use caution when making choices and focus on harm-reduction strategies when deciding to take risks. Consider the following information to make sure you are fully informed: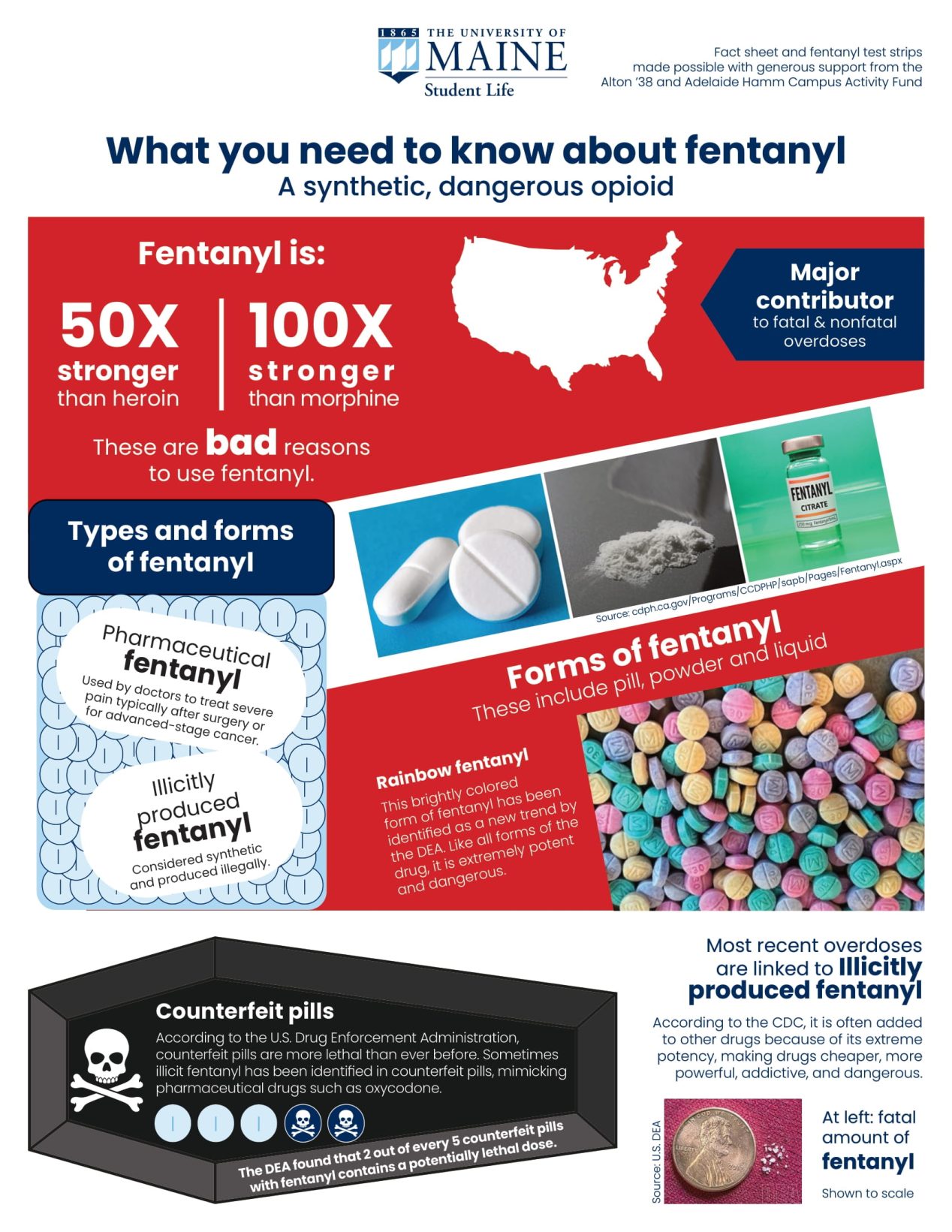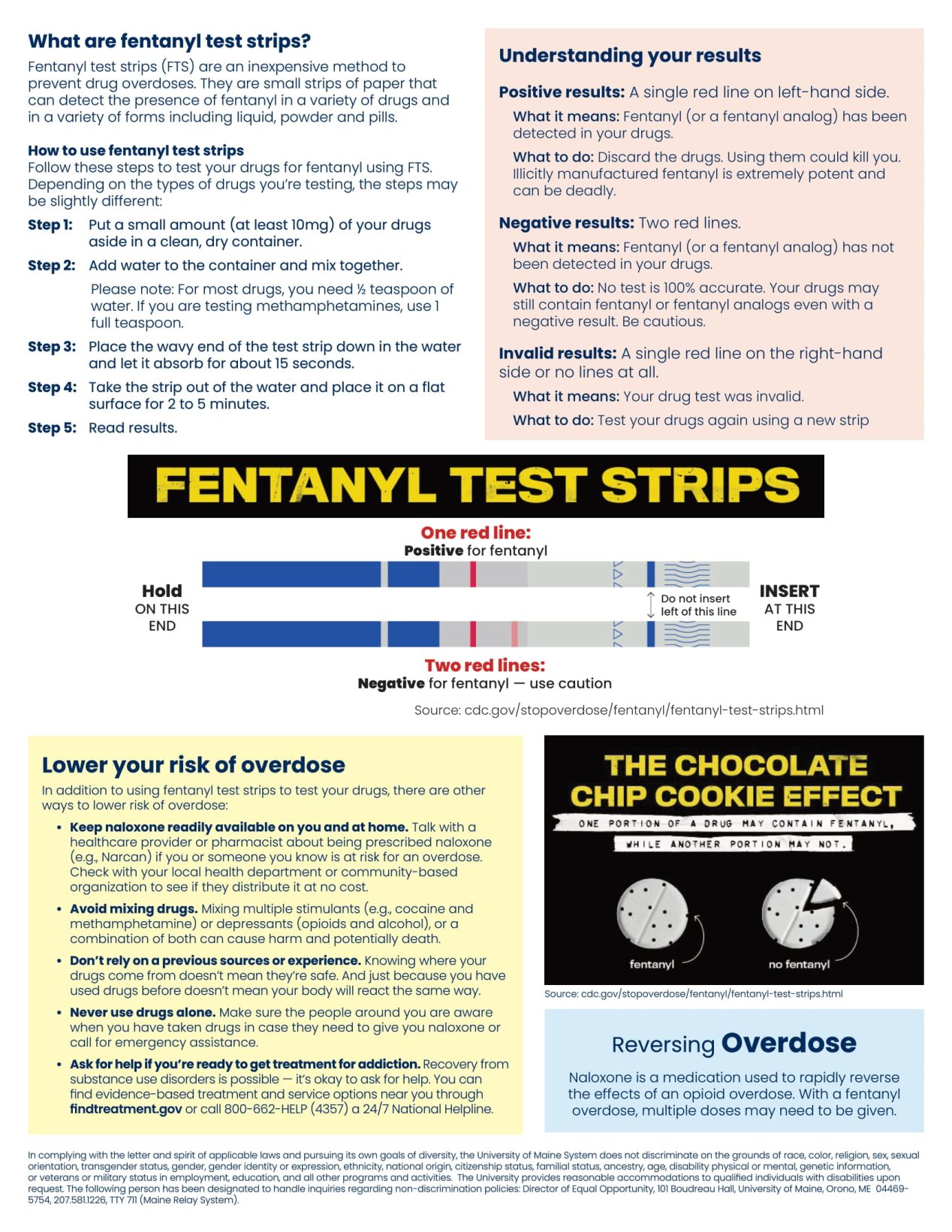 ---
PHA: Medication and Alcohol
We are in the midst of flu season, and as such there is a significant rise in the use of over the counter and prescription medication.  Many over the counter medications, such as DayQuil have serious consequences when taken with alcohol.  Many students follow the typical precautions of drinking water and eating food when taking medication, but some are more reckless and engage in drinking behaviors.  Below is a Q&A about the dangers of mixing medications and alcohol. 
---
Can cold medicine be taken with alcohol? 
Depending on the type of medication being taken, many individuals often state they experience drowsiness, dizziness, and to a certain extent, some measure of motor impairment or difficulty in normal movements.  These effects could be significantly amplified when combining cold medicine and alcohol. 
Cold medications containing dextromethorphan, which is an active ingredient in DayQuil, could cause heavy sedation and respiratory depression when it mixes with alcohol in the body. This could knock a person out completely and also slow a person's breathing to dangerous levels, potentially even being lethal at some point.
What is commonly in cold medicine?
Cold medicines are commonly used as a decongestant, cough suppressant, and fever reducers.  The more potent ingredients, such as those found in DayQuil, include; dextromethorphan (a couch suppressant and sedative from the same chemical family as morphine), phenylephrine (a decongestant commonly added in nasal sprays), and acetaminophen (a moderate pain reliever and fever reducer). 
Is it dangerous to take medication with alcohol?
Alcohol and medications are not recommended to be taken together. Alcohol and many medications have sedative properties which can result in serious medical injury, including long-term liver damage. Furthermore, alcohol suppresses the immune system which results in prolonged, more severe cold, and flu symptoms.
It is always a good idea to consult first with a physician as to what possible effects a particular medication could have when taken with other substances such as alcohol. If possible, the safer way would be to refrain from taking potentially reactive substances such as alcohol and other medications, specifically cold medicines this time of year.
How long after taking cold medicine can I drink?
Most active ingredients in cold medicines are active in the system for 4-6 hours depending on individual health variables. While mixing alcohol and cold medicine is not advised; you could have a drink after 4-6 hours from your last medication dosage. However, a single drink of alcohol can last in the body for 3 hours. So it's not advised to take additional cold medicine after having alcohol. 
Any other substance taken during this period could also interact with the cold medicine already in the system. Due to the fact that different people have different thresholds, whatever period passes for a "safe" time to take alcohol after taking cold medicine, or vice versa, is completely relative to the person.
What are the risks associated with taking cold medicine with alcohol?
There are always risks of damage when two potent substances combine in the body. Regardless of a person's tolerance or threshold, the damage could be anywhere from severe to life-threatening, and could take effect anywhere in between shortly after being taken or after quite some time, mainly due to accumulated effects.
The type of reaction and severity could depend upon the person and the particular components of the medication taken with alcohol. In the case of mixing cold medicine with alcohol, the more prominent dangers include:
Liver Damage
Convulsions
Sever Abdominal Pain
Sever Vomiting
Extreme Lethargy
Risk of Developing Alcohol/Cough Medicine Dependency
Nausea
Increases Risk of Hypertension
Loss of Motor Skills
Dissociation
Dizziness
Disrupted Sleep
Overdose and/or Death
The long-term dangers of cold medicine and alcohol's side effects are well researched; specifically, the dangers of liver damage, hypertension, and convulsions. Because of the many effects of mixing cold medicine and alcohol, an overdose can occur in even the healthiest of individuals. Mixing cold medicine and alcohol is never advised.
Could mixing medication(s) and alcohol be a sign of a bigger issue?
Binge drinking (defined by the CDC as consuming 5 or more drinks on an occasion for men or 4 or more drinks on an occasion for women) is already dangerous as inebriation causes numerous damaging effects on the body, including:
Neurological Issues
Diminished Physical Coordination
Cardiomyopathy
Arrhythmia
Hypertension
Stroke
Alcoholic Hepatitis
Liver Fibrosis
Cirrhosis
Pancreatitis
Cancer
Chances of developing one or more of these issues are significantly increased when overconsumption of alcohol is paired with substance use. In the case of cold medicine, as it typically induces feelings of sleepiness and deep relaxation due to its narcotic effect, some people might find that pairing it with alcohol produces an even greater experience.
What about other over the counter, and even prescription, medication?
Similar to cold medicines, mixing alcohol with any medication (whether it is over the counter or prescribed by a doctor) can cause nausea and vomiting, headaches, drowsiness, fainting, or loss of coordination. It can also put you at risk for internal bleeding, heart problems, and difficulties in breathing. In addition to these dangers, alcohol can make a medication less effective or even useless, or it may make the medication harmful or toxic to your body.
Even if they are not taken at the same time, the chemicals and ingredients can have negative effects when mixed with alcohol for the so called 'effective time' a medication is active in your body.  Protect yourself by avoiding alcohol if you are taking a medication and don't know its effect.  
The National Institute on Alcohol Abuse and Alcoholism has an FAQ sheet with some of the more common medications and their reaction when taken with alcohol. 
Drug and alcohol addiction treatment.
Drug and alcohol treatment is the first step on the road to recovery. If you or anyone you know requires rehabilitation, help is available. Contact your doctor or an addiction treatment facility for information or visit our Resource Page for more help. 
Sources:
Northern Illinois Recovery

https://www.northernillinoisrecovery.com/the-dangers-of-mixing-dayquil-and-alcohol/

Blueprints for Recovery

https://blueprintsforrecovery.com/resources/dayquil-and-alcohol/

DrugRehab.Com

https://www.drugrehab.com/addiction/alcohol/risks-of-mixing-alcohol/dayquil/

Center for Disease Control

https://www.cdc.gov/alcohol/fact-sheets/binge-drinking.htm

Drugs.Com

https://www.drugs.com/food-interactions/acetaminophen-dextromethorphan-phenylephrine,vicks-dayquil-cold-flu-relief.html

About DayQuil

https://www.healthline.com/health/cold-flu/dayquil#drug-features

DailyMed – National Library of Medicine

https://dailymed.nlm.nih.gov/dailymed/drugInfo.cfm?setid=10ae1774-6e64-4b75-941b-8facd63a66e8

National Institute on Alcohol Abuse and Alcoholism

https://www.niaaa.nih.gov/publications/brochures-and-fact-sheets/harmful-interactions-mixing-alcohol-with-medicines