Former Lab Members
Carl Huntsberger, M.S.
Degree: M.S., Marine Biology
Institution:   University of Maine
Year completed:  2019
Contact info: carlton.huntsberger@maine.edu
I grew up lobstering in East Penobscot Bay or roaming around the family farm near Belfast, Maine.  I spent my college years at Roger Williams University (RWU) in Rhode Island on Narragansett Bay. There  I conducted independent research at the Aquatic Diagnostic Laboratory and was a member of the sailing team.  After graduation I worked at a non-profit research lab on Cape Cod conducting seasonal surveys on Georges Bank in collaboration with commercial scallop boats.  This survey allowed me to conduct research on the prevalence and distribution of the parasite, Ichthyophonus sp., in yellowtail flounder and Mycobacteria sp. infections in scallops.  Although I loved working in the field with fisheries I was ready to continue on to graduate school at the Darling Marine Center where I can explore new areas of interest in marine biology.
Maura Niemisto, M.S.
Degree: M.S., Marine Biology

Institution:   University of Maine
Year completed:  2019
Contact info: mauraniemisto@gmail.com
I grew up living amongst the Great Lakes in Northern Michigan. Spending time on the water and living near a national park, I developed a love for nature and science. I graduated from University of Michigan with a BS in Environmental Studies, building an enthusiasm for research through the study of zebra mussels, crayfish, and other topics.
After graduation, I went on to become an environmental educator and coordinator for several years on a tallship on the Hudson River. Coming from a mainly freshwater background, the estuarine environment fascinated me, with the many different life cycles and relationships of the organisms inside the river and their interaction with New York City. Soon, the programs I led developed a strong science focus with an emphasis on data collection and sampling of fish and plankton.
Now I seek to expand my understanding of the marine environment and its interactions with all of the local and global changes we are experiencing. While at University of Maine, I plan to study the effects of climate change and ocean acidification on the behavior, physiology, and gene expression of larval lobsters.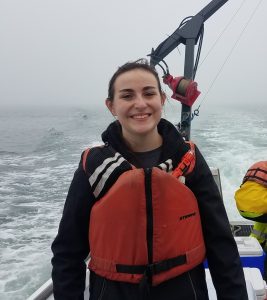 Allison Morin, B.S.
Degree: B.S., Marine Biology
Institution:   University of Maine
Year completed:  2019
Contact info: allison.morin@maine.edu
I am a senior in the UMaine Marine Science program working towards a concentration in Marine Biology and a minor in fisheries. I am working in the Wahle Lab as an assistant while I attend the Semester by the Sea program and work on my capstone. My capstone focuses on the survival rate of lobster cohorts in their first year of life. I hope to use the experience that I gain while I am here in my future career.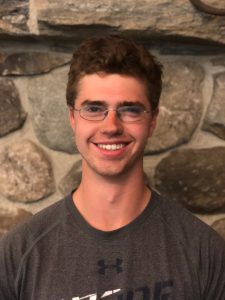 David Gauld, B.S.
Degree: B.S., Marine Biology
Institution:   University of Maine
Year completed:  2019
Contact info: davidgauld57@yahoo.com
I am a senior at the University of Maine working in the Wahle Lab as an assistant, continuing my work after working for Dr. Wahle over this past summer. In addition to working as a lab assistant I am currently in the process of my Capstone Project, a requirement to graduate from UMaine with a BS in marine science, which is what I am pursuing. The capstone focuses on heat tolerance in embryonic lobsters. I have really enjoyed gaining lab and field experience working in the Wahle Lab, and hope that it will help me as I continue my education/career.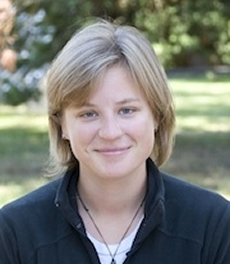 Skylar Bayer, Ph.D
Degree:  Ph.D., Marine Biology
Institution:   University of Maine
Year completed: Spring 2017
Contact info:  
Research topic: Population density and flow impacts on scallop reproductive ecology
Research: I am researching the biology, reproduction and recruitment of P. magellanicus that will aid in managing this fishery and provide a broader understanding of the reproductive biology of free-spawning marine animals. My thesis work will be based on both field and lab experimentation and observation of the effects of population density and flow on scallop fertilization success.
Science Communication: Skylar has been an active member in the world of scientific communication, participating on MPBN's Maine Calling, telling and producing stories with The Story Collider among many other activities (check out her website for a full list). In 2016, Skylar was selected to speak at a TEDx event in Portsmouth, NH. She spoke about why we should care about how our seafood reproduces. You can watch her full presentation here.
---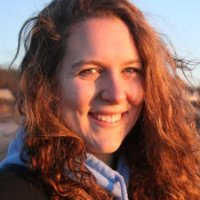 Jesica Waller, M.S.
Degree: Marine Biology
Institution:   University of Maine
Year completed:  2016
Contact info: jesica.waller@maine.edu
My name is Jesica Waller (yeah, really one "s") and I am a second year Master's student in Marine Biology. When I'm not here at the Darling Center you can usually find me reading a good book or eating something with cheese in it. I grew up in Vermont and the Cape Cod area and attended the University of New Hampshire where I majored in Marine and Freshwater Biology. After a summer with SEA Semester and my research at UNH I knew that I wanted to keep studying all those little, invertebrate things floating around the water column. Last summer, in collaboration with Bigelow Laboratory for Ocean Sciences, I conducted research on the impacts of predicted ocean acidifcation conditions on  the physiology and growth of larval lobsters. I hope to expand upon this preliminary work during my time at the Wahle lab.
In 2016, Jes' photo of a 3-week-old lobster larva won the People's Choice award in the photography category of the Vizzies. The Vizzies is sponsored each year by the National Science Foundation and Popular Science. The photo and a description of Jes' work was featured in Popular Science and the front page of the Portland Press Herald.
Jes was also awarded the University of Maine 2016 Edith Patch Award for her research and outreach efforts. Dr. Wahle nominated her for this award and in April 2016 Jes received this honor for "scholarship and service in the fields of science, agriculture, engineering or environmental education, and promise for future contribution in their field."
Jes published her research in ICES Journal of Marine Science in 2016. The Associated Press article that followed was one of the top 10 AP articles in Maine in 2016.
---
Noah Oppenheim, M.S.
Degree: Marine Biology & Marine Policy
Institution: University of Maine
Year completed: 2016
Contact info: noah.oppenheim@maine.edu
Noah grew up in Falmouth, Maine. His first SCUBA dive was at age 9 in a pool, and he was subsequently certified 8 years later. He became a Divemaster in 2005 and spent a year during college studying hammerhead shark migration in the Galapagos Islands and working as a crew member on sailing vessels in the South Pacific. He received a BA in Biology from Reed College in 2010. After college he spent two years working in the Bering Sea as a NMFS groundfish observer and a deckhand on a salmon fishing vessel. He is currently enrolled in the Dual MS program (marine biology and marine policy), working with Dr. Rick Wahle and Dr. Carla Guenther on forecasting models in the Maine lobster fishery.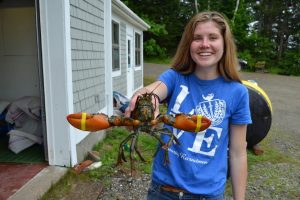 Degree: B.S. Marine Biology
Institution: University of Maine
Contact Info: Abigale.shaughnessy@maine.edu
I grew up in a land locked town in northern Connecticut, where my only exposure to the marine world was through occasional family beach trips. I have always had an interest in science, but did not find my passion for marine science until my senior year of high school, where I had the chance to view marine organisms under a microscope. From that point on, I knew I wanted to become a marine biologist.
As an undergrad at the University of Maine, I have gained experience in policy work pertaining to Maine's clamming industry. I earned my basic scuba certification after my freshman year and participated in the Semester by the Sea program in the fall of 2016 where I completed my AAUS Science Diver training. In the future, I plan to continue my training as a scuba diver, get involved with marine education outreach programs, and, eventually, earn my masters in the marine ecology field.
Currently, I am conducting research on lobster shell quality and hardness for my undergraduate, honors thesis with Dr. Wahle and in cooperation with Ready Seafood Co. in Portland, Me.
Melissa Hoffman
Degree: B.S.
Institution: University of Maine
Year Completed:  2015
Melissa Hoffman grew up in Madison, CT and came to Maine to pursue her passion of becoming a marine scientist. She is a recent graduate of the School of Marine Sciences at UMaine and is especially interested in how socially and economically important species are impacted by human activities. Her current work at the Wahle Lab focuses on how detrital algae may alter the quality of cobble habitats in the intertidal zone.  In addition to this independent project, Melissa is working towards her Advanced Open Water and Research SCUBA Diving certifications by assisting in scientific diving missions for the Wahle Lab. In the past, Melissa has worked with polychaete diversity in mudflats, mussel larvae distribution, coral reef structures, and marine science education – she looks forward to immersing herself in the world of lobsters and scallops this summer at the Wahle lab!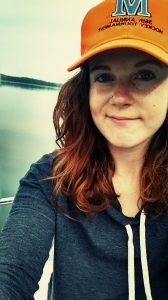 Degree: B.S.
Institution: University of Maine
Year Completed: 2015
My name is Colby Johns and I am going into my senior year as an undergraduate at the University of Maine, double concentrating in Marine Biology and Marine Physical sciences. After graduating I plan on taking a little time off from school before going to grad school to earn my masters in Marine Engineering. I recently started scuba diving earning my basic scuba certification the beginning of June and going for my dive master certification in the fall. This summer in the Wahle lab I am focusing my work on two projects. One is my capstone work comparing two different growing methods, ear hanging and cage rearing in which the prediction is that by ear hanging the scallops will they not only grow larger than the caged ones but their meat yield will be larger as well. The second project is a predation experiment on scallops where we tether a variety of sizes to a line for 24 hours then retrieve them to see which sizes were predated on and determine what it was that preyed on them.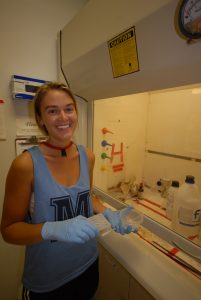 Audrey Knowlton
Degree: B.S.
Institution: University of Maine
Year Completed: 2014
A New Method to Determine the Direct Age of the Jonah crab, Cancer borealis.
 Direct age determination would greatly enhance fishery science by providing more accurate estimates of age in crustaceans than currently used size-based methods. Knowledge of growth and survival would result in an improved understanding of the factors that affect recruitment success. If effective, this age determination method could be widely applied to crustacean demographic studies, and in particular, stock assessment, monitoring and management of target species.
My work in the Wahle Lab focused on in-field scientific dives including transect surveys, suction sampling, and hand collections of primarily lobsters, crabs, and scallops. I was responsible for general maintenance and care of the organisms in our wet lab. I gained experience in lobster and crab dissections, histological sectioning methods, microscopy, image analysis, data collection, categorization, and statistical analysis.
---
Katy Newcomer
Degree: B.S.
Institution: Williams College
Year Completed: 2014
Katy Newcomer was the summer intern for the American Academy of Underwater Sciences, sponsored by Our World Underwater Scholarship Society. Katy is a recent graduate of Williams College, where she earned her B.A. in Environmental Biology and Maritime Studies. Katy worked under Chris Rigaud and Richard Wahle as a dive intern and member of the Wahle fisheries lab. Besides working to collect lobsters and scallops for Dr. Wahle throughout the summer, Katy earned her nitrox and drysuit specialty certifications as well as becoming an AAUS Scientific Diver and a PADI Divemaster. Although this is not her first experience diving for science it was absolutely the most educational and exciting of her career. In the past Katy has worked with coral, sea turtles, sea urchins and anemones, and hopes to continue her career in benthic coastal ecology and science diving. She lived and worked at the DMC from June until September.
---
Additional Former Members:
2018
Bill Favitta (Lab Tech)
2016
Zach Topor (Lab Tech and Intern)
Abby Shaughnessy (Intern & UMaine Undergrad)
Jacob Silver (Intern & UMaine Undergrad)
2015
Steven Allen (Lab Tech)
2014
Phoebe Jekielek (Lab Tech)
2013
Nacho Petit Vega (Intern)
Jacque Rosa (Intern & UMaine Undergrad)
2012
Charlene Bergeron (Lab Tech)
Adam Umstead (Intern)
2011
Sebastian Velez (Intern & UMaine Undergrad)
Mahima Jaini (M.S. student)