Engaged Black Bear Initiative – Service to the Community
The Engaged Black Bear (EBB) is an innovative digital badging initiative, created to aid the University of Maine in meeting its vision to become the "most distinctively student centered and community engaged of all theAmerican Research Universities." EBB Learning Pathway digital badges were created to engage undergraduate students at three levels- taking them from a participant to leader within a chosen area of interest. Badges are awarded to students who meet the defined criteria and provide evidence of their experiences, extending their learning beyond the classroom. These badges signify to potential employers that these students successfully submitted the required evidence to earn each badge.
Service to the Community
Level 1: This badge is issued in recognition of the earner participating in three service projects approved by the Bodwell Center for Service and Volunteerism and submitting a brief reflection on what you did and your plans for a path toward further community engagement. (Visit signupschedule.com/bodwellcenter for a list of current projects to sign up for or speak to the Bodwell Center to get a project approved.)
Level 2: This badge is issued in recognition of the earner actively engaging in a service program or applied service project that takes you beyond the classroom (minimum 8 months, minimum 60 hours), and writing a reflection on what you learned, providing insights into your expanded knowledge, development, and enhanced skills gained through active engagement. Earners further reflected on the ways in which their engagement helped them on their path toward active citizenship.  (Suggested activities include Black Bear Mentor or Tutors, regular volunteerism off campus, one year of membership and participation in an approved Student Organization.)
Level 3: This badge is issued in recognition of earner demonstrating initiative, leadership, commitment, and continued active engagement in the community, demonstrating growth and development in becoming a leader and active citizen, and writing a reflection on the attainment of your learning goals, the application of your learning, and the impact of your work on the community. (Suggested activities include one year skilled volunteer placement requiring training, i.e. volunteer firefighter, hotline volunteer, American Red Cross Disaster Services Volunteer, DownEast Emergency Medicine Institute [DEEMI], Lead Mentor, AB Site Coordinator, UVAC, and some student org officer positions.)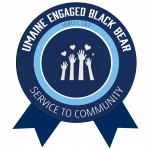 Meta-Badge: Earners of this badge achieve an important, University of Maine verified student engagement milestone by completing the Engaged Black Bear Service to Community Learning Pathway (Levels 1, 2, and 3). The Service to Community pathway encourages students to take action within the community and to become change agents.
Click here to download a complete list of Suggested Activities.
To register for this badge and create a Credly account, visit EBB Service to the Community.
For more information contact, Lisa Morin at the Bodwell Center – 581.3091 or lisa.morin@maine.edu.
For more information about the Engaged Black Bear Initiative and other badges available to earn, visit umaine.edu/engagedblackbear or contact Claire Sullivan at claires@maine.edu.