Volunteer to Participate
The VEMI Lab at the University of Maine is looking for participants for its research. We are currently looking for individuals between 18 and 60 years of age with no known vision impairments. This study will be a single 1-1.5 hour session at the VEMI Lab (Carnegie Hall) in a controlled, sanitized environment. During the research, you will be testing a new device to access graphical information, such as figures and maps, without vision. You will use a multimodal interface combining touch, auditory, and speech cues. After learning, you will be asked to answer a series of questions about the content. The ultimate goal of this project is to develop new tools that assist blind people in accessing graphical content for use in educational or vocational contexts. Your participation will help refine the multimodal interface before we further develop the product.
If interested in participating in this experiment, please send an email to the VEMI Research Team at 
vemilab@maine.edu
.
This research is paid, and participants will receive up to $30 in Amazon gift cards for their participation.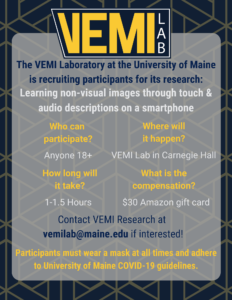 The VEMI Laboratory at the University of Maine is seeking participants for its research. We are currently looking for U.S. citizens above the age of 18. This study will be a single 1-hour remote session that can be completed in your home or in any quiet, distraction-free environment. During your scheduled session, you will watch three archival film clips of varying lengths and answer questions related to their content. The clips will be presented as they have been documented/stored in the archives. To be eligible for participation you must have a computer with internet access and headphones. You will interact virtually with a VEMI researcher through screen-sharing and your session (screen and microphone output) will be recorded. Participant data is always kept confidential and stored on a secure server. Participants of this study will be entered into a raffle to win one of four $50 Amazon gift cards. Random drawings for the gift cards will take place after all participants have completed the study. Winners will be notified and will receive their digital gift cards via email. Please contact our Research Manager Kaitlyn Haase at vemilab@maine.edu if you are interested in participating.