Winterville
Welcome to Winterville!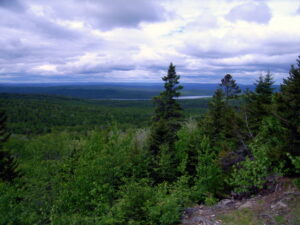 According to Maine an Encyclopedia, Winterville "is a plantation in Aroostook County, settled in 1846 and organized on June 6, 1884 from township T15 R7 WELS. The organization was confirmed by the Maine legislature in 1895. Located about 25 miles south of Fort Kent on Maine Route 11, the area is an attraction for fishermen and hunters. THe 2,400-acre, 100-feet deep St. Froid Lake dominates the plantation by running virtually its whole length from north to south. St. Froid Lake supports a sport fishery of statewide significance for salmon, lake trout, and brook trout. Of local significance, a popular hook-and-line smelt fishery exists both winter and summer." There were 196 residents at the time of the 2000 census.
Activities
Hedgehog Mountain Trail ME-11, Eagle Lake, ME 04739

This short but steep trail provides a great workout on a path that goes by an old hunting cabin. At the summit, hikers can enjoy lunch at a picnic table and enjoy the views of North Maine Woods, Portage Lake, Fish River, and St. Froid Lake to the south and west.

Check out more activities in Eagle Lake!
Dining
Check out delicious dining options offered in Eagle Lake!
Lodging
St. Froid Lakefront Cabins 56 Station St, Winterville, ME 04739| (860) 246-2444

Located in Winterville, St. Froid Lakefront Cabins offers a variety of Maine fishing and hunting camps as well as a recreational campground situated in the North Maine Woods.

St. Froid Lakes Camps and Campground 134 Lakeview Rd, Eagle Lake, ME 04739 | (203) 768-5603


Campsites to park your RV, cabins, and tenting sites are all available!

Check out more lodging options in Eagle Lake!
Shops & Services
Check out shops and services offered in nearby Eagle Lake!