Forthcoming Books
Blanchard Weather Report is a discrete set of photographs within Todd Watts's extensive life's work. "The Blanchard Weather Report began as a visual report sent to friends who asked. A visual conversation. A wordless documentary discourse carried on over the internet. In those first pictures, there were objects – trees, and rocks, and streams, and grass – but the weather was the subject. On a particularly windy day, failing to keep my footing and wondering if that loud sound was my rib cracking – it was the screen on my phone – I began to think of the weather as an object, equal to the flowers, and to the mountains, and to the lakes, no less solid than a taxi careening towards a jay walker on Herald Square. Weather is affecting and I felt affected. I blame the weather for my damaged phone, and also for umbrellas that collapse, and for galoshes. But the weather also provides color and line, mass and movement, time and history – and these are building blocks of visual art. Add to these, the recent political wrangling, economic turmoil, social unrest, and general uncertainty surrounding the weather, and you have all of the elements this artist requires to work." – from the Introduction by Todd Watts
Hardcover, with color dust jacket. Page size: 11″ x 11.375." 108 pages, with 40 color plates.
Special pre-publication price until Jan. 1, 2019:  $29.00 plus shipping (regular price $40.00)
Orders will be shipped beginning in late December.
Grasses and Rushes of Maine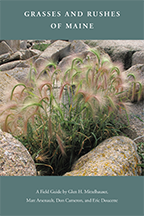 Grasses and rushes are common components of ecosystems throughout the state, often found in both natural and human-altered landscapes. This guide incorporates high-resolution images of morphological structures. Photographs are of living plants, herbarium specimens collected within the state, and, less commonly, from plants outside of the state.  
In addition to the images, Grasses and Rushes of Maine provides descriptions that highlight the key features, especially those that are useful in the field, or are the most helpful for identification. This guide covers grasses and rushes found within the state of Maine, but it also has excellent coverage for neighboring states and Canadian provinces. (Ordering information forthcoming)
$29.95 – Available late January, 2019