Want to Work with UB?
Click play to hear Garrett talk about the importance of the UB internship/mentor program!
Garrett is a graduate of Stearns High School.  
Due to the COVID-19 pandemic, the University of Maine System is requiring all new positions, including summer jobs, be approved and hired through the Hire Touch System. As a result, the Upward Bound program will accept applications through this portal for SUMMER 2021 but then will require finalists who are not college students to complete the Hire Touch process. We will discuss this process to candidates selected for an interview. 
In addition, we WILL have a summer program but do not know at this time if it will be live, hybrid, or 100% virtual. We hope to make an informed decision about the Summer 2021 program by the end of March. Upward Bound falls under guidance from Maine CDC and the University of Maine System. Once we receive guidance and can make an informed decision, we will let you know. Please be assured, we will have a summer program in some form or fashion!
MINIMUM QUALIFICATIONS
Applicants must have completed at least three years of college and currently be in good academic standing. Preference will be given to candidates who have:
Experience as a TA, tutor, residential advisor or camp counselor
Experience working with low-income, first-generation-to-college students
Valid Driver's License and meet approval by the UMaine Motorpool
TRIO background
STAFF FORMS
Summer Application
Application for new summer staff
Please complete the online form to be considered for a summer position.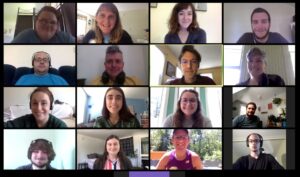 2020 Summer Staff