With limited access to speech-language services, the UMaine telepractice program has been able to provide individual speech therapy at the International School Suva. The incorporation of technology into speech therapy has also been well received by our school age clients. Fijian families are appreciative of the positive changes they can see in their children following therapy. 
"My daughter has made great progress over the last year and a half." – mother of a child with an articulation disorder
" I really enjoyed doing this for a long time" – child articulation disorder
Communication groups are a fundamental component in the telepractice training program to bring people with aphasia together from different parts of the state. The purpose of these groups is to build friendships, reduce social isolation and practice their language skills. Clients meet weekly and discuss a variety of topics. New friendships have developed as a result of this program.
"I feel not so alone with my stroke and aphasia. My wife and I did not know what aphasia was! In Maine, I was sure that there was nothing outside of rehab that would take away the loneliness. Then, Dr. Walker and her team, were there to help me and my wife get through these struggles.  I don't have to get out of my chair! It's  spectacular" – client with aphasia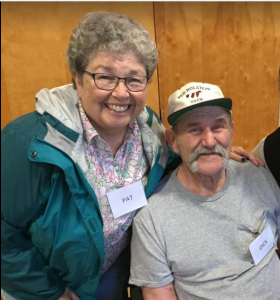 Telepractice services enable us to provide unique functional-based therapy within clients' home environments. This allows for personalized sessions around topics and vocabulary they want to use daily. Telepractice offers the flexibility of including family members who may live out of the area.
"I am able to participate and I'm all the way in RI" – daughter of a client with aphasia. 
" This program is wonderful! The individualized sessions make all the difference. We are so thankful for this program. My mother's quality of life has improved so much." – daughter of client with aphasia
"I feel that the therapy was readily available. The lessons were focused on his area of concern." – e-Helper
Our Clients & Their Families