2018-2019 Alternative Breaks Application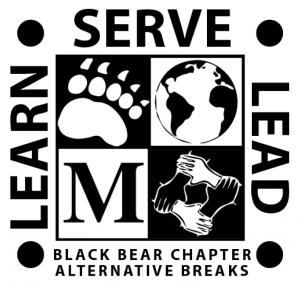 Trip Member Application
2018-2019
What is Alternative Breaks?
AB is a chapter of a national organization called BreakAway which is a service-learning institute whose goal is to "train, assist, and connect campuses and communities."
AB is affiliated with The Barbara Higgins Bodwell '45 Center for Service & Volunteerism located in the Memorial Union.
AB is a service focused, drug and alcohol-free organization that is funded completely through fundraising, participant dues, and University of Maine Student Government.
If you are accepted, what commitments do you have to AB?
Members are required to pay a $200 membership fee. There is a scholarship option if dues are unaffordable.
Members must participate in group fundraising events and local service projects throughout the year.
Weekly meetings with your group are required and are a great chance to meet and connect with new friends.
There will be an All AB retreat this year, which is mandatory for all AB members.
If accepted, you will hear back from Coordinators on September 26 via email; on September 30 7:00-9:00 pm, there will be an All AB Meeting in the Bangor Room in the Union where your group members and social issue will be revealed!
Any Questions?
Please do not hesitate to contact AB Coordinators Hannah Welborn and Blanca Monsen through our emails (hannah.welborn@maine.edu and blanca.monsen@maine.edu).
---
Applications are due by Friday, September 21, 2018 at 11:59pm
The application period for Alternative Breaks has ended.