Service and Assistance Animals at UMaine
Assistance Animal Policy & Procedures
Assistance Animal Accommodation Student Request Form
UM Assistance Animal Documentation Form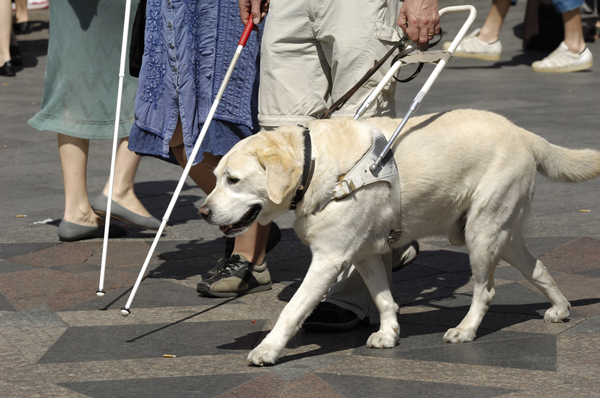 Service Animals in Settings that are Open to the Public:  Service animals are animals that provide assistance to individuals with disabilities. Service animals are dogs that are professionally trained to perform specific tasks for an individual.  When you see a service animal at UMaine or in the community, here are some tips to guide your interaction:
Speak to the person first.  Remember the dog is working.
Never touch a service animal without asking first and never feed the animal.
Recognize that the person and the animal are a team and that engaging with the animal disrupts their working relationship.
Do not ask the individual personal questions related to their disability or their service animal.
Service animals are permitted in compliance with the Americans with Disabilities Act and the Maine Human Rights Act.  In settings that are open to the public – which include, but are not limited to, classrooms and places where people attend events or performances, use library or athletic facilities, shop, or eat–a "service animal" is defined as a dog that is individually trained to do work or perform tasks for the benefit of an individual with a disability, including a physical, sensory, psychiatric, intellectual or other mental disability.  Other species of animals, whether wild or domestic, trained or untrained, are not service animals for the purposes of this definition, although trained miniature horses are allowed in some circumstances. The work or tasks performed by a service animal must be directly related to the individual's disability.
A summary of Maine law related to service animals is available from the Office of the Maine Attorney General.
Additional information related to service animals and housing is available from the Maine Human Rights Commission.
Service Animals in Public Spaces Equal Opportunity/Student Accessibility Services Training
Still have questions?  Visit the U.S. Department of Justice FAQ about service animals and the ADA.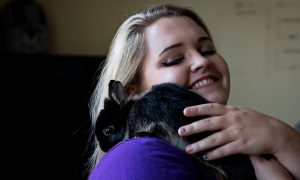 Service or Assistance Animals in University Housing: Service and assistance animals are permitted in compliance with federal Fair Housing Act requirements.   An "Assistance Animal" (sometimes referred to as emotional support or therapy animal) is a term that the United States Department of Housing and Urban Development (HUD) uses to cover any animal that works, provides assistance, or performs tasks for the benefit of a person with a disability, or provides emotional support that alleviates one or more identified symptoms or effects of a person's disability.   It is typically an animal selected to play an integral part of a person's treatment process. It is not a pet.  The animal must demonstrate a good temperament and reliable, predictable behavior. An assistance animal is prescribed to an individual with a disability by a healthcare or mental health professional.  An assistance animal may be incorporated in a treatment process to assist in alleviating the symptoms of that individual's disability. This treatment occurs within the person's residence and, therefore, may be considered for access to University housing.
The question in determining if an Assistance Animal will be allowed in University housing is whether or not the Assistance Animal is necessary to afford the individual an equal opportunity to use and enjoy University housing.  If it is determined that that animal is necessary for University housing, an Assistance Animal, as defined above, is not permitted in other areas of the University (e.g. dining facilities, libraries, academic buildings, athletic buildings, classrooms, labs, individual centers, etc.).
The University of Maine requires students requesting a service or assistance animal in the residence hall to contact Disability Support Services 207.581.2319 and provide documentation of disability as per the guidelines established by the University. Once the accommodation is approved the student must also complete and abide by the Service or Assistance Animal Agreement form.