Accessibility Van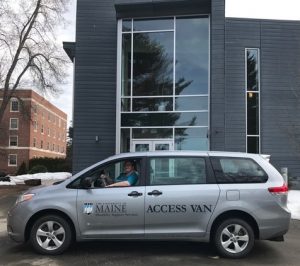 ---
For a number of reasons, including protecting the health and safety of students and staff, 

SAS will not be running the Access Van for 2020 & 2021.

---
Student Accessibility Services operates a point-to-point van service for students who have mobility disabilities (including temporary issues like broken legs or post-surgery recovery periods).
The Access Van operates during normal business hours, providing passengers a shared ride, point-to-point service to all campus locations. Twenty-four hour advance registration is required. In determining a pick-up time, riders should note that they will be grouped with other travelers headed in a direction that best serves the majority of passengers. Depending on the time of day, the traffic, the season, and the number of travelers, the van may make a few stops along the way to pick up or drop off fellow passengers. Plan your pick-up allowing for extra time and arrive at the location a few minutes early. The van will wait one minute at each stop before moving on. 
---
Further questions?  Please contact Student Accessibility Services (SAS) with the contact information below.
---