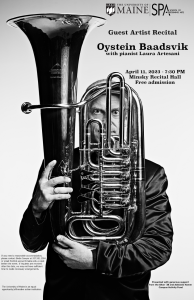 Tuba player Oystein Baadsvik will perform on April 11 with UMaine's own Laura Artesani accompanying on piano.
Born in Trondheim, Norway, Øystein Baadsvik's international reputation was established in 1991 when he was awarded two prizes at the prestigious Concours International d'Exécution Musicale in Geneva, Switzerland. His virtuoso technique and extraordinary musicality have allowed him to carve out a career as
a soloist, chamber musician and recording artist that has taken him around the globe.
With over 5 million views on YouTube, Øystein Baadsvik is sought after worldwide and has performed as a soloist with orchestras in Norway, Sweden, Taiwan, Japan, Poland Australia, Singapore and the United States. He appears regularly at the Melbourne International Festival of Brass and performs in the
United States each fall during his Octubatour.
The driving force behind Øystein's career has always been the joy of musical exploration. He has premiered over 50 solo works by composers and has expanded the tuba repertoire with his own compositions. In 2017 he gave the first TEDx Talk about the tuba. Øystein works constantly to expand the boundaries of his instrument, performing solo repertoire, chamber music and collaborating with jazz and rock musicians. His developments of new techniques for tuba have been used in a number of recent compositions.
Voted one of the top ten brass players in history by Classic FM listeners, Øystein is an active recording artist whose albums receive unstinting praise. In 2018 he will release his 12th solo album, a collaboration with the legendary Indian violinist Dr. L. Subramaniam. The album will feature a double concerto for Indian violin, tuba and orchestra.