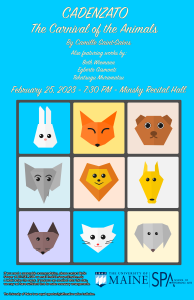 Camille Saint-Saëns: The Carnival of the Animals
On February 25, as part of the annual Spring concert by the faculty chamber ensemble Cadenzato, a complete performance of The Carnival of the Animals by Camille Saint-Saëns will be performed. There will be a dozen performers on stage presenting one of the wittiest pieces to come from the pen of any composer.
Composed in 1886, the work did not have a public premiere until February 25, 1922, a year after Saint-Saëns death. He apparently feared that this whimsical work would undermine his reputation as a "serious" composer. To this end he only permitted one movement, entitled "The Swan," to be performed in public during his lifetime.
This program will also include works from composers Egberto Gismonti, Takatsugu Muramatsu and the Division of Music's own Beth Wiemann.
Note: There will be a repeat performance in Minsky Hall for Maine high school students on February 28.