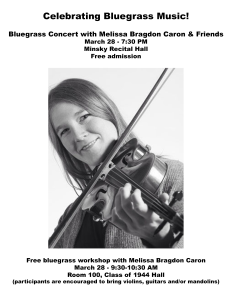 Melissa Bragdon Caron is a Maine-based fiddler known for playing and teaching many different styles of music. Classically trained, she received a degree in Music Education at the University of Maine and has experience teaching string programs and general music at various grade levels in the Maine public schools. Melissa has been a member of the Portland-based bluegrass band Jerks of Grass since 2006, and also plays with the old-time band Sugar Hill. Melissa is Associate Director of the New Hampshire Fiddle Ensemble, a non-profit organization that supports community by bringing together a large group of musicians of all ages to learn and perform different styles of music. She also teams up with Ellen Carlson to organize Fiddleheads Acoustic Jam Camp, a music camp for acoustic musicians held each September in New Hampshire.
(Note: The morning of the concert, Melissa Bragdon Caron will also be offering a free bluegrass workshop from 9:30-10:30 AM in Room 100 of Class of 1944 Hall. All are welcome; participants are encouraged to bring a violin, guitar and/or mandolin.)
These events are made possible with support from the McGillicuddy Humanities Center and the Alton '38 and Adelaide Hamm Campus Activity Fund.