CANCELED: Ginger Hwalek and Liz Downing Faculty Recital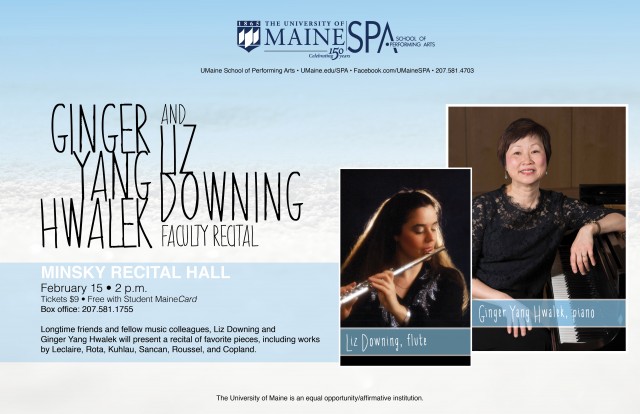 DUE TO THIS WEEKEND'S WEATHER PREDICTIONS,  THIS RECITAL HAS BEEN CANCELED.
An alternate date has not yet been determined.
Longtime friends and fellow music colleagues, Liz Downing, flute, and Ginger Yang Hwalek, piano will present a recital of favorite pieces on Sunday, February 15 at 2:00 in Minsky Recital Hall.  The program will include works by Leclaire, Rota, Kuhlau, Sancan, Roussel, and Copland.  The duo first played together at the Claremont Hotel in Southwest Harbor and then went on to be founding members of both the Highland Chamber Players and the Trio Camerata.
Hwalek, a native of South Bend, Indiana, began piano studies at the age of four and has been involved with music ever since as a pianist, violist, teacher and conductor. She earned a Bachelor of Music degree from Indiana University and a Master of Music from Wichita State University, both in piano performance. In 1988, she completed a Doctor of Music in piano chamber music and accompanying at Northwestern University. At the University of Maine, Dr. Hwalek teaches applied piano, class piano and music history, and accompanies faculty and student recitals. During the summers of 2005 -2009, she was the director of Maine Summer Youth Music held on the campus of the University of Maine.  She teaches 12 pre-college students in her home in Bangor who come from Bangor, Blue Hill, Hampden, Holden, and Orono.
Flutist Elizabeth Downing is a soloist, chamber musician and a faculty member at The University of Maine where she teaches flute and chamber music. She received a Bachelor of Music in Flute Performance and a Bachelor of Arts in German from the University of Maine, and studied at the Mozarteum Conservatory of Performing Arts and the University of Salzburg in Austria. She received a Master of Music degree in Flute Performance at the University of Colorado. In addition to her music, Elizabeth Downing is the Senior Associate Director of New Student Programs at The University of Maine. Her responsibilities include the Visitors Center, the Telecounseling Program and enrollment management events such as Open House Programs and New Student Orientation.