FREE STUDENT MATINÉE and TALKBACK: Love's Labour's Lost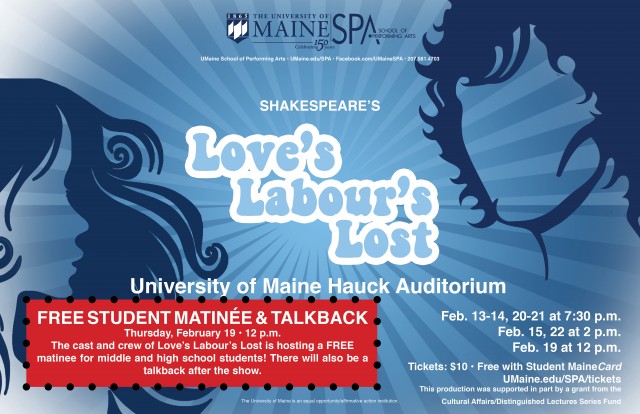 The cast and crew of Shakespeare's Love's Labour's Lost is going to be putting on a matinée performance for middle and high school students on Thursday, February 19, at 12 p.m. at Hauck Auditorium on the campus of the University of Maine.
This is a great opportunity to expose students to theatre and the performing arts who would not normally have the opportunity or are interested in the University of Maine or the performing arts. Additionally, Love's Labour's Lost is a Shakespearean classic and is a great study of classic literature.
The show takes place in England and the production team has taken a fun 60s spin on the production!
For more information, contact the UMaine School of Performing Arts at 207.581.4703 or Music@Maine.edu