Sandra Hughes Goff
Sandra Hughes Goff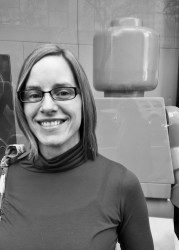 Graduate Degree Being Pursued:
Ph.D., Ecology and Environmental Sciences
Specialization: Evolutionary Economics and Sustainability
Advisor:
Background:
Sandra holds a Master of Community Planning and Development from the Muskie School of Public Service and a Bachelor of Arts from Colby College with a major in economics and a minor in mathematics.
Research Interests:
As a doctoral research fellow with the Sustainability Solutions Initiative (SSI), Sandra studies human cooperation and socio-ecological systems dynamics. Her primary interest is in how different local economic systems affect social capital and community resilience. Through her dissertation research, she hopes to explore the relationships between engagement in different types of economic transactions, patterns of cooperation within economic games and results of surveys measuring ecological worldview, extensivity and pro-sociality. Her work will focus on examining a variety of "green" economic systems currently in use in Maine and their potential for guiding communities toward socio-economic sustainability.