School of Economics News
Caroline Noblet and Sharon Klein attend Volturnus Launch on May 31st
---
Department of Commerce official visits the UMaine economic development/business support program "Knowledge Transfer Alliance."
---
The School of Economics (SOE) held an organizational alumni reception in Washington DC on March 26th.
---
School of Economics Associate Professor Hsiang-tai Cheng visits the School of Economics and Management, Zhejiang Sci-Tech University, China, to sign cooperation document.
---
SOE Faculty Featured in Maine Policy Reveiw Special Issue:
SOE faculty members Tim Waring, Kathleen Bell, Mario Teisl, Linda Silka, Caroline Noblet, and Mark Anderson all were contributors to the recent Maine Policy Review Special issue "Sustainability."   The links ot their articles in this special issue are here:
http://mcspolicycenter.umaine.edu/reports-publications/maine-policy-review/mpr21-1/
---
Assistant Professor Sharon Wager honored at the White House:
Sharon Wagner, a UMaine assistant professor in the School of Economics, was recognized as a "Champion of Change" in AmeriCorps Alumni, an organization geared toward connecting former AmeriCorps volunteers and advancing their careers in leadership, during an all-day event in Washington D.C.
Bangor Daily News Article
---
New Wesley R. and Dorothy R. Brinton Scholarship fund created:
Family of Wesley R. and Dorothy R. Brinton have created a new scholarship in their honor. Wesley and Dorothy met, married, lived and retired in Connecticut, while they summered frequently in Maine, and considered Maine their second home. This scholarship is established to recognize their lifelong love for the State of Maine and its people. The scholarship is to be used to provide financial support for School of Economics students interested in Sales, with priority for those interested in Agribusiness Sales. The School of Economics is extremely appreciative of the family's generosity, especially given the increasing need for supplemental college funding.
________________________________________________________________
Just Published:
Faculty member Caroline Noblet just published, along with Mario Teisl and Mark Anderson, an article in the journal Environmental Education Research.  The piece, titled "An empirical test of anchoring the NEP scale in environmental ethics,"   contributes to the growing debate around the use of the New Ecological Paradigm (NEP) as a tool for measuring world views.
http://www.tandfonline.com/doi/abs/10.1080/13504622.2012.704899
---
Megan Wibberly wins College's Outstanding Master's Student Award:
Megan Wibberly, a Resource Economics and Policy student, won the college-wide award for her outstanding research, teaching and public service.
---
Stacia Dreyer and Sarah Marrinan gave presentations on environmental behavior change at the 2012 NAREA meetings:
Stacia Dreyer, Shannon K. McCoy and Mario Teisl. 2012. Merging economics and psychology yields factors driving people to drive less Selected presentation. Annual meeting of the Northeast Agricultural and Resource Economics Association. Lowell, MA. June 12-14
---
Sarah Marrinan, Mario Teisl, Caroline Noblet, and Hsaing-tai Cheng Deep-water and Land-based Wind Power as Substitutes:
Measuring the Influences for Wind Power Support in Maine Selected presentation. Annual meeting of the Northeast Agricultural and Resource Economics Association. Lowell, MA. June 12-14
---
Haley Engelberth gives great presentation at AAEA Food Conference at Tufts University:
Haley's talk focused on her research studying the effectiveness of Maine's CDC Fish Consumption Advisory.
---
Haley Engelberth's poster wins first place:
Haley M. Engelberth, Mario F. Teisl, Caroline Noblet, Kathleen P. Bell, Eric Frohmberg, Andrew E. Smith, and Karyn Butts. 2012. Selected poster (First place award). Fish Advisories for At-Risk Mainers: Does knowledge lead to action? Maine Water Conference, Augusta ME. March 14
---
Kate Farrow interns as a research assistant in Montpellier, France:
Kate Farrow interned as a research assistant at the MOISA Associated Joint Research Unit in Montpellier, France. She examined what leads people to adopt altruistic behaviors towards the environment. Understanding if and why these preference-types change would allow policy-makers to better anticipate the aggregate effects of consumer behaviors and therefore more effectively craft environmental policies reflective of society's needs.
---
Shyamani Siriwardena's thesis work on measuing the market and environmental effects of green marketing gets published:
Shyamani Siriwardena, Gary Hunt, Mario Teisl, and Caroline Noblet. 2012. Effectiveness of eco-marketing on green car purchase behavior in Maine: A nested-logit model approach. Transportation Research Part D: Transport and Environment
---
Kate Farrow's thesis work gets published:
Katherine Farrow, Mario F. Teisl, Caroline L. Noblet, Shannon McCoy and Jonathan Rubin. 2011. Does Money Grow on Trees? People's Willingness to Pay for Cellulosic Wood Ethanol. Chapter 12 in Biofuel / Book 1: 241-256. InTech Publishing
---
Four UMaine graduate students gave excellent presentations at the 2011 AAEA/NAREA meetings:
Megan Wibberly, Ann Speers, Shyamani Siriwardena and Jennifer Plowden gave excellent presentations related to their thesis work. Their professionalism and high quality was noticed and commented on by other researchers attending the meetings – Great job!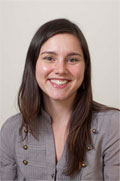 Stacia Dreyer, an Interdisciplinary Ph.D. student with the School of Economics, Department of Psychology and the Sustainability Solutions Initiative, was selected to receive a 2012 Endeavor Research Fellowship from the Government of Australia to conduct research with the Commonwealth Scientific and Industrial Research Organisation (CSIRO) in Perth, Western Australia.  The Endeavour Award is an internationally competitive, merit-based scholarship program providing opportunities for citizens of the Asia Pacific, the Middle East, Europe and the Americas to undertake study, research and professional development in Australia.
As part of her research, Stacia and her advisors will develop a survey to investigate environmental decision making and support for sustainable technologies, conservation practices and/or policies.  This interdisciplinary research will attempt to integrate the fields of environmental psychology and behavioral economics.  She will be advised by Dr. Iain Walker (CSIRO) in Western Australia and Drs. Mario Teisl (School of Economics) and Shannon McCoy (Dept. of Psychology) at the University of Maine. Stacia is excited to begin her 6 month international research collaboration at the end of this summer.
---
Haley Engelberth, a Master's Candidate in Ecology and Environmental Science, won First Place in the Graduate Poster Competition at the 2012 Maine Water Conference for her poster, "Fish Advisories for At-Risk Mainers: Does knowledge lead to action?" Collaborating with the Maine Center for Disease Control and Prevention (CDC), Haley, with her committee (SOE faculty Teisl, Bell, and Noblet and CDC's Dr. Andy Smith) is examining the effectiveness of Maine's Mercury Advisory. The advisory aims to educate pregnant women in Maine because eating fish has many health benefits for them and their developing babies, but almost all fish contains some amount of mercury.
The research shows women who read the advisory know more about mercury and switch from high-mercury to low-mercury fish . These findings indicate an improved potential for increasing the cognitive abilities' of babies born in Maine. The research shows the advisory increases social welfare by providing accurate and understandable information to those who need it most, and will advance public health education in Maine.
---
Julia McGuire was recently awarded an NSF graduate research fellowship. The NSF Graduate Research Fellowship Program (GRFP) helps ensure the vitality of the human resource base of science and engineering in the United States and reinforces its diversity. The program recognizes and supports outstanding graduate students in NSF-supported science, technology, engineering, and mathematics disciplines who are pursuing research-based master's and doctoral degrees at accredited United States institutions.
________________________________________________________________
18th Annual Maine Water Conference, Augusta, ME, March 14, 2012
Some of SOE's graduate students in our Resource Economics program recently presented at the annual Maine Water Conference. Click here for more information regarding the conference and check out some more photos of participants here. Please contact Prof. Kathleen Bell if you have any questions about the conference or a general inquiry into environmental economics.
---
SOE Waste Management Research:
MPBN radio has a story about a study of Maine's garbage being done by Director Criner. He told MPBN the aim of the study is to document what is in the household waste stream of 17 Maine communities so that municipalities and state policy-makers can make wise decisions. UMaine economics undergraduate Travis Blackmer and Karl Chandler, who are working with Criner, were also interviewed for the story.
SOE Undergraduate (Travis Blackmer) and Graduate (Dan Kary) withstand a chilly morning to discuss the project with students and faculty passing by.
---
Prof. Mario Teisl is featured in the current issue of UMaine Today.
---
Economics Student Success Story
Economics major Peter Drown's interest in renewable energy led him to pursue a part-time job at UMaine's AEWC Advanced Structures and Composites Center, where he researches the costs and benefits associated with wind power for the DeepCwind Consortium.
---
Faculty and students involved in sustainability projects at UMaine are interviewed:
---
Sigma Phi Epsilon Awards Caroline Noblet Faculty Member of the Year
Outgoing President of Sigma Phi Epsilon and School of Economics' student Kevin Price awards SOE faculty member, Caroline Noblet as Faculty Member of the Year.
---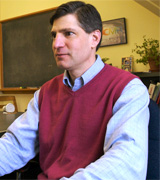 Rubin named Fulbright Scholar, to work in Africa
Jonathan Rubin, a faculty member in the UMaine School of Economics and member of the Margaret Chase Smith Policy Center, has been awarded a Fulbright Scholar grant to work at the Center of Study in Renewable and Sustainable Energy at Sub-Saharan Africa's University of Botswana, Gaborone, during the 2011-2012 academic year. More details are in a UMaine news release.
---
SOE Faculty in the News: Professor Mark Anderson:
Monday's Bangor Daily News included an opinion column by Mark Anderson of the UMaine School of Economics faculty. Titled "More information needed before we fall for the latest energy fad," the column examines government-supported energy solutions since the middle of the 20th century, while also raising questions about the viability of wind power as a long-term answer to the world's energy needs.
---
SOE Faculty highlight: New course to come – Economics 180: Citizens, Energy, and Sustainability
Lecturer & Research Associate Caroline Noblet is highlighted as part of the new and upcoming Renewable Energy Minor. Read about her and learn more about the program!
"In 2011, a group of faculty and administrators created these programs in order to meet the increased need for skilled experts trained in renewable energy.  Following extensive collaboration between the College of Engineering and the College of Natural Sciences, Forestry, and Agriculture, faculty developed two minors covering different aspects of the field."
---
Maine Water Conference 2011 in Augusta:
Students in the photo – Jen Plowden, Dan Kary, Ann Speers, Megan Wibberly, Haley Engelberth, Sarah Marrinan, Stacia Dreyer
Faculty – Mario Teisl, Caroline Noblet, Linda Silka, Kathleen Bell
SOE faculty and students participated in the 2011 Maine Water Conference on March 16 at the Augusta Civic Center. The conference is part of the Senator George J. Mitchell Center for Environmental and Watershed Research: Learn more here.
UMAINE & BOWDOIN STUDENTS WIN FIRST PLACE AT STATE WATER CONFERENCE
________________________________________________________________
SOE Alumni News:

Director of the School of Economics, Professor George Criner, has recently sent out a letter to alumni. To learn more about recent developments in the School of Economics, follow us on Twitter or Facebook!
Click here to read a PDF version of the letter
---
Radio reports on bio-plastics research
Maine Public Radio broadcasted a report about research in bio-based plastics, including research being done at UMaine, where scientists are planning to produce a plastic resin called PLA, which stands for poly lactic acid, using wood chips and potato waste. The radio report also included statistics from a 2007 report by UMaine economist Jonathan Rubin, which looked at the effects an instate bioplastics industry would have on Maine, including the creation of a thousand or more permanent jobs.
---
Economists' research cited in cruise ship article
An article in Mainebiz newspaper about expectations for the coming cruise ship season in Maine cites research by University of Maine economists Todd Gabe of the School of Economics and Jim McConnon, a UMaine Cooperative Extension specialist and professor of economics, on the amount of money cruise ship visitors typically spend when they disembark to visit local ports.
---
Website highlights economist's study
The website Physorg.com has a story about the research of UMaine economist Todd Gabe, whose work was recently published in the "Knowledge in Cities" study. Gabe uses new occupational data to change the way people view regional economic activity. See a UMaine Today story to read more about Gabe's work.
---
SOE in the News:
The Maine Energy Wind Conference in Augusta received some press coverage by FOX 22. The section of the video is 10:32
http://titancast.titantv.com/p/wvii/v/6pm-Newscast-Tuesday-125/1ACB29DV.aspx
---
Food safety study mentioned on website
---
UMaine cited in container housing stories
An article on the Feb. 1 edition of the Bangor Daily News about SnapSpace Solutions Inc., a business opening in Brewer to create novel homes out of shipping containers, cited collaboration by the company owner and the University of Maine's Knowledge Transfer Alliance and the UMaine Advanced Manufacturing Center. The newspaper carried a story Feb. 2 about several Brewer city councilors praising the company's plans and looking forward to the jobs the business will generate. Channel 5 (WABI) and Channel 2 (WLBZ) also carried stories about SnapSpace Solutions.
---
Adjunct Assistant Professor for SOE, Dr. Mary Davis is mentioned in the press:
---
SHEILA WATT-CLOUTIER
Mark your calendars! Sheila Watt-Cloutier, Nobel Peace Prize Nominee and World Leader on Global Climate Change and Human Rights will visit UMaine March 29, 2011. More details to come on time and place. Read a brief biography here.
---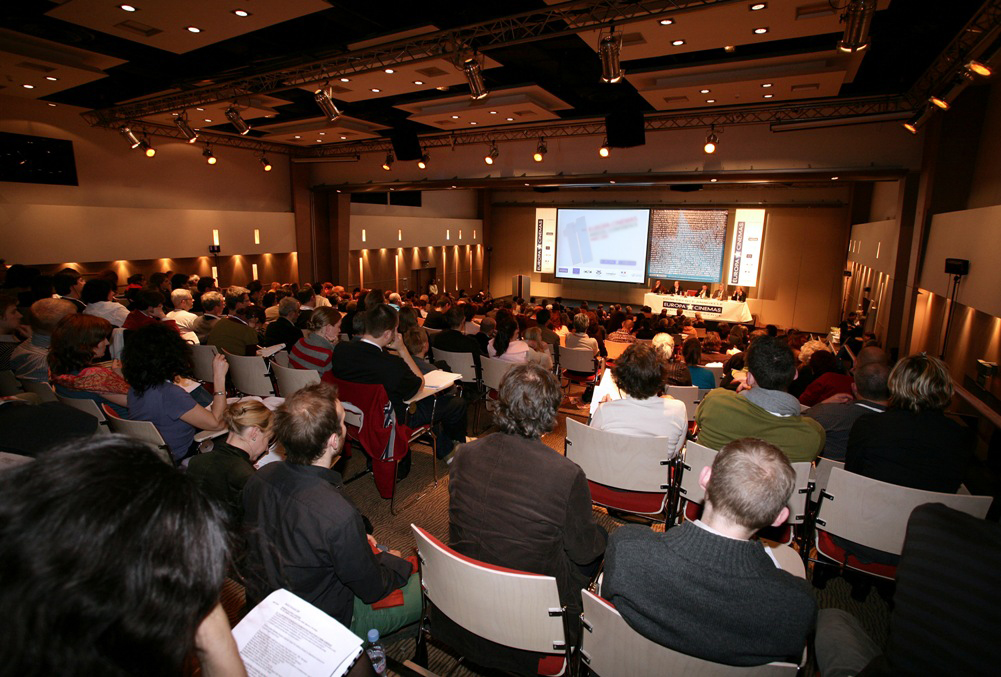 ---
---
Katherine Hassett a Resource Economics & Policy Masters student was awarded a Foreign Language and Area Studies (FLAS) Academic Year Fellowships for 2010-2011.
2010 Agricultural & Applied Economics Association (AAEA) Annual Meeting
A few School of Economics' alumni met up with Associate Professor Kathleen Bell at the AAEA Annual Meeting. Kelly Cobourn was selected as the 2010 recipient of the AAEA Dissertation Award.  Kelly also won the national award for her M.S. thesis which was completed at UMaine and is off to a wonderful start as Assistant Professor at Boise State. Other SOE alumni were present such as: Veronique Theriault, John Devine, and Sibel Atasoy.
Kelly Coburn: 2010 Dissertation Award (AAEA)
Left-to-Right: Veronique Theriault, Associate Professor Kathleen Bell, Jon Devine.
---
Banking on people:  A UMaine senior interns in Bangladesh to learn how microfinance helps the rural poor
Last summer, in a country where nearly half the population of 135 million lives in poverty, Rachel Hathaway solidified her commitment to a career devoted to human rights advocacy.
She plans to do it using microfinance.
"When the five senses are engaged and you see children forced to beg in the streets, when you see women who are desperate to work but are told by their husbands and society they aren't capable, when these women watch their children starve, you realize the injustice," says Hathaway, a University of Maine senior who spent 10 weeks in Bangladesh last summer as an intern with Grameen Bank. "The challenges of this country can't be understood from a big business perspective or textbooks. We also can't sweep them under the rug, which is too easy to do when you don't have to look it in the face every day. That's why I wish more people could go to these countries to see what's happening."
Rachael Hathaway is a Financial Economics and Business Administration major. To read more about her experience with the Grameen Bank: UMaine Today – Student Focus

________________________________________________________________
The Honor Society of Phi Kappa Phi Induction
(Left-to-Right: Shyamani Siriwardena, Professor Gary Hunt, Catherine Lessard)
Professor Jonathan Rubin gave the keynote speech on "Climate Change & Maine" at the PKP induction ceremony. PKP Chapter President and Professor of Economics Gary Hunt poses for a photo with Dr. Rubin.
To learn more: The Honor Society of Phi Kappa Phi
---
School of Economics Awards Ceremony
The awards ceremony was a way for faculty and students to celebrate the end of a semester full of hard work and to present certificates, exchange a few words, and applaud the outstanding effort of SOE students and faculty. Click on the thumbnails for a larger view:
---
University of Maine – 2010 Farm Credit Fellows
From left to right: Anne Akoa (chaperone), Samuel Goulet, Daniel White, Sara Stockwood, Chelsea Leeman, Christopher Dunn, Maria Fournier, Zachary Pike
Each year a small group of students in good academic standing are selected to participate in the Farm Credit Fellowship Program.  To be eligible this year, students must be U.S. citizens and anticipate graduating no earlier than May of 2011.  The program is intended to inform students about financing issues and opportunities for small businesses, particularly those in agricultural and natural resources.  It provides a review of the Farm Credit system and other finance organizations in Maine.
Selected students will participate in the following activities:
A two-day trip this semester to Farm Credit Regional Offices in Springfield, Mass. during April for an introduction to the Farm Credit System and loan practices.
One week during the summer each student will be assigned to a Farm Credit field office to job shadow loan officers.  Efforts are made to place students in a field office near their home and during a convenient week, but some students have been placed in offices in other states.  A stipend of $650 is provided to help with costs during the week.
Students will enroll in ECO 497 for one to three credit hours during the fall semester.  The goal of this course is to review small business finance in Maine.  Field visits are made to several small businesses to meet with owners and chief financial officers.  Meetings are also scheduled with a commercial lending bank, the Small Business Administration, the Finance Authority of Maine, Coastal Enterprises, Inc., and a venture capital firm.
For the Springfield trip, students from Maine will join a group of students from Cornell University and the University of Vermont.
Application Process:
Students who are interested in being considered for the program are asked to send a letter indicating their interest and why they would like to participate, along with a brief resume, to Dr. White (gwhite@maine.edu)  as soon as possible.   Letters of application may be emailed or sent to 307 Winslow Hall.
If you would like additional information about the program or have any questions, please send an email or call Dr. White at 581-3159.  He would be happy to make an appointment to meet with applicants.
---
Bangor Daily News
A new approach to fighting Maine's invisible enemy
By Mary Davis and Sharon Tisher
For those of us who lived through the 1950s, the slogan "Better Living Through Chemistry" pervaded the airways and invaded our living rooms on that miraculous new invention, the TV set. The blissful ignorance of that decade has since been replaced by scores of reasons to be concerned about the chemicals our families are exposed to every day, their consequences and costs.
Numerous chronic diseases and disabilities, many with childhood onsets, have been linked to chemicals found in our air, our water and in everyday consumer products. Coincident with the growth of plastics, pesticides and other ingenious synthetic chemical products, rates of cancer in the U.S. increased by 35 percent from 1950 to 1991, excluding lung cancer. Maine now leads the nation with the highest cancer incidence of any state, and its childhood cancer rate is above the national average. Diseases caused by chemical exposures exact a heavy toll in Maine, both personally and economically.
A recent study of the childhood disease burden released by the University of Maine and published in the upcoming April 2010 edition of the Maine Policy Review provides insight into the true impact of toxic chemical exposures in our children. The study applied the available scientific information on the relationship between environmental exposures and disease to estimate the number of cases of childhood illnesses each year related to neurobehavioral conditions, cancer, asthma and lead poisoning.
View Full Article: A new approach to fighting Maine's invisible enemy
---
12th Annual Graduate Research Expo 2010
Hosted by UMaine's Graduate Student Government, the expo is designed to showcase and reward graduate academic excellence and creative achievement, the event features demonstrations of ongoing work involving UMaine graduate students.
EES student Ann Spears presenting at the UMaine Graduate Research Expo
SOE Eric DesRoberts presenting at the UMaine Graduate Research Expo
---
2009-2010 Lavery Scholars
Jack Lavery was in town to teach ECO 590: Assessing the National Economy, a course for Spring 2010, and met with the 2009-2010 Lavery Scholars. Lavery, who earned a master's degree in economics from the University of Maine in 1970 before embarking on a successful career as a leading economist, has provided $300,000 over 10 years to establish a scholarship fund for students in UMaine's College of Business, Public Policy and Health. Jack created the Jack W. Lavery Scholarship Fund for outstanding undergraduate and graduate students majoring in economics at UMaine. Students are encouraged to contact  Tammy Crosby for any inquiries on Lavery's course offerings, as he is now serving as Senior Executive Fellow in Financial Economics for the University of Maine.
Picture (Left to Right): Sarah Pacheco, Siqi (Susan) Geng, Dung Tran, Jack Lavery, Travis Blackmer, Andrew B Hopkins, Anders Beal, Quinn Bardon, Matt Ciampa, Dustin Jalbert, Derek Hardy
Related Articles:
John "Jack" Lavery '70 Establishes Scholarship for Economics Students
Jack Lavery's Weekly Publications: An Economic Outlook

---
The School of Economics is proud to announce that Kevin Price, of Winslow, Maine, a current junior double majoring in Economics and Political Science, has received the Margaret Chase Smith Public Affairs Scholarship for the academic year of 2009-2010.
The Margaret Chase Smith Public Affairs Scholarship was established in 1991 in the University of Maine Foundation with gifts from Harold Alfond to the Margaret Chase Smith Foundation in Skowhegan, Maine. The scholarship was established on the occasion of the 50th anniversary of Senator Smith's election to the U.S. House of Representatives and in recognition of her many years of dedicated public service to the citizens of Maine and to the nation from 1940 to 1973. Senator Smith's abiding belief was that real progress will be attained only through the education of Maine's young voters.
The scholarship program is administered by the Margaret Chase Smith Policy Center with the assistance of a university selection committee. Scholarship winners work with faculty advisors and/or staff of the Margaret Chase Smith Policy Center in the conduct of research. The student and Center staff then develop a dissemination plan to ensure that the results are communicated to relevant audiences.
Through the guidance of lecturer and research associate Caroline Noblet, Kevin will research ways to assist municipalities with regard to the decision-making process that surrounds siting, permitting and construction of wind-power projects. Kevin's research will deal with the impacts of harnessing wind-energy within towns and municipalities, which has no relation to other current research on off-shore wind-energy. None the less, his research goes toward the direction that the UMaine community has continuously supported with great effort, as it hopes to promote further development of sustainable jobs for the State of Maine.
Follow one of the links to learn more: