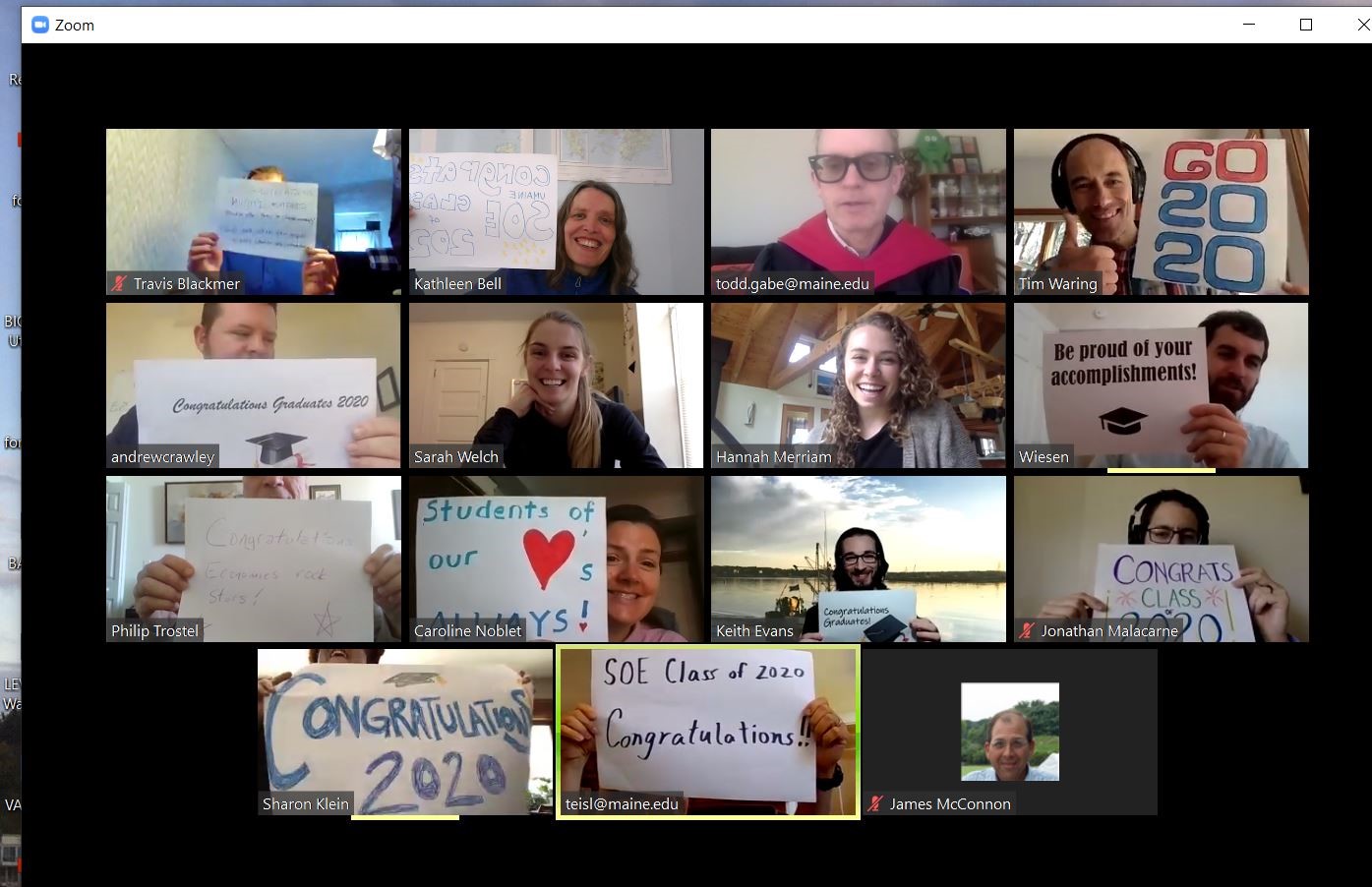 Congratulations Class of 2020 SOE Graduate Students
Congratulations graduating Masters and Doctoral Students from the School of Economics. The SOE Faculty recognizes and celebrates the tremendous accomplishments of out graduate students. Special congratulations to Emma Fox (Ph.D. Ecology & Environmental Science);  Taylor Lange (Ph.D. Ecology & Environmental Science, M.S. Economics) ; Sujan Chakraborty (M.S. Economics); Daniel Feldman (M.S. Economics); Hannah Merriam (M.S. Economics); Eric Miller (M.S. Economics, M.A. Global Policy); Mariya Pominova (M.S. Economics); George Voigt (M.S. Economics); Sarah Welch (M.S. Economics); and Jinhar Zahidi (M.A. Financial Economics). Also, special thanks to the SOE faculty who advised these students, including Dr. Andrew Crawley, Dr. Angela Daley, Dr. Keith Evans, Dr. Todd Gabe, Dr. Sharon Klein, Dr. Caroline Noblet, Dr. Jonathan Rubin, Dr. Phil Trostel, and Dr. Timothy Waring.
We are very proud of the cohort of SOE graduate students that are finishing up and very thankful for the critical roles they played in our School during their tenure as graduate students. By making intellectual advances, demonstrating  professionalism, exuding enthusiasm for economics, and providing critical support of SOE undergraduate students and research programs, SOE graduate students are a key part of the SOE community. 
Best wishes with all of your plans, we are here to help at this unusual time; and ask you to please stay in touch. Congratulations !
Click here to listen and view SOE Graduate Coordinator Sharon Klein's supportive and celebratory message to your class.