2020 Alumni of the Year Award Christopher McLaughlin highlighted in Press Release
Press Release:  University of Maine Award Highlights Importance of Social Workers
Bangor, Maine (May 6, 2020) —The University of Maine School of Social Work recently awarded Chris McLa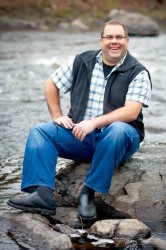 ughlin, LCSW, associate vice president, Community and Pediatric Services, Northern Light Acadia Hospital, with its Alumni of the Year Award.
The award was established 22 years ago to recognize outstanding alumni of the University of Maine School of Social Work and their contributions to their field and communities. This award highlights the importance of Maine's social workers who provide evidence-based behavioral, social emotional, and mental health services. The critical role these professionals play is more evident now than ever as healthcare organizations, schools, and community agencies, draw on social workers' unique skills to help patients and families through the COVID-19 outbreak.
"Chris has been a phenomenal field instructor for a number of our students," says Sandra Butler, PhD, professor and interim director of the University of Maine School of Social Work. "We chose him this year because of all the many things he does in the community including being on the advisory board of the Yellow Tulip Project, sitting on the Board of Social Work Licensure, being a member of the LGBTQ+ Affairs sub-committee of National Association of Social Workers, and of course his work at Northern Light Acadia Hospital."
"This is a well-deserved honor," commends Dyan Walsh, MSW, executive director of the Eastern Area Agency on Aging and chair of the School of Social Work's alumni group. "Chris' work with the Acadia Hospital CARES program highlights crucial youth mental health and wellness issues. It won the Eleanor Clark Award for Innovative Programs in Patient Care for 2019 from the Society of Social Work Leadership in Health Care."
Walsh further sites McLaughlin's noteworthy accomplishments to include winning both the Society for Social Work Leadership in Health Care Maine Health Care Social Worker of the Year Award and the Bangor PRIDE Rainbow Award, Orange in 2019.
McLaughlin, who earned his master's degree in Social Work from the University in 2001, says that being a social worker is incredibly important to him. "I have such fond memories of my time at the University of Maine and am humbled to be recognized by the School of Social Work. I have so much respect for the faculty and staff there. It's really a great honor to be given this award."
###
Northern Light Acadia Hospital is a psychiatric hospital in Bangor, Maine, providing inpatient and outpatient behavioral healthcare for children, teens, and adults specializing in the treatment of mental illness and substance abuse. For nearly 30 years, we have been offering a full continuum of mental health services. Learn more at northernlighthealth.org/Acadia-Hospital.
Press release prepared by:  Rebecca Parent, APR, MBA; Lead Communications Specialist; Northern Light Acadia Hospital